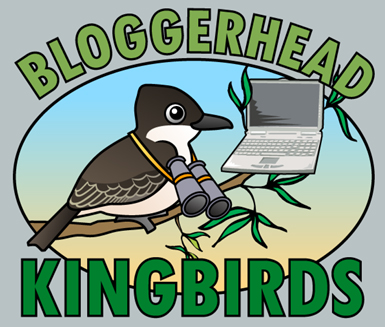 Our legions of fans and followers can relax and the rumors of our demise can be put to bed: the Bloggerhead Kingbirds are going to compete in the Superbowl of Birding VII.  Though internal dissension almost destroyed our team before we could get it off the ground this year (Who knew that the color and style of our team uniform could cause such problems?) and other teams' lucrative offers have robbed us of two stalwarts from last year (at least, that's the rumor I'm spreading), nothing could keep us from the freezing cold and wind and snow and sleet and ice and why the heck am I putting myself through this again?  For you, dear readers, of course, it is for you that I and the rest of the Bloggerhead Kingbirds will freeze our heinies off for twelve hours in the middle of a New England winter, so you might enjoy the splendor of rare winter birds vicariously over the internet without leaving the comfort and warmth of your own home.  You can thank us later.  In the meantime please just send warm clothing and several of those big dogs with casks of coffee, cocoa, and booze hung around their necks.
Last year, the first year that the Bloggerhead Kingbirds, brainchild of a demented New Englander, competed in the Superbowl of Birding we had a respectable showing for a first attempt, finishing sixth in points and fourth in species.  This year, we at least want to improve on that showing, and, ideally, we want to win and win big.  It's possible, though there is some serious competition out there.
So who are the 2010 Bloggerhead Kingbirds?  Like last year we will have a team of crack(ed?) bird bloggers.  Unlike last year we will have a team of six, mostly because we think that the more the merrier.  Returning from last year's team are Christopher (The Demented New Englander), Nate (The Southern Belle), and me.  New to the team are Andrew (The Dude Birder, Er, The Birding Dude), John (The Geographically Confused), and Mike (Invited Only Because There Are No Flowers To Distract Him In Winter).  Gone but forgotten are Patrick (I'd Rather Be In Puerto Rico) and Quintus (Sorry, But The Five Species Of Owl Last Year Wasn't Good Enough For Me).  Massachusetts and New Hampshire might never be the same again!
Wait, I've gone and forgotten to explain what the Superbowl of Birding is?  Well, it's like football (American football for you folks for whom football means soccer) in that the scoring is convoluted and confusing to neophytes and it's like birding in that a bunch of birders are trying to see birds.  Just mash the two together in cold winter weather in a forsaken corner of the country for twelve hours and, well, you have the Superbowl of Birding.  Sounds great, doesn't it?
Be ready to cheer on the Bloggerhead Kingbirds on January 30, 2010, when we make history or die trying*.  And keep an ear out on January 29, 2010 when we initiate our new team members by making them jump into the Atlantic Ocean and come back with a Dovekie in their teeth (though we will also accept a Razorbill).
*I, personally, will not die trying but I am willing to sacrifice one or two of my teammates…