I have a coworker named Andrea who has never seen a bluebird. Granted, she is not a hardcore birder, but bluebirds are not uncommon. I tried to show her a bluebird one day after work last summer but for some reason bluebirds were scarce that day (or they took flight upon seeing Andrea coming).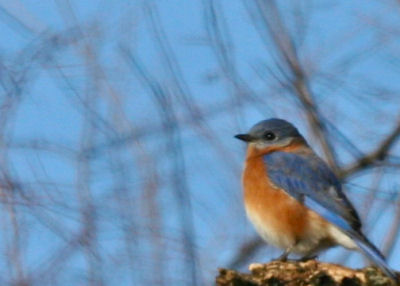 The bluebird above is a male Eastern Bluebird, like the one spotted late this afternoon at the Coxsackie boat launch. A small flock of bluebirds have been gathered there for the last couple weeks, relying on the steady supply of berries in some ornamental shrubbery. Winter can be bad for bluebirds in New York. After a particularly cold and snowy season their numbers can be greatly reduced. This is because they are partial migrants, not undertaking the continent-crossing flights of many of our summer residents, but grouping together and going to where the food is. If their food runs out or becomes inaccessible they move on, murmuring, looking for more.
This particular flock is fortunate in that they have found bountiful berries and the berry bushes were not completely buried under a blanket of snow.
And below is another species of bluebird, a Western Bluebird, photographed the last time I was in California.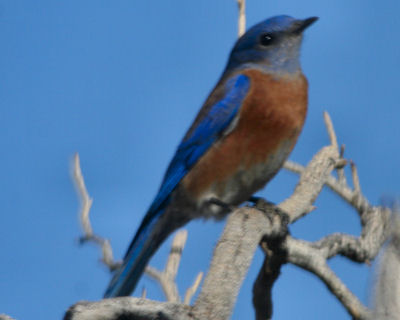 Enjoy the bluebirds Andrea (and anyone else) and any time you want to try to see one again, let me know.