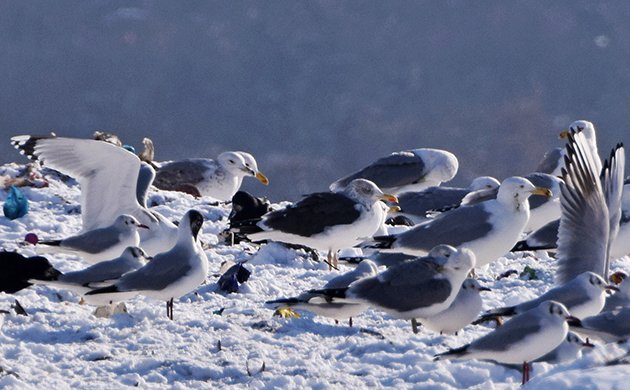 As usual at this time of year, I visited the city landfill to look for gulls. To be honest, mostly to look for one gull, the European Herring Gull Larus argentatus. I have observed it before in East Anglia, but never in Serbia and recently it was confirmed from a photo taken in Belgrade. Last but not least, there are only two or three conformed sightings of this northern species, rare in Serbia.
A bit of history, when I started to bird, almost three decades ago (yes, in the last millennium) Herring Gulls were everywhere, including Serbia. That was an easy life. A large gull? Simple, Herring. It didn't deserve a second look. Or did it?
Some twenty something years ago, we got another large gull. Southern Europe's Herring become a full species, the Yellow-legged Gull Larus cachinnans. But, not much else changed. Large gull? Still easy, Yellow-legged.
Yet, that split created some strange situations… It was the January 1999 mid-winter waterbird count and four of us were on the Danube, sitting on the prow of a trawler. As snow was getting thicker, we found ourselves in front of one of the most impressive sights on the entire length of the river – after being 2000 metres / 6500 feet wide only a few kilometres before, the Danube gets squeezed into less than 200 m / 650 ft in the Iron Gates, among cliffs rising up to 600 m / 2000 ft above the waters. It was damn cold – "Science is a cruel mistress", a line from Luc Besson's movie The Big Blue, came to mind – but we remained on the prow.
That evening, the snow was covering the trawler, tied at Kladovo wharf. We were enjoying the warmth of flames, visible through the glass door of the boat oil stove, their yellowish glow playing on the mahogany interior, and made totals for the day (find the full report here, and for those who do, no, the state orchestrated murder of my editor remains unsolved for 18 years already). About that time, the only non-birder among us asked what happened with Herring Gulls? In previous years, there were so many of them and today we haven't seen a single one? Yet, they were around, all right, only by then they were called Yellow-legged Gulls.
Caspian Gull Larus cachinnans by Aleksandar Urosevic
But, some ten years later, this birding life really got complicated: we got another large gull! Now Yellow-legged got split into southern (Mediterranean) Yellow-legged Larus michahellis (see the previous scientific name above!) and the eastern (Central Asian) Caspian Gull L. cachinnans! Being located somewhere between known worlds, both of them can be seen at the riverbanks of Belgrade. Now, this was a real change, and for some period, nothing short of disaster. How to tell these two apart (and how to tell them that they are now separate species and are not supposed to hybridise)?
Years passed before I learned the very basics of IDing them. In the field guides of the time they were treated as subspecies and the differences were barely mentioned. Only the Collins Bird Guide, edition 2, changed that and encouraged European birders to dare into that, till recently, uncharted territory.
And two days ago, I was at the city landfill to look not for Yellow-legged or Caspian, but for their forefather, the European Herring Gull. It took me less than three minutes to find the otherwise rare Great Black-backed Gull among thousands of Mew and Common Black-headed Gulls (we saw two CBHGs that were ringed at the same landfill on this particular St. Valentine's Day,  one of them visiting Poland and Germany in the meantime). Among hundreds of Caspian Gulls, Yellow-legged Gulls proved surprisingly scarce, 100+ only. An hour later, uncommon Lesser Black-backed will be equally easy.
There were several large adults with faintly but suspiciously streaked heads – some of them we considered the candidates for Herring. Also, some large immatures were quite dark chocolate and we considered those as possible Lesser Black-backed Gulls.
Four hours later, we left the landfill and started analysing the photos we made and sending some of them to real gull experts, like Luka Jurinovic from Croatia (where he dreams of Belgrade landfill the way some of you dream of Costa Rica).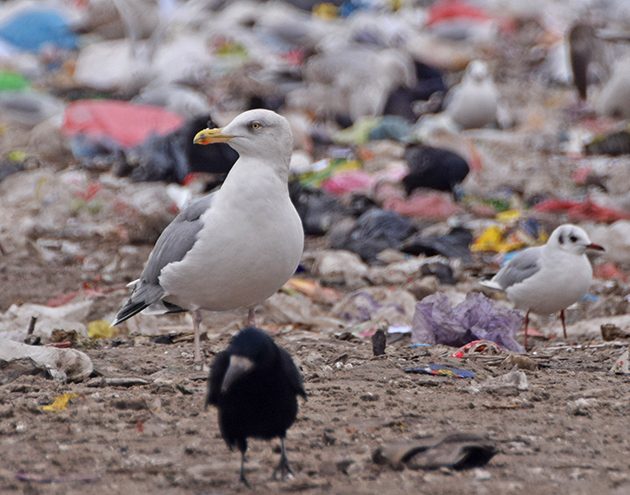 European Herring Gull Larus argentatus (2) by Aleksandar Urosevic
Surprise, surprise! All those suspiciously streaked adults turned out to be Caspians. Even more of a surprise, those dark immatures turned out to be European Herring Gulls! Checking the photos, we also noticed two adult Herring that we hadn't spotted at the landfill. From the gulling perspective, one rare, two uncommon and four common species are a success.
But now the question arises, how to count (if at all) the bird you haven't seen in the field, but in the photos? Normally, I would not count the species I haven't IDd in the field, but gulls are a tricky group that, in my opinion, deserve to be an exception to the rule. In all those swirling flocks going after the latest rubbish lorry, it is second to impossible to notice the rare ones.
And so, even if I haven't seen them in the field, I should count them? Almost. I haven't found a single Herring in my photos and therefore this species still isn't in my country list! But the cold spell continues and with it, my landfill searches…
Cover photo L to R: Common Black-headed Gull, Lesser Black-backed Gull, Yellow-legged Gull; by Aleksandar Urosevic