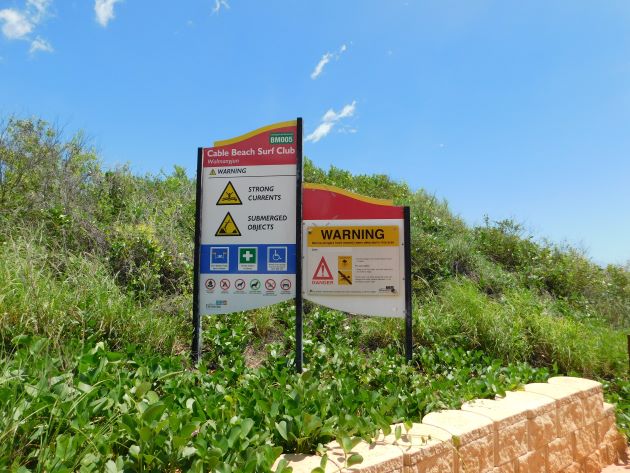 Over recent years we have learnt to not take being able to travel for granted. Thankfully we have plenty of places close to home that we can visit. There are still many roads closed after our recent floods. Although some roads have been reopened they can be closed at very short notice when we get more torrential rain.
We enjoy cycling and walking and we can easily cycle on the flat bike path to Cable Beach, which is about 3.5kms from home. We always park at the Surf Club, because there is some shade for our bikes and at this time of year there are very rarely other people on the beach. However, if there is some surf there will be a few keen surfers trying for a wave. Due to the presence of the deadly Irukandji jellyfish at this time of year you are advised to cover as much of your body as possible before you enter the Indian Ocean. The sign in the header shows the dangers this week and sometimes there is a crocodile warning too.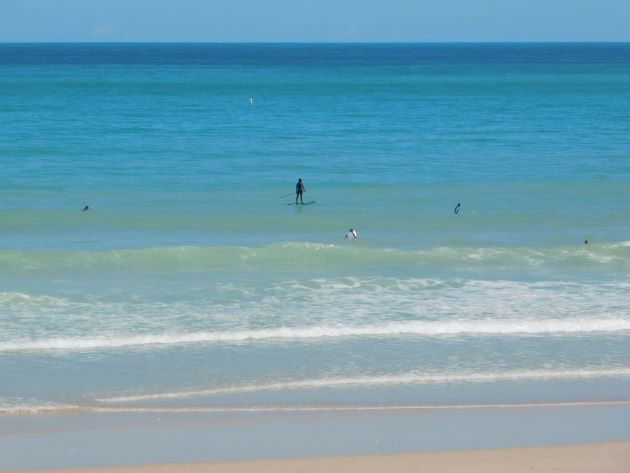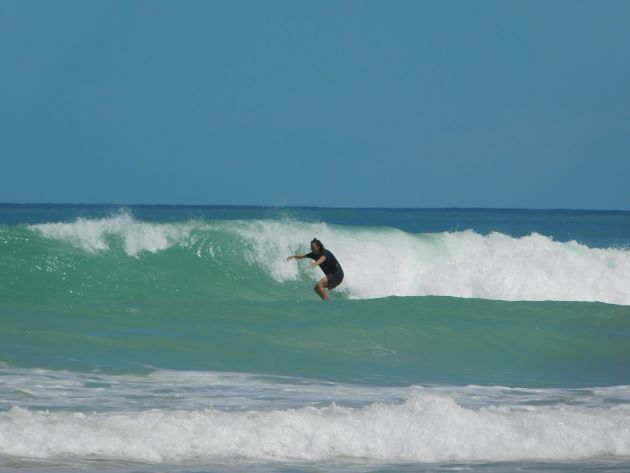 Cable Beach surf
We are mostly seeing larger jellyfish washed up at the moment and they are bigger than a dinner plate.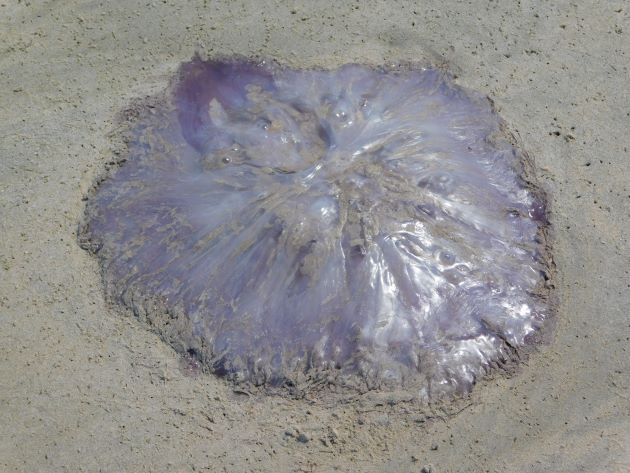 Jellyfish
There are several walk trails that come across through the dunes in Minyirr Park. Most of the trails are about one kilometre from the parking areas on the highway. You can also run or walk parallel to the dunes in the bush and cover over ten kilometres with the option to come over to Cable Beach in a few places. There are several signs high up on Cable Beach to show you the route through the dunes. There are also signs at this time of year for the turtles that are currently nesting along our coastline.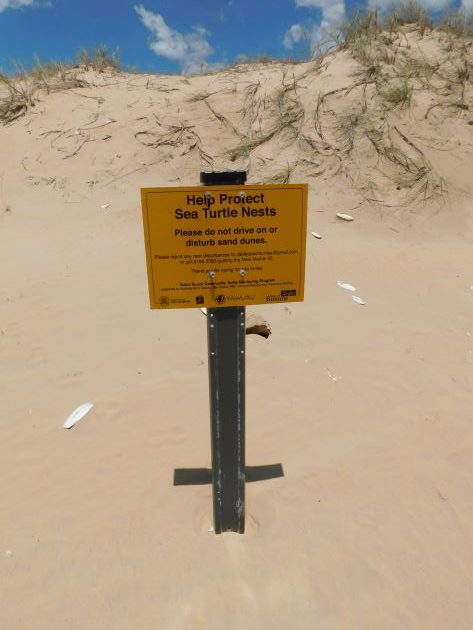 Turtle nesting sign
The walk south along Cable Beach from the Surf Club to Gantheaume Point is approximately 6 kilometres each way. The airport runway in Broome is just over the dunes, so anybody flying into Broome gets a good view of Cable Beach before they arrive at this time of year.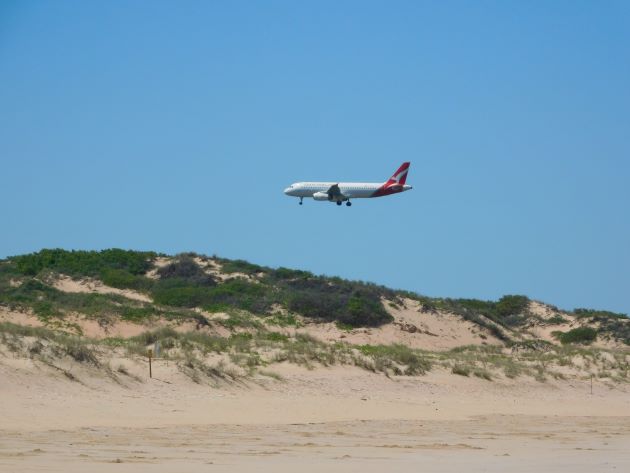 Qantas landing in Broome over Cable Beach
Following on from our recent floods in the Kimberley we have a lot more aircraft than normal and there are several defence force helicopters and planes using Broome airport at the moment. They also fly in over Cable Beach, so although you might be alone on the beach you are under a busy flight path this year. Three years ago there were almost no aircraft coming to Broome!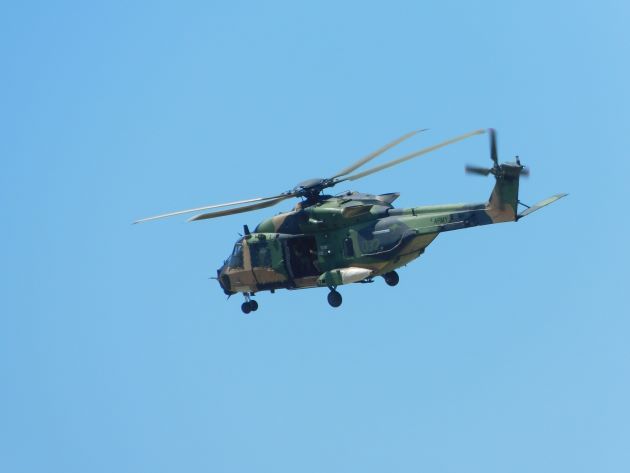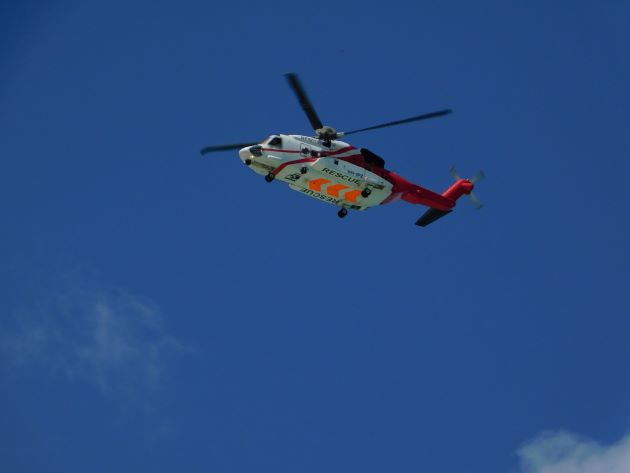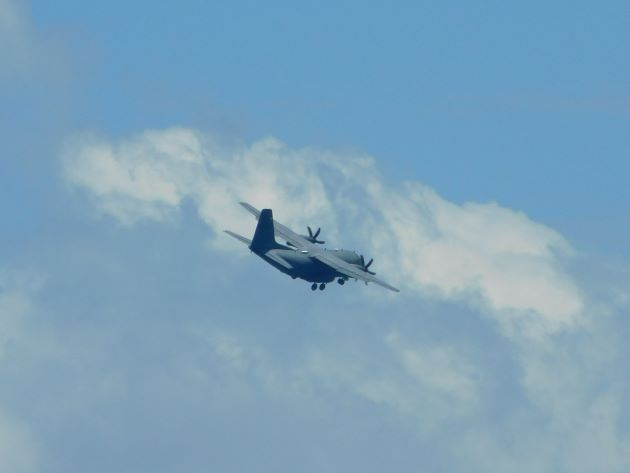 Aircraft in Broome flying in over Cable Beach
On very big tides at this time of year there are often shorebirds on Cable Beach about half-way to Gantheaume Point. This week the bigger tides have been at night rather than in the day, but there was clear evidence that the shorebirds had been roosting at night on the beach. The shorebirds had left many footprints and you could clearly see where they had taken off from leaving deeper prints in the wet sand. There were a few feathers along the beach too.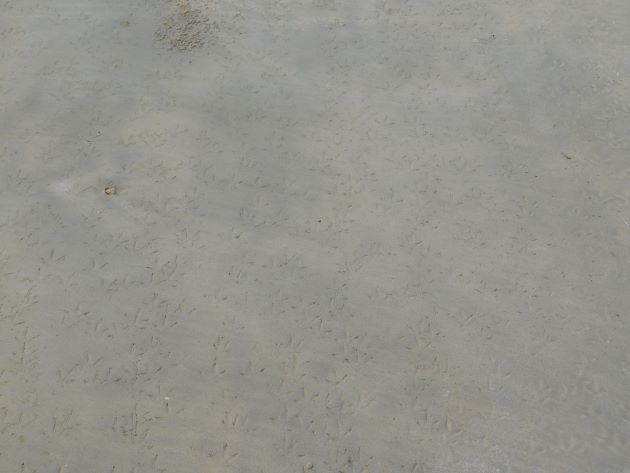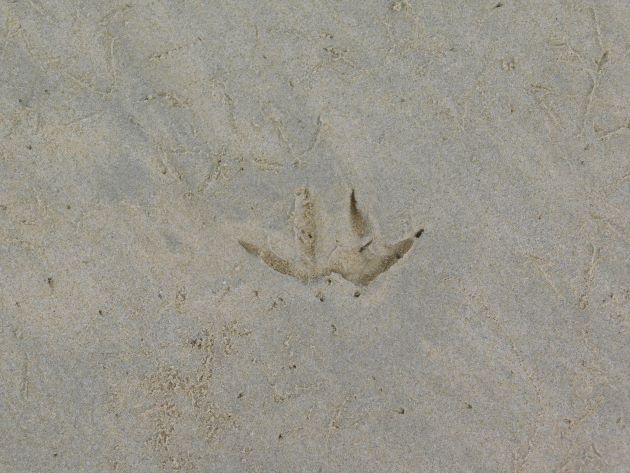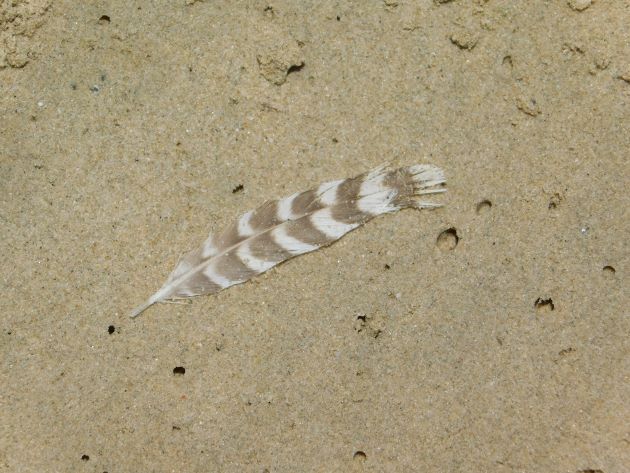 Shorebird night time roost evidence
About half-way to Gantheaume Point there was a lot of natural debris washed up this week after the rough seas. There are also quite a few dragonflies about at the moment and they don't all survive. In coming months there will be many more dragonflies and that will be an indication in the change of our seasons here in Broome.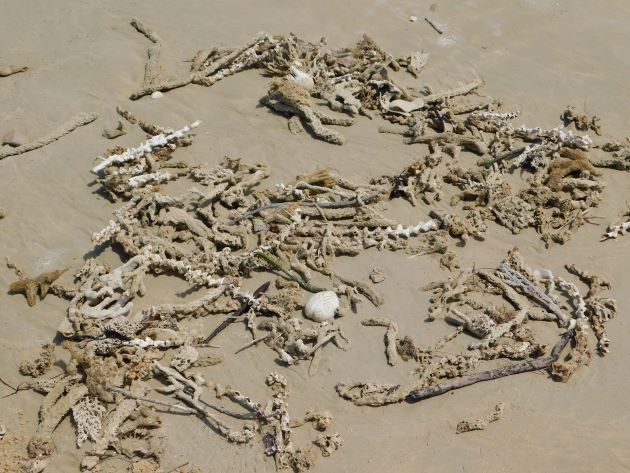 Beach debris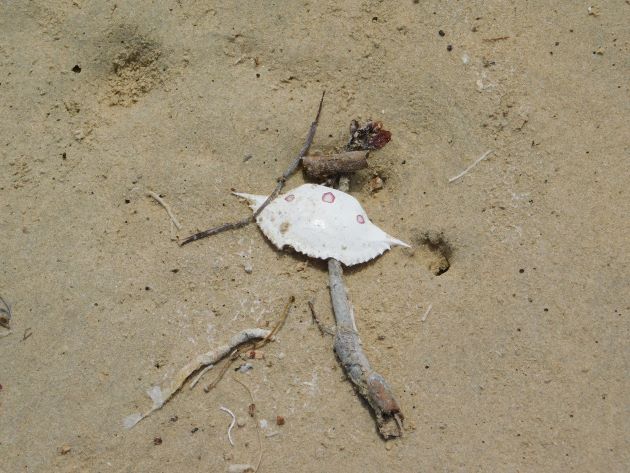 Crab carapace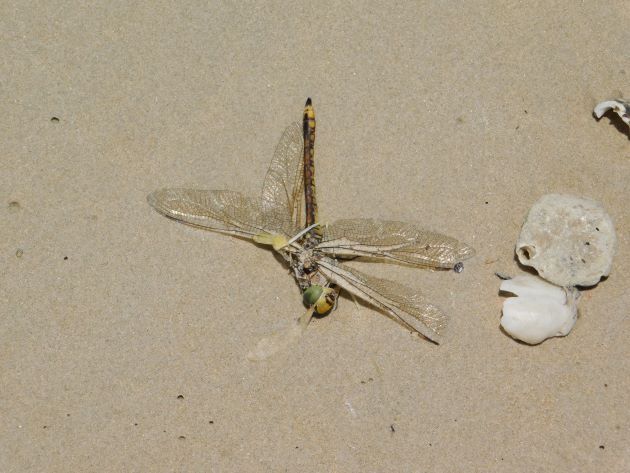 Dragonfly
By the time I got to Gantheaume Point on my walk this week the tide was high and the shorebirds were all gathered on the rocks. The Sooty Oystercatchers were being careful to not get covered in surf spray with an eye on the waves!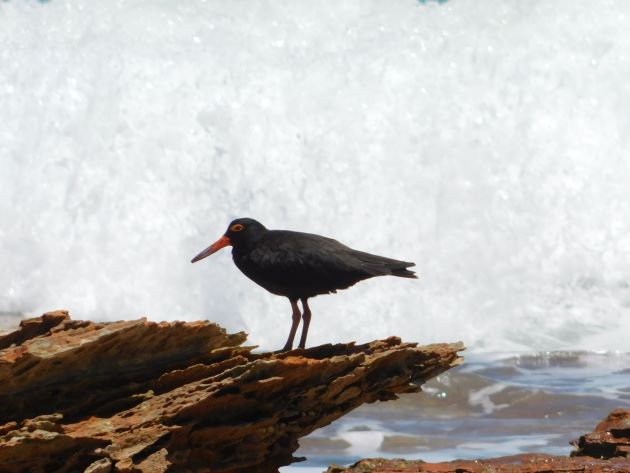 Sooty Oystercatchers
The Reef Egrets were watching out for any small fish. Gantheaume Point is also a good location for a variety of Terns to roost at high tide.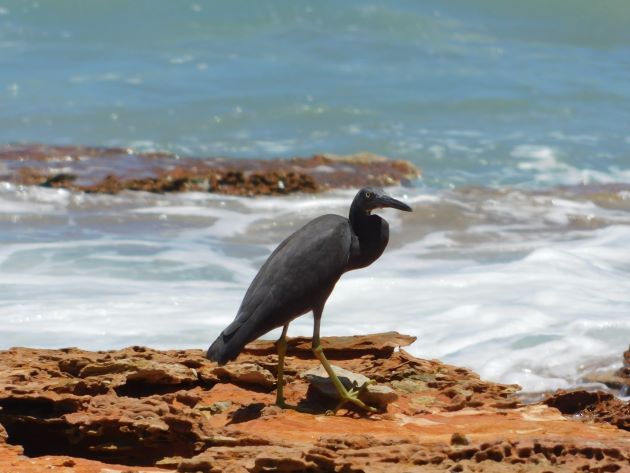 Reef Egret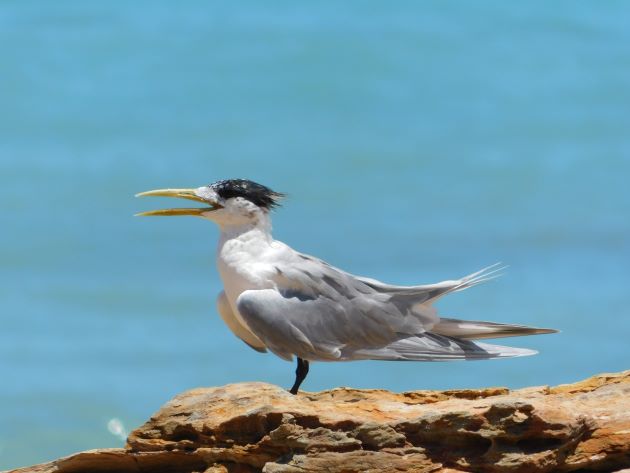 Crested Tern
Common Sandpipers like to stand in the shade of the rocks at Gantheaume Point. We have yet to observe another shorebird species that is so keen to find shade! As the tide pushed in, one Common Sandpiper had to run through the sea to find a new shady spot!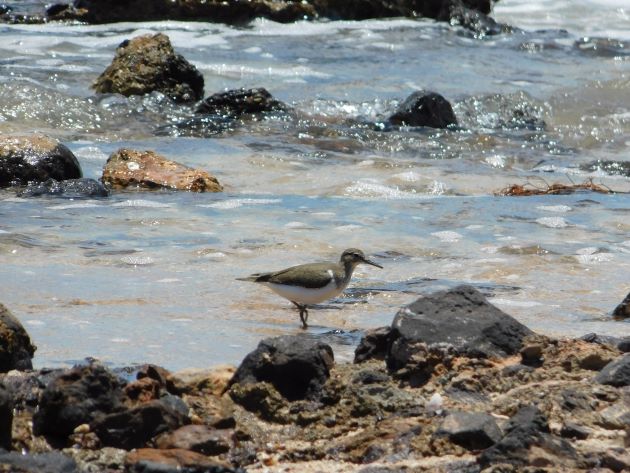 Common Sandpiper
There were numerous other shorebirds all roosting at Gantheaume Point this week including Pied Oystercatchers, Grey-tailed Tattlers, Great Knot, Bar-tailed Godwit, Whimbrel, Greater Sand Plovers, Lesser Sand Plovers, Red-necked Stint, Ruddy Turnstones and Sanderling. The shorebirds are all very well camouflaged and easily overlooked unless they move due to the rising tide. Sanderling are the more obvious of the shorebird species with their pale plumage against the rocks.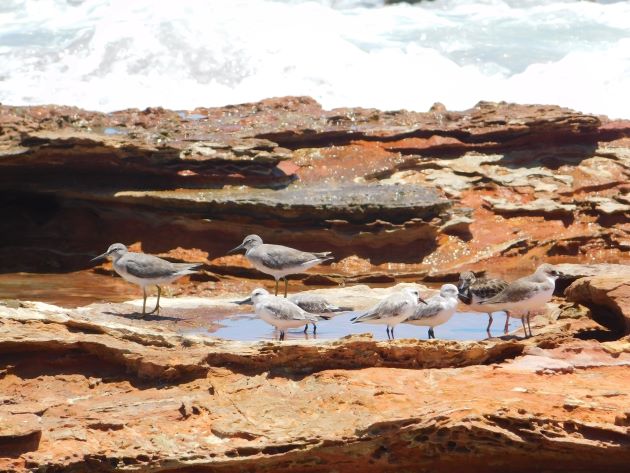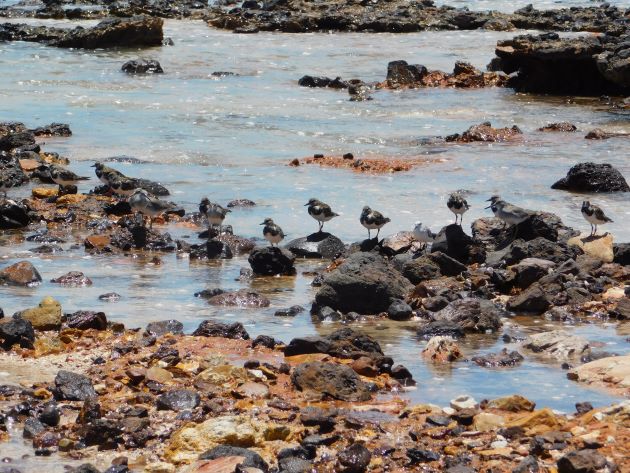 Shorebirds roosting on the rocks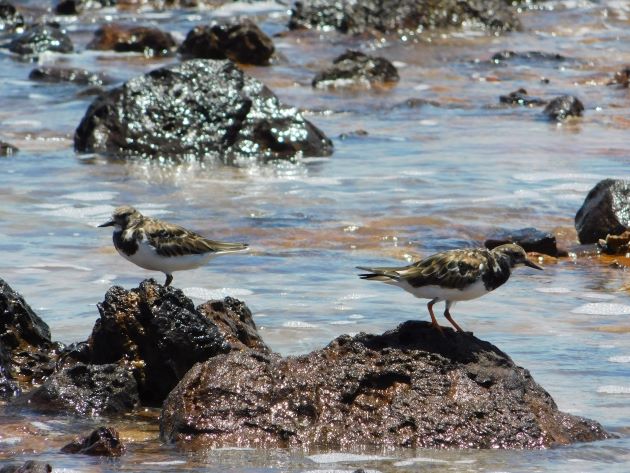 Ruddy Turnstones
It takes a few hours to walk from the Surf Club in Broome to Gantheaume Point and back and you do need to carry plenty of water at any time of year. Depending on the tide you may have a lot of wet sand visible or you may be walking high up on the beach.
There is always something interesting to see and there are options to walk sections of the trails rather than the whole walk.