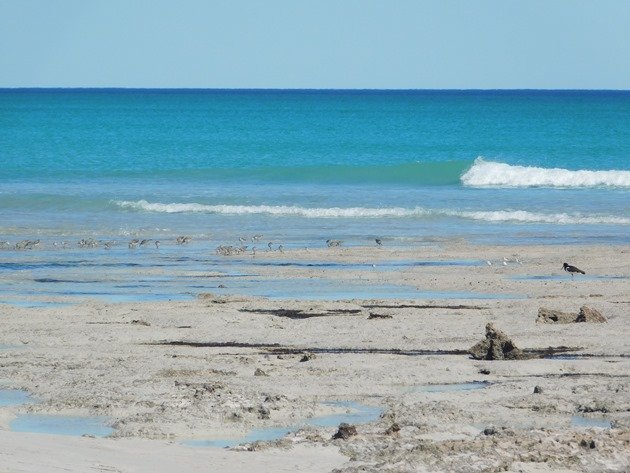 Last Saturday, May 16th, it was a three tide day, so there was very little tidal movement. On our biggest tides in Broome there is almost ten metres of tidal movement. That is a lot of sea coming in and going out over a few hours. We chose to take a long walk at the northern end of Cable Beach heading to Willie Creek on the south side. Over recent months the beach has changed so dramatically that we can no longer walk all the way up the beach due to a breach in the sand spit. By choosing a day with the least tidal movement we could go all the way to the south side of Willie Creek on foot.
Due to the fact that the majority of migratory shorebirds have set off on their migration to the northern hemisphere we were not expecting to see too many shorebirds other than the resident species. However, they proved us wrong! As we walked down onto the beach from the clifftops we could see over fifty Sanderling running around on the water's edge and bathing. Looking across the reef and up the coast we could see numerous species of shorebirds and for several hours we enjoyed their presence and thought about what they were chattering about! The header photo is the view as we walked onto the beach.
Here's my interpretation of what I think they were saying!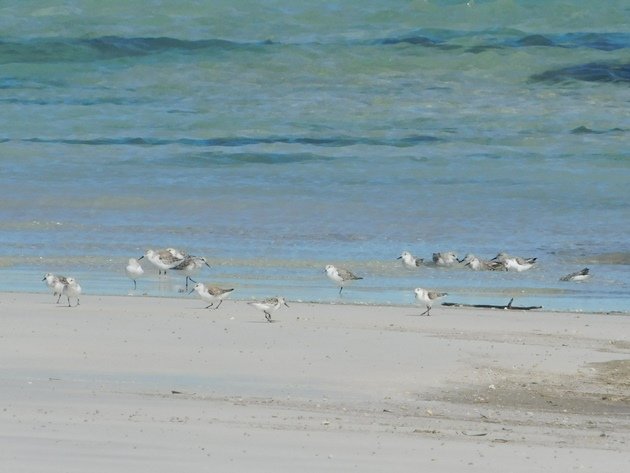 Sanderling -"we really should get a good wash and feed up and then go north"
Sanderling -"standing on one leg and ignoring the slow moving tide makes for a lazy weekend"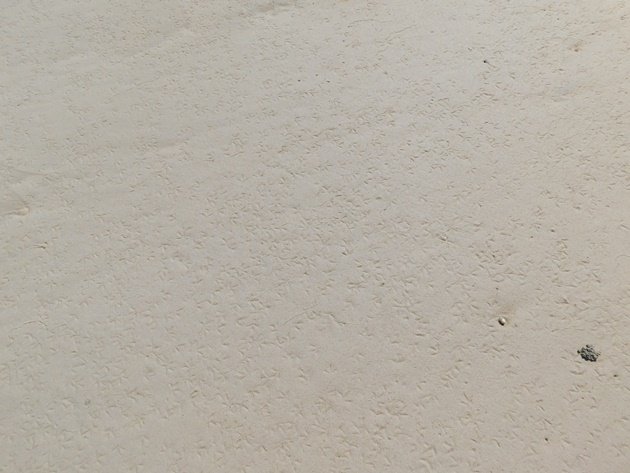 Shorebirds earlier that day-"what great fun it is running randomly all over the wet sand"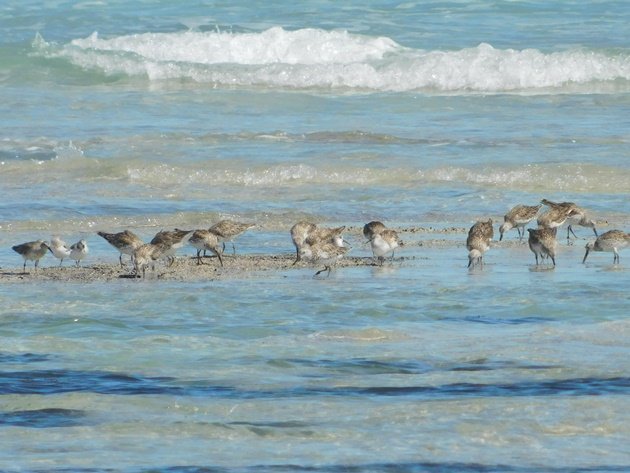 Great Knot -"we really should make this our last meal before we go north, because it is May 16th already"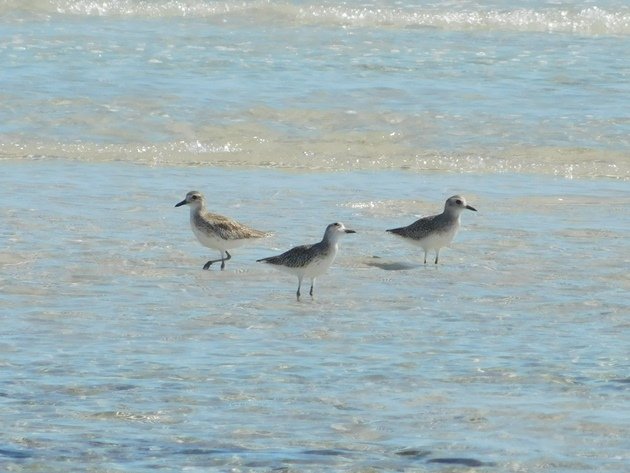 Grey Plover -"when did you last see an aeroplane? I keep looking, but there are none nowadays." *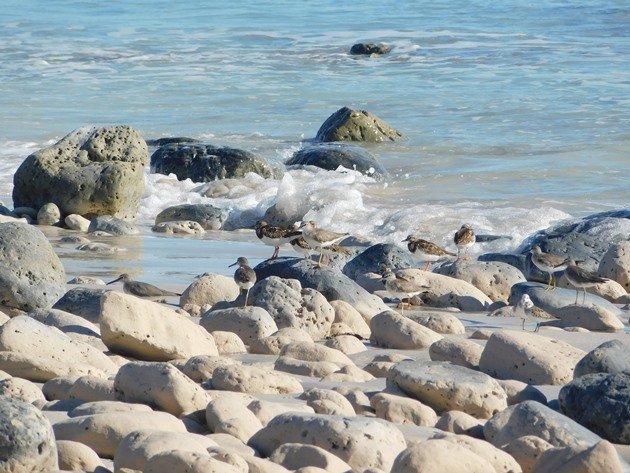 Ruddy Turnstone, Grey-tailed Tattlers and Red-necked Stints -"these rocks are great for camouflage and everyone will think we have migrated!"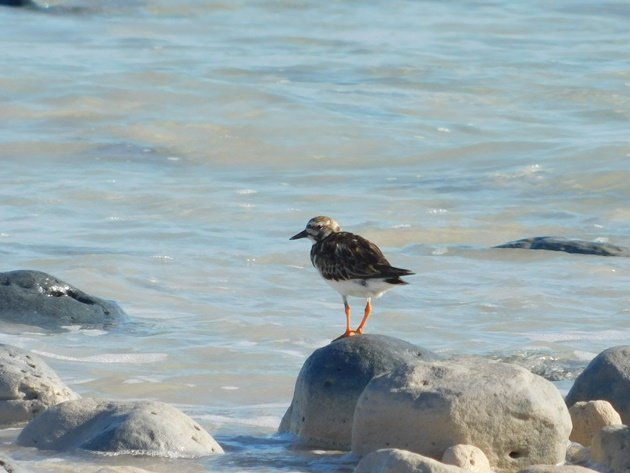 Ruddy Turnstone -"oh no, this isn't working for camouflage. My legs have let me down once again!"
Sooty Oystercatchers -"do you really think the tide is coming in?"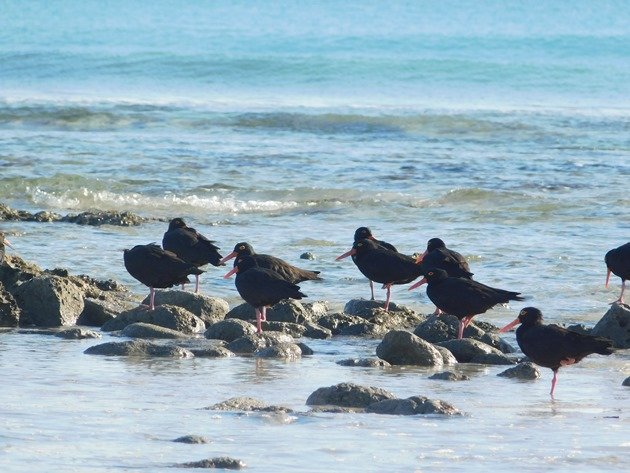 Sooty Oystercatchers -"if we ignore the sea and tuck our bills in will the tide stop coming in?"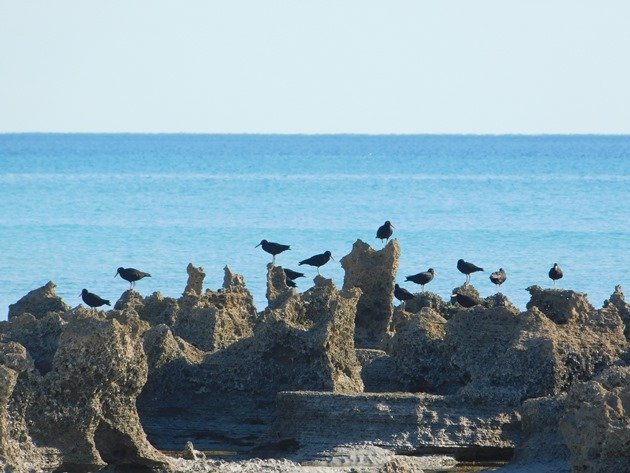 Sooty Oystercatchers – "well, this should do and we won't need to move for a few hours!"
* In actual fact there were no aeroplanes, but there were several Lesser Frigatebirds around and so the shorebirds did have something to look up at.