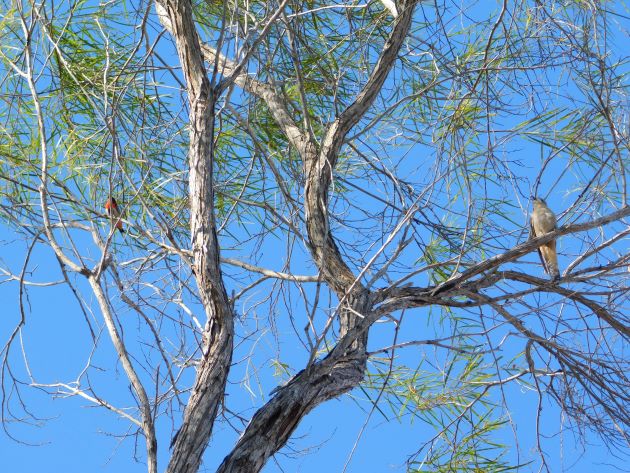 Over the past week I have continued to keep an eye out for the Mistletoebirds that are breeding in the bush not far from our back fence. We have also been listening to the call of the Brush Cuckoo, which appears to have made itself at home in the same area. Brush Cuckoos can be found throughout the north of Australia and also down the east coast of Australia. Brush Cuckoos are a typical cuckoo that lays its eggs in other birds nests and often use the nests of Honeyeaters, Flycatchers and Robins to host their young. There are plenty of bird species in our local patch, so no doubt one of them will find themselves hosting an intruder over coming weeks.
As I walked down the firebreak track I could clearly hear the Brush Cuckoo as I approached the Mistletoebird's nest tree. The male Mistletoebird was actually in the same tree as the Brush Cuckoo very close to the Mistletoebird nest. You can see in the header photo above the two birds. Brush Cuckoos also like to eat hairy caterpillars like the Pallid Cuckoos, which have recently gone quiet and I have not observed them for a couple of weeks now. Brush Cuckoos are a smaller cuckoo than the Pallid Cuckoo, but not as small as the Little Bronze-Cuckoo that we also observe around Broome.
I moved slowly towards the call of the Brush Cuckoo and then managed to take a photograph of it singing. We continue to have crisp clear mornings with no heat haze first thing!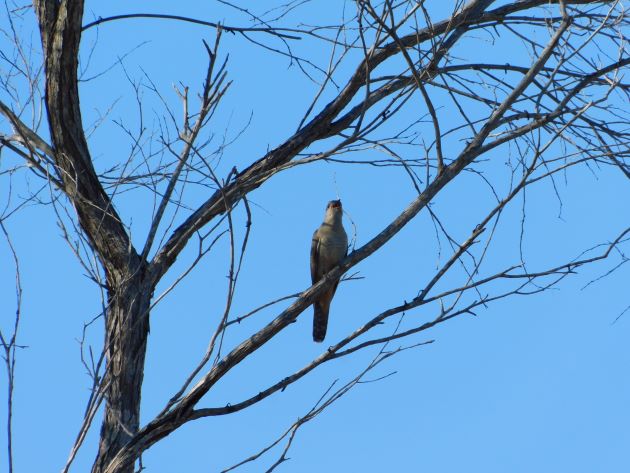 Singing Brush Cuckoo
I moved slowly forward to capture a few more photographs of the Brush Cuckoo and to also observe the Mistletoebirds at the nest in the next tree.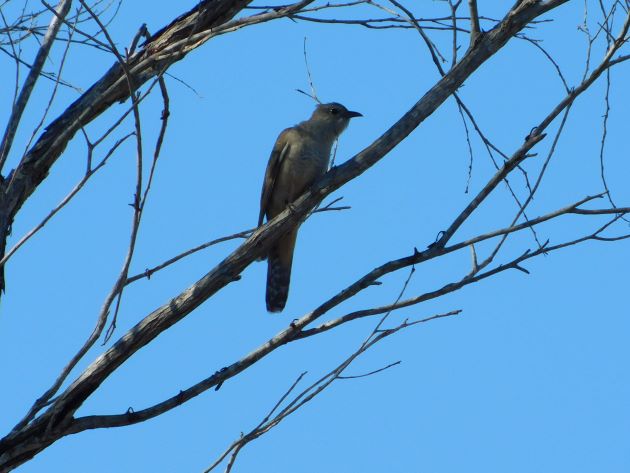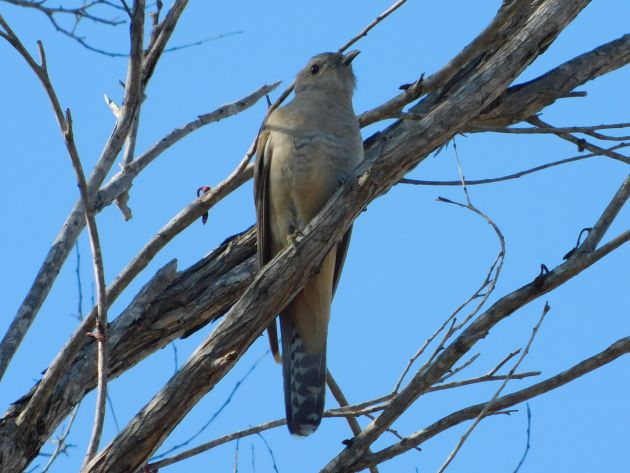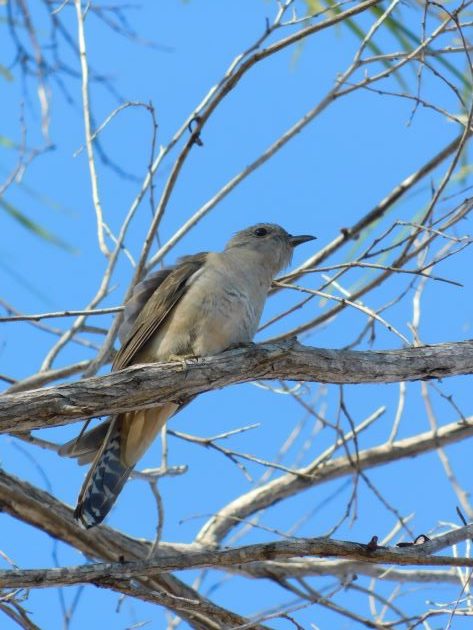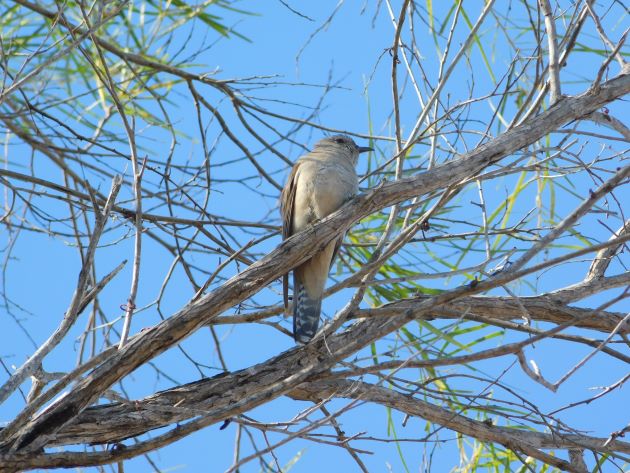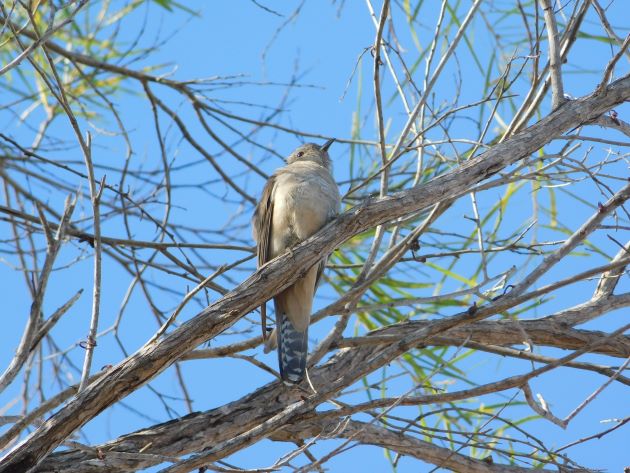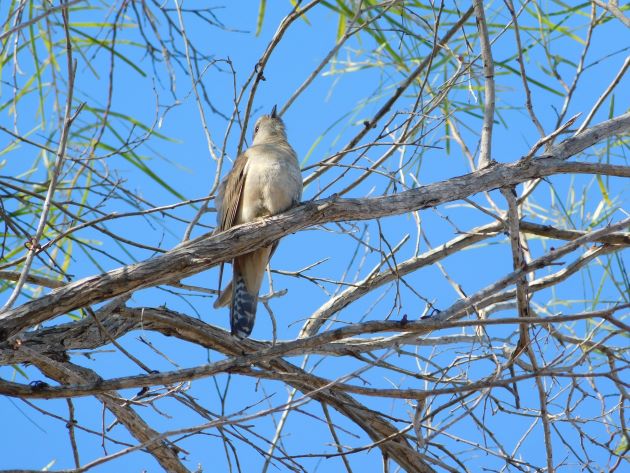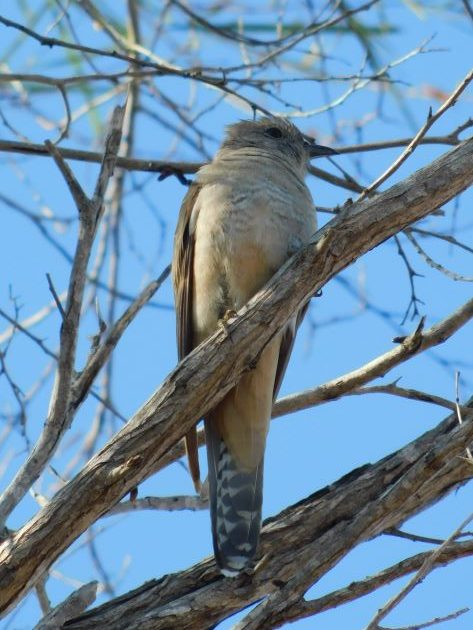 Brush Cuckoo
The Brush Cuckoo was in one of the taller trees in the area, so I got some nice underside photos as you can see above! We are continuing to hear the call, so we presume it is still looking for a mate.
It won't be long now before we see the return of the largest Cuckoo to our patch, which is the Channel-billed Cuckoo. The other smaller Cuckoo that is found throughout Australia is the Horsfield's Bronze-Cuckoo, which we also often hear calling in the local area.