The Buff-bellied Pipit* Anthus rubescens, which is known in the Americas as the American Pipit, is a bland little bird, and one of those species that are only known and noticed by birders.  If you mention to a random person that you saw a pipit without providing any other context the most likely response would be a blank stare (though some will probably think a pipit is some kind of apple).  Pipits are eminently forgettable and and LBJ-ish and non-birders can be forgiven for not having any idea what they are.  Birders, on the other hand, and here I speak of eastern American birders,** will probably be only too happy to tell you everything they know about pipits which is usually that the American Pipit has a distinctive call and wags its tail, there is some other species of pipit that lives out west somewhere, called something like Sprocket's Pipit (and another Eurasian species, which might be called Red-necked Pipit, that shows up sometimes out west), and that they have seen an American Pipit this year so they don't have to worry about them anymore.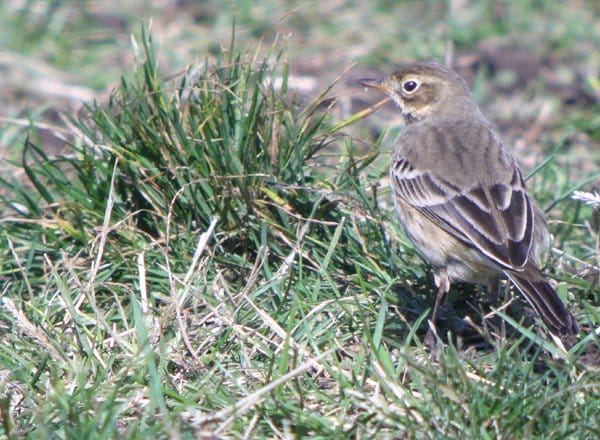 Buff-bellied Pipit AKA American Pipit AKA Anthus rubescens AKA boring bird
Obviously, there is much more to be learned about pipits.  Pipits, of which there are almost fifty species worldwide, are part of the family Motacillidae, which they share with the longclaws, wagtails, and the Sao Tome Shorttail. I can already hear the clicks of non-birders clicking out of this post as fast as they can so I will save all the rest of the pipit knowledge I have amassed for another day. Instead I will blast you with some images of an American Pipit dispatching what must have been a very tasty grub if the speed with which it disappeared was any indication.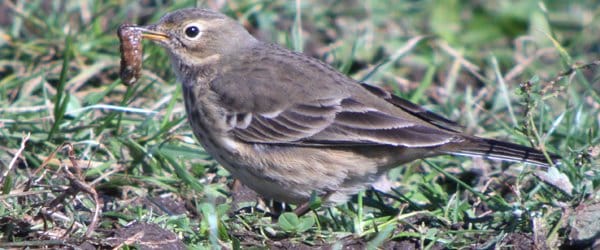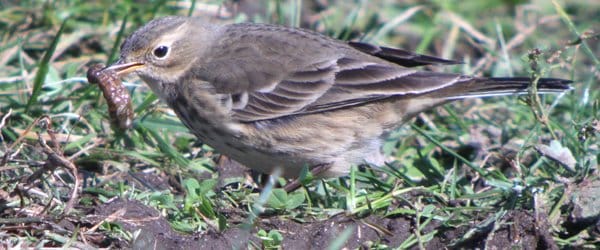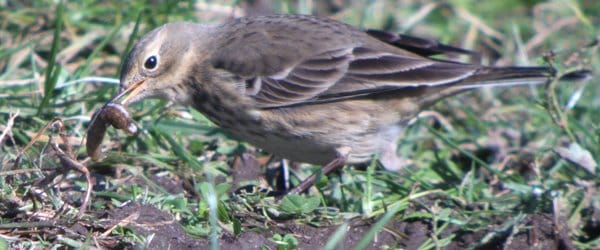 Cool, right?  Now get out there and find your own boring American Pipit. Or, if you're British, your own Buff-bellied Pipit. Or, if you're Roman, your own Anthus rubescens.  Tell it 10,000 Birds sent you and that you want a good show!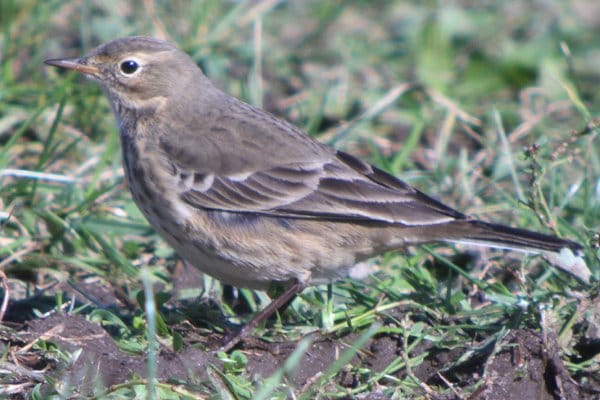 This post has been submitted to Bird Photography Weekly #167. Go check it out!
If you liked this post and want to see more great images of birds and other creatures make sure to check out 10,000 Clicks, our big (and growing) page of galleries here at 10,000 Birds.
*No, it is not called buff-bellied because of its killer abs from doing lots of sit-ups.  And, trust me, you don't want to be the birder asking that question.
**And by eastern American birders I mean me.
…