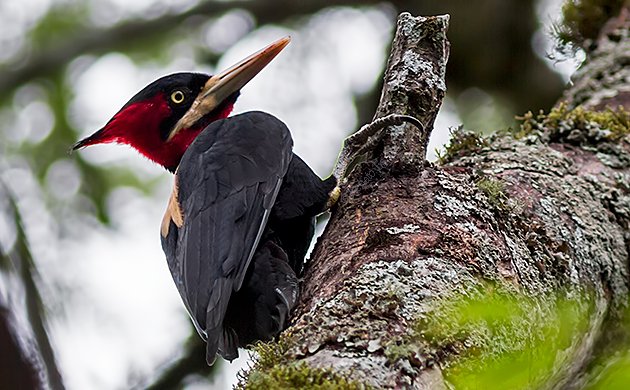 Calilegua National Park Birding – Trip Report
… continued from: Bird Watching Laguna del los Pozuelos
Driving to Calilegua National Park was not very difficult, apart from one wrong highway exit, we did not have any other troubles. From La Quiaca, near the border with Bolivia, to Calilegua it takes six hours so we arrived to Libertador General San Martin by 7 pm. We had originally planned to stay this night at Yavi but we decided to give ourselves more time to explore Calilegua where there are more birds.
Calilegua is the only national park in the province of Jujuy that protects 76,000 ha of Yungas forest providing a bird sanctuary for many endemic species that live in this special forest. This area specifically is renowned for Tucuman Parrots, Yellow-collared Mackaws, Green-cheeked Parakeet, White-throated Antpitta, Creamed-back Woodpecker, Blue-capped Puffleg and Slender-tailed Woodstar, White-bellied Hummingbird, and others.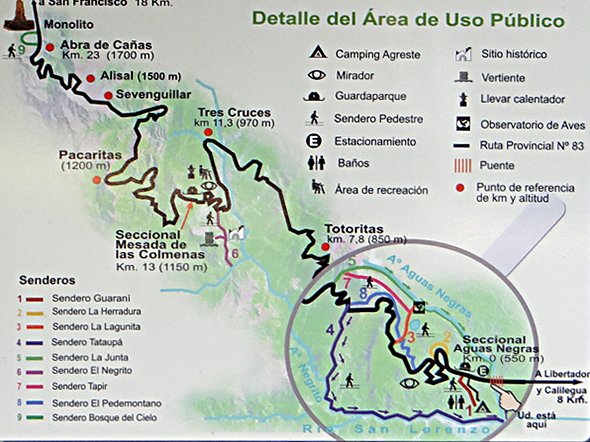 Calilegua Trails and Map
The hotel prepared an early breakfast and we drove to Calilegua which is only 15 minutes away. We made a couple of stops on the road to the park entrance since the birds we active. We were greeted by the Toco Toucan, Roadside Hawk, and Common-bush Tanager, and a pair of Dusky-legged Guan.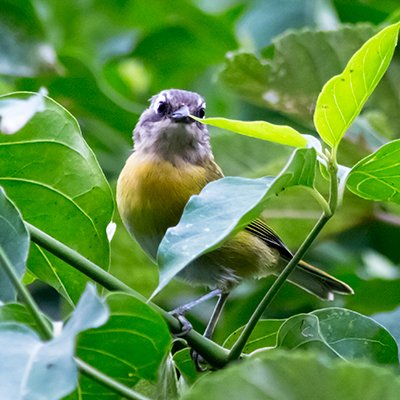 Common-bush Tanager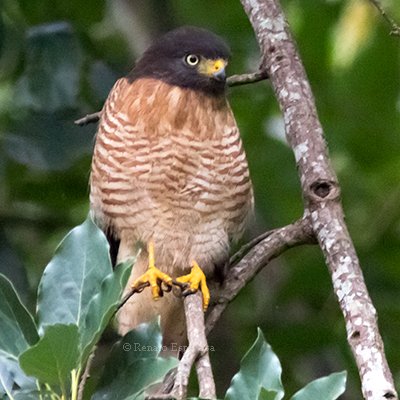 Roadside Hawk
We drove past the park entrance at 600 masl and began climbing and exploring the trails. We stopped at the first rest-stop (Sendero Pedemontano) where you reach a lookout and a trail. We were welcomed by a group of Plush-crested Jays that kept diving into a large garbage can.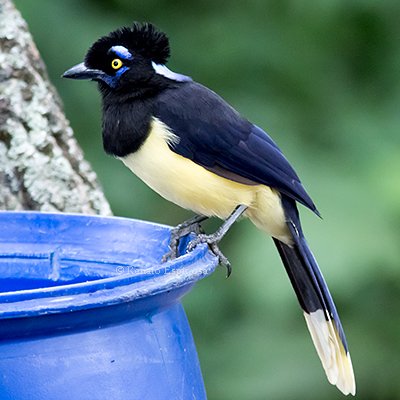 Plush-crested Jay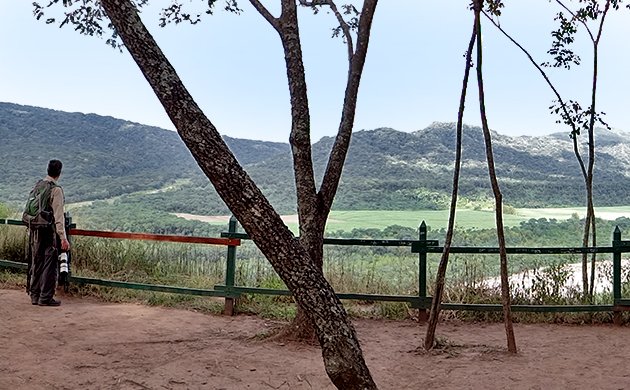 Lookout
This trail was mostly flat and we began exploring it near 8 am.  A woodcreeper jumped right in front of us only 100 ft into the trail. The great surprise was even more pleasant when I could only think it was a new bird for us and soon was identified it by its call: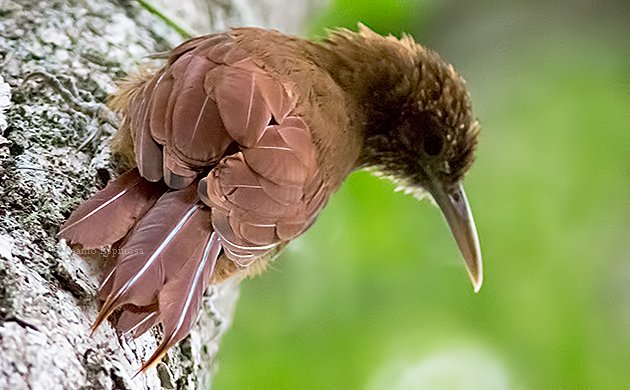 Black-banded Woodcreeper!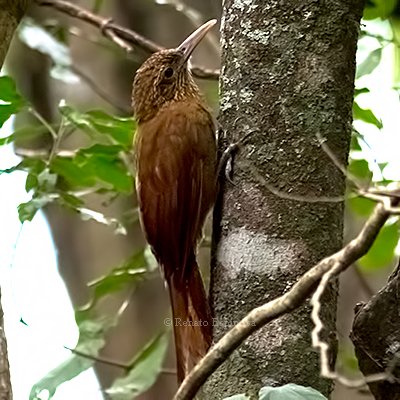 Black-banded Woodcreeper
We continued our walk until we found an observation tower! From here we spotted a Blue-crowned Togon, a pair of flirting Black-capped Antwrens which were new to us, and a small juvenile hummingbird that could be the Blue-capped Puffleg but I have never seen one, so this one is difficult to identify but I am almost sure of its ID.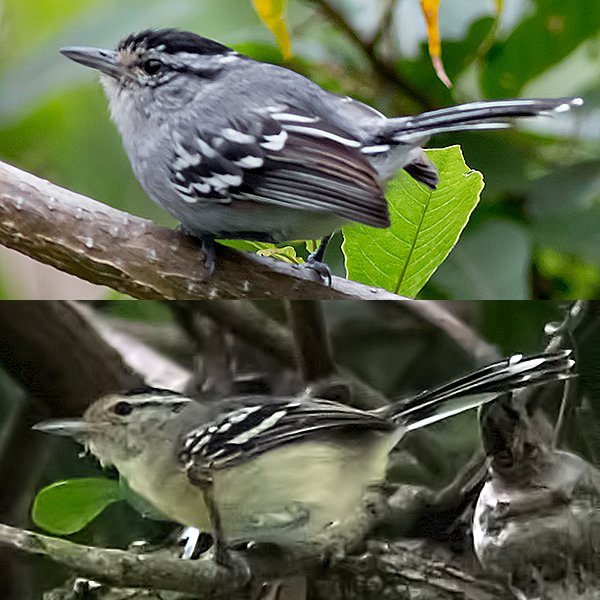 Black-capped Antwren Male and Female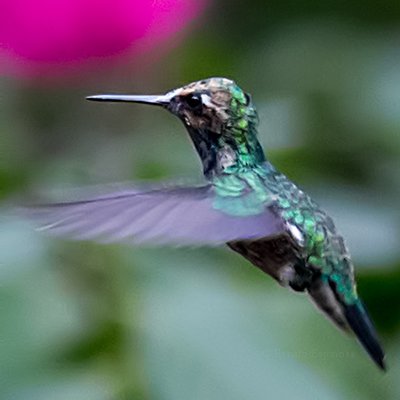 Blue-capped Puffleg (Juvenile Female)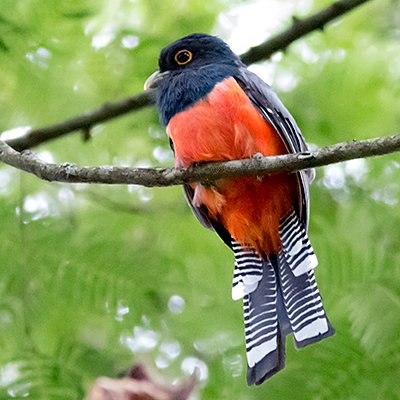 Blue-crowned Togon
After descending from the tower and we found the Ferruginous Pigmy Owl only 50 ft away from the tower while the Antrens bugged him. A bit further we found the White-bellied Hummingbird and finally we heard a Cream-backed Woodpecker and soon he was climbing the trees around us. This bird is stunningly beautiful and has lots of contrasting colors. He stayed in that spot for a while and we took-in all of that beautiful woodpecker.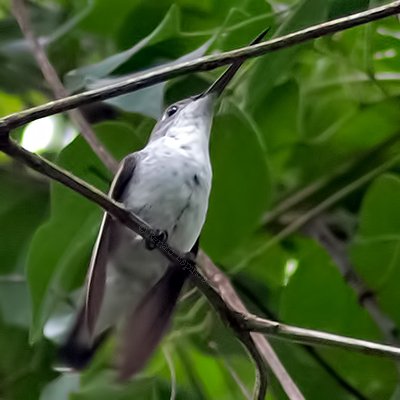 White-bellied Hummingbird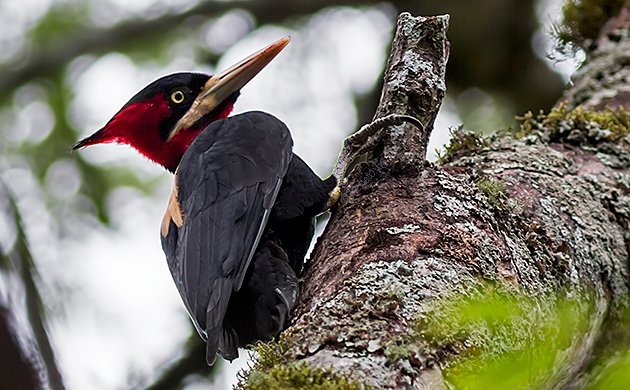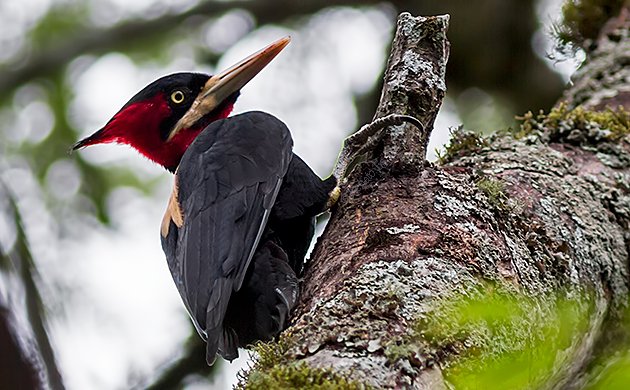 Cream-backed Woodpecker
A female Hepatic Tanager was working the canopy, while a Buff-banded Tyrannulet hopped around the making this area one of busiest of the trails. The trails ends in the road so we walked back to car and continued our ride up the dirt road to search for the White-throated Antpitta. The dirt road was in good shape so we rode all the top and started returning back looking for the Antpitta. We found other birds like the Brown-capped Redstart, Buff-browed foliage Gleaner, and the Buff-browed Spinetail.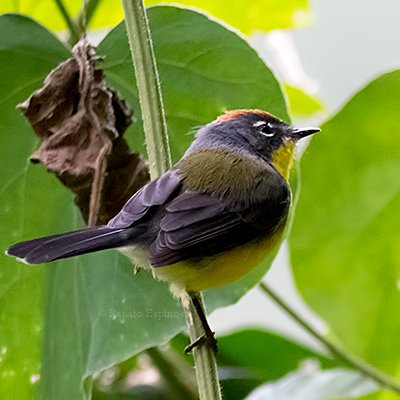 Brown-capped Redstart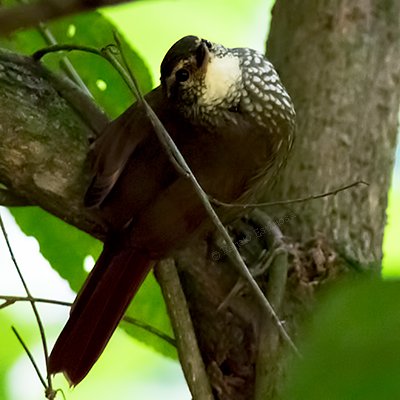 Buff-browed foliage Gleaner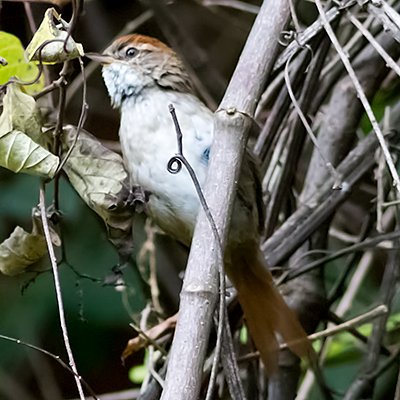 Buff-browed Spinetail
The late afternoon arrived and finally we heard the Antpitta call! It was about 5:30 pm at 1100 masl. We tried to see it but she never came close enough to the road. In the process we found the Saffron-billed Sparrow Golden-billed Saltator (thanks Ian), Rufous-browed Pepershrike, and the Stripe-headed Brush Finch.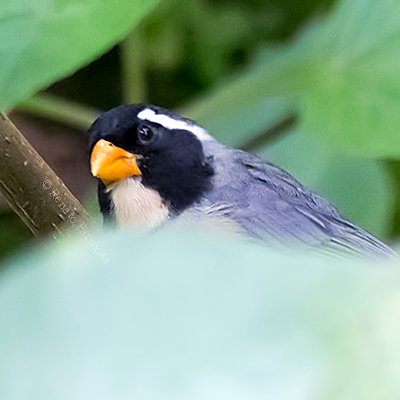 Saffron-billed Sparrow Golden-billed Saltator (thanks Ian)
Dark fell upon us as we drove down listening for Owls but did not hear any.
The next day we came back for a quick birding trip to look for the Yellow-collared Macaw. Again we stopped at the first look out and looked around. It was a beautiful morning. Soon I could hear some Macaws approaching and managed to photograph a pair of Yellow-collared Macaws that flew in front of us: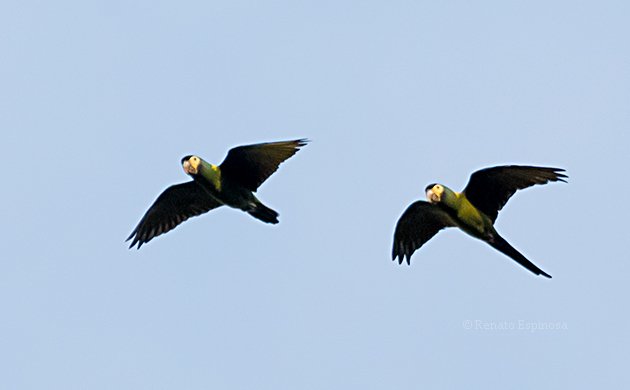 Yellow-collared Macaws
That fly-by motivated another Macaw to call from his perch and gave me a chance to get this picture:
Yellow-collared Macaw
Soon, the Green-cheeked Parakeets reveal themselves with their calls. They were in the same area hiding in the trees above.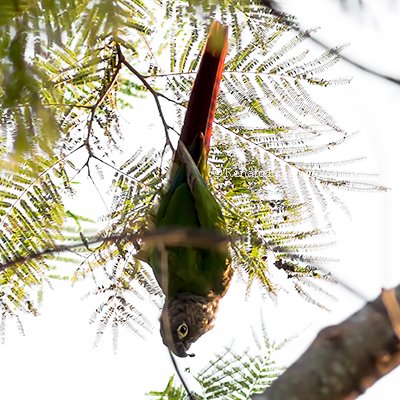 Green-cheeked Parakeets
And if that was not enough of a party, the Scaly-headed Parrots joined in the racket.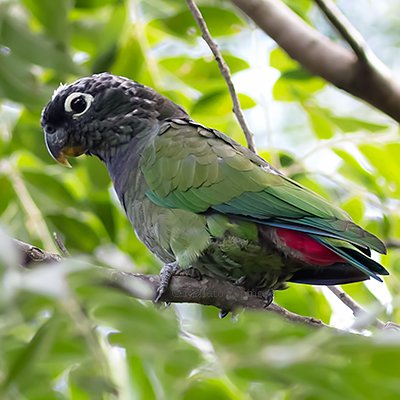 Scaly-headed Parrots
After that quick one-two-three birding punch, we headed for the trails and found the Amazonian Motmot, Narrow-billed Woodcreeper, Two-banded Warbler, Dusky-capped Flycatcher, and Golden-olive Woodpecker.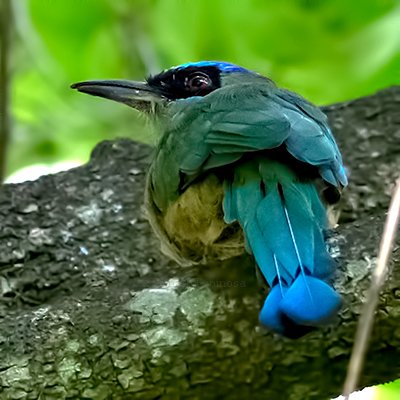 Amazonian Motmot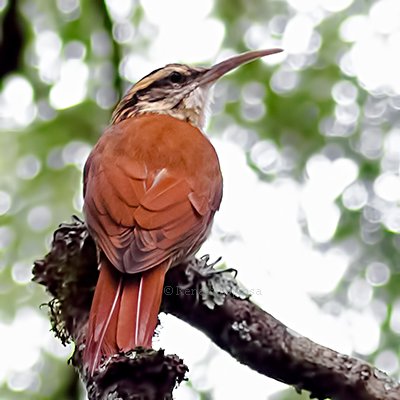 Narrow-billed Woodcreeper
That was a great morning for us and set our new heading for the Chaco area.
To be continued… Birding Chaco at J.V. Gonzles