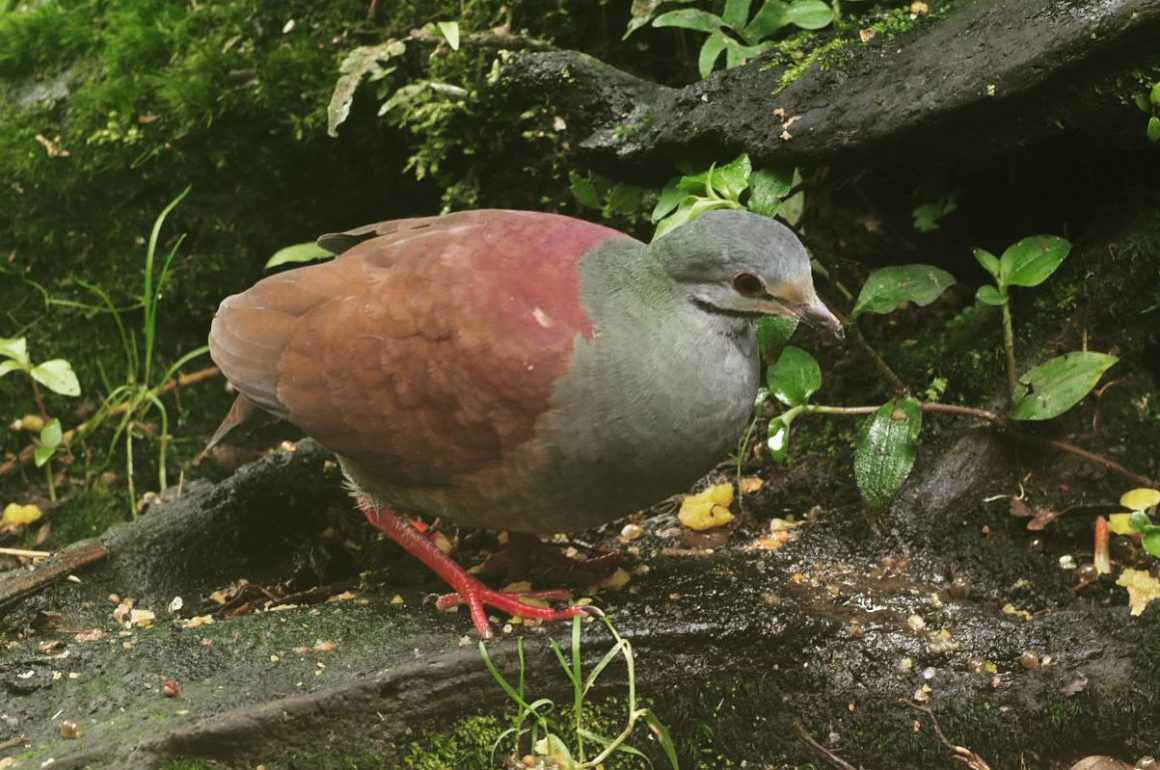 It is 6.40 a.m. and I am taking my observation-sofa position next to a glass wall, overlooking bird feeders in the misty cloudforests of the Cordillera de Talamanca. My friend and host, Serge Arias, brings me a mug of a slowly, drop by drop, prepared specialty Tarrazú coffee. I may be in tropical Central America, but at 2100 m / 7000 ft a.s.l. in the Casa Tangara dowii boutique lodge and reserve – a birder's dream venue, mornings are quite cool.

The Talamanca Mountains that lie along the continental divide in the southern half of Costa Rica encompass a variety of habitats, including montane cloudforest and páramo, and contain the highest peaks of the country. And a variety of specialty birds, too: Resplendent Quetzal, Black Guan, Snowcap, Fiery-throated Hummingbird, Golden-browed Chlorophonia and Spangle-cheeked Tanager (the bird that gives the name to the lodge), to name but a few.


I met Serge five years ago, when he invited me to a mad bird race all the way from the Caribbean to the Pacific coast of Costa Rica. Serge is a professor of ecotourism at University of Costa Rica, CEO and founder of Costa Rica Birding Hotspots Route, CEO and founder of Birdwatching Central America, and the former manager of the famous Selva Verde Rainforest Lodge. Casa Tangara dowii is his latest development, both his home and his new business initiative.

From my sofa, I observed the first Common Chlorospingus, Chestnut-capped, White-naped and Yellow-thighed Brushfinches, and Silver-throated Tanagers coming to Serge's papayas, hung perhaps 2 metres (6.6 ft) above ground. But all of them had to wait before several Red-tailed Squirrels had their (more than) fair share. In the world of creatures small, squirrels are undoubtedly the kings. Both Mountain and Clay-coloured Thrushes also made their appearance.

On the ground, spilled wheat attracted a pair of Dusky Rice Rats, to take mouthfuls under a particular log. Ruddy-capped Nightingale-Thrush walked by, and then, one of the  specialty birds came, the Buff-fronted Quail-Dove (cover photo), a rarely seen ground-dwelling forest dove that was likely thinking: should I peck some wheat or what?
Casa dowii is located in Cartago Province, along the Panamerican Highway in the Navarro Sombrero Protected Area that buffers Tapanti and Los Quetzales National Parks. It consists of a small reserve with a well maintained in site trail (over 200 species recorded, many endemic and rare birds accessible), cozy lodging and a dining room. This is a true birders' venue, and visits are possible by previous appointment only. The lodge is still small (read: secluded and private) – at the moment it sleeps only two, but enlargements are planned. Activities include hiking, quetzal search, coffee tours, birding San Gerardo de Dota (more about in a while), Quetzals and Tapantí National Parks, and more.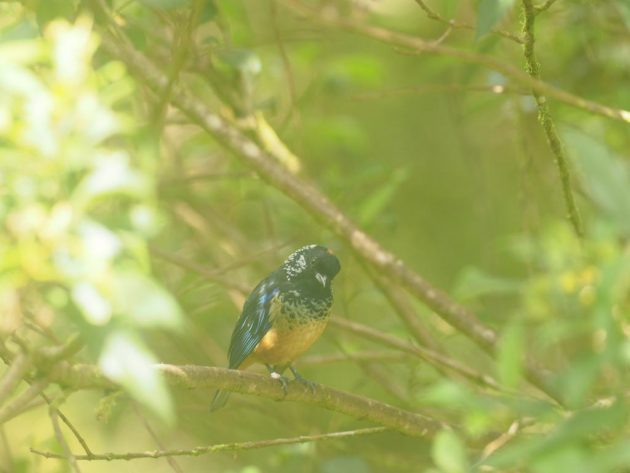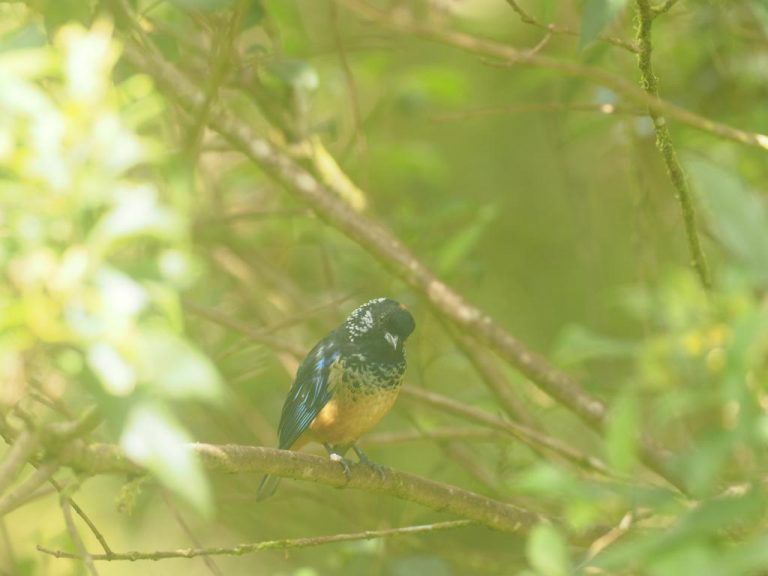 Spangle-cheeked Tanager

Its position at the Panamerican Highway means that many birding groups travelling either north or south will stop by, bird the reserve trail (looking for e.g. Black Guan, Purple-throated Mountain-gem, Northern Emerald-Toucanet, Hairy and Spot-crowned Woodpeckers, Barred Parakeet, etc.) and afterwards stay for breakfast or lunch. And did I mention that Serge is a master chef?

His cuisine focus is on top local dishes with a gourmet accent, and everything is gluten free. All ingredients are fresh, obtained a day earlier from various farms in the neighbourhood. Add to that several varieties of craft ales (with local bird names) and the Tarrazú coffee. This coffee comes from the namesake region in the interior mountains of Costa Rica – all around Casa dowii, grown on mountainside farms at 1200 to 1800 metres above sea level (4,000 to 6,000 ft), described as having an "inherently intense flavour with peaks of bright acidity and depths of sweet honey and chocolate". In order to learn how to prepare it properly, Serge even became a cupper, a coffee sommelier.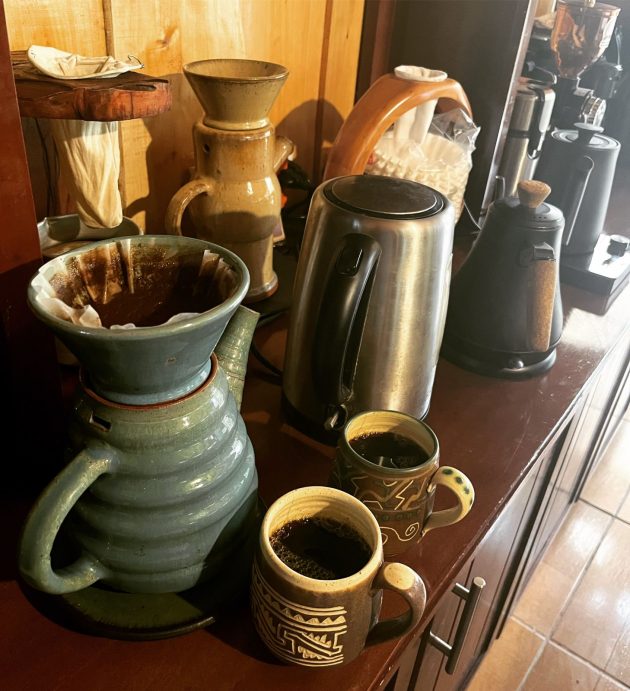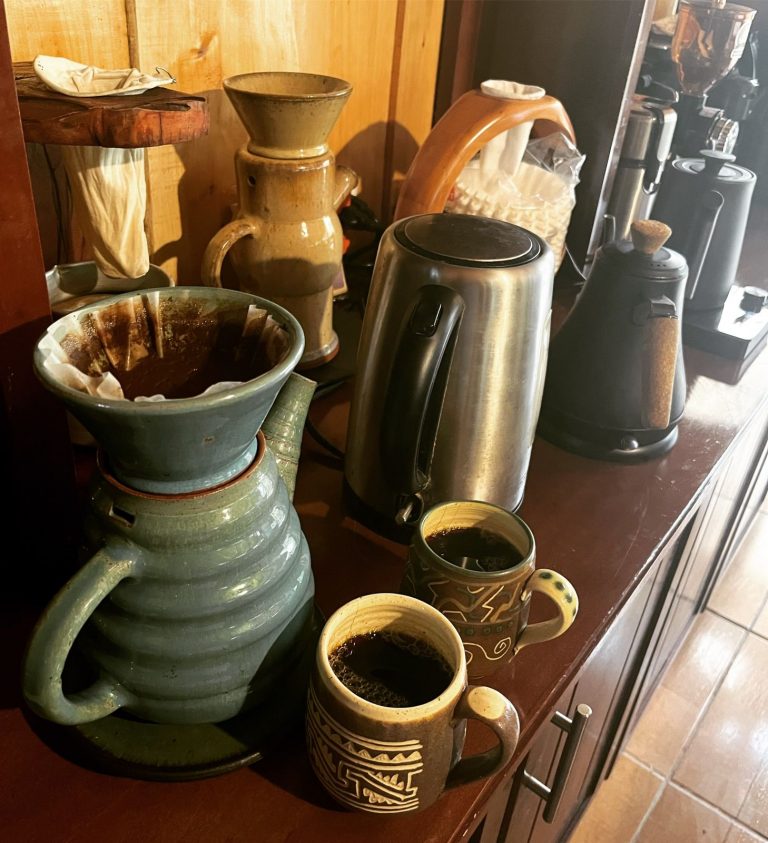 There's some action inside the window-front bromelia. All I can see is a silhouette of a bird bathing in it, but its characteristic beak tells me it's a flowerpiercer of some kind. Serge finished the ID process, it's the Slaty Flowerpiercer. Ochraceous Wren shows up, followed by the reserve's namesake bird, the Spangle-cheeked Tanager, two of them feeding on papayas.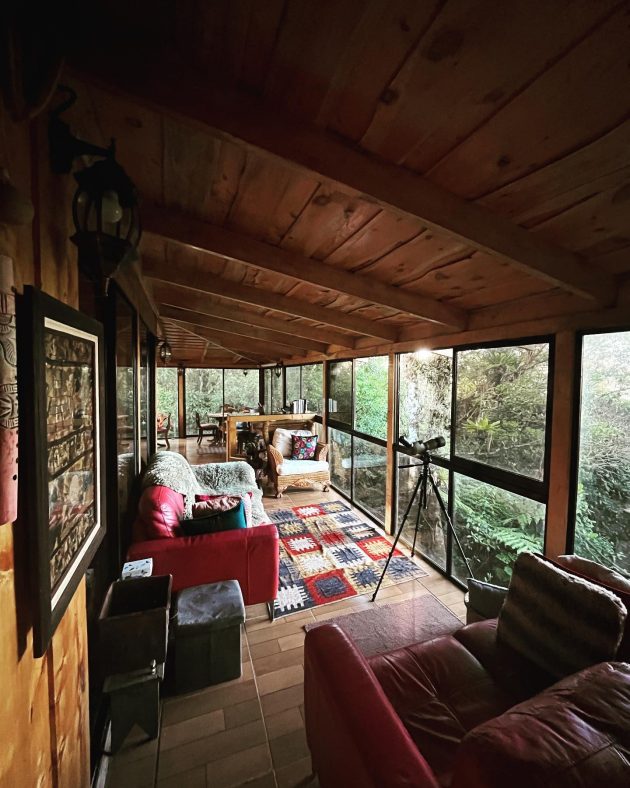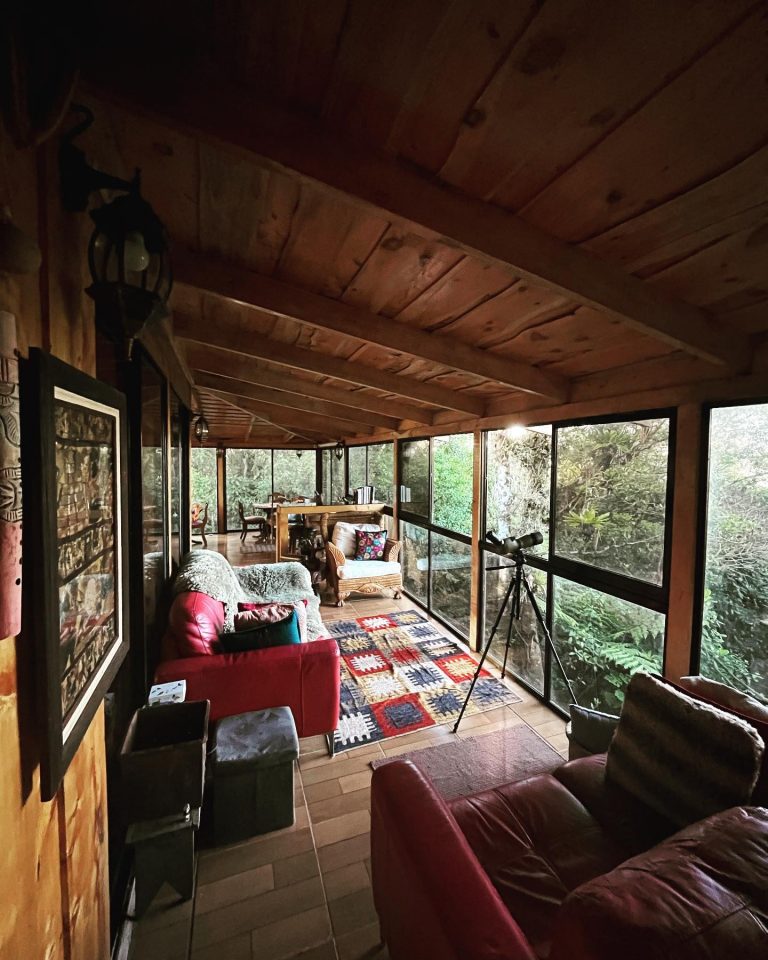 Casa dowii Lodge is an unusual architectural structure made entirely of wood and glass. Unlike most houses being built from outside to the inside, deciding on the largest surface area first and digging the foundations accordingly, this lodge was built first as a small home, which grew organically over time, getting another bedroom, a viewing hall, and a large dining room with a bar, plus the spacious terrace in the front.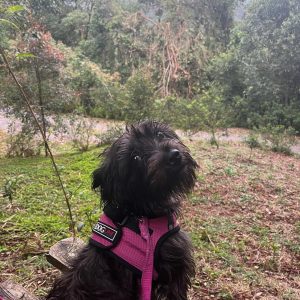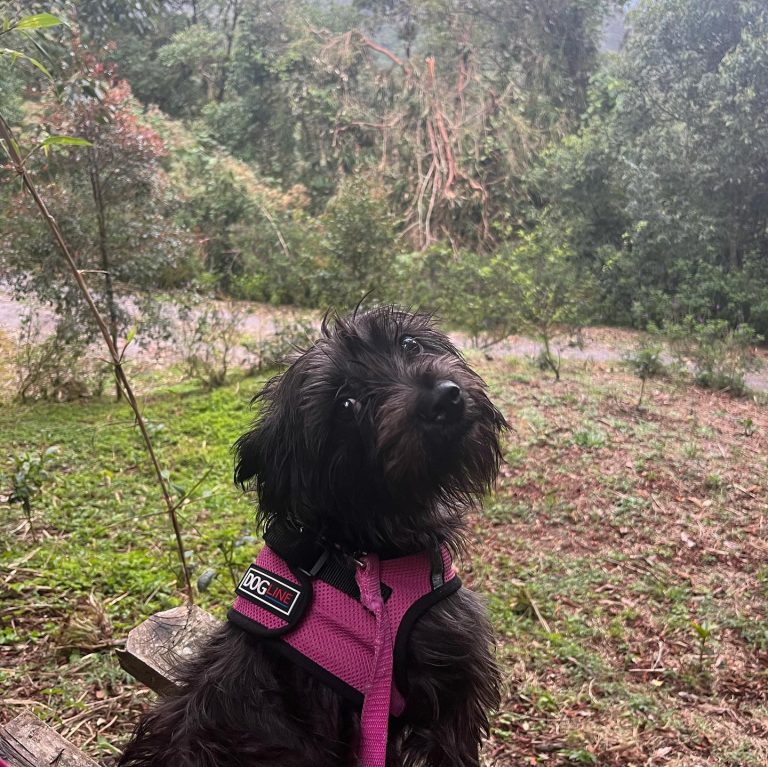 I sent a video of the interior to my wife, she said, oh, it's so charming. Then I sent her a photo of Serge's dog, called dowii, named after the house named after a bird; and my wife said, oh, she is so cute. Seeing the way this goes, I decided not to send her a photo of Serge.
A movement among bromelias, a hummingbird… it's the Purple-throated Mountain-gem, Serge IDs it, a regional endemic that Costa Rica shares with neighbouring Nicaragua and Panama. I was hoping for the highly elusive Buffy-crowned Wood-Partridge, a Central American endemic (from Chiapas to Costa Rica) of humid evergreen forests floor, practically impossible to find, and yet it visits Serge's feeder station… but, apparently, not when I am sitting on the sofa! The consolation prize came in the form of two Prong-billed Barbets, chunky ochre birds with thick silver bills, a local endemic that Costa Rica shares with western Panama.

Okay, no more waiting, off to lunch in the Savegre River Valley we go… To be continued. 

Read the previous, Rancho Naturalista stage, in the Land of Coffee and Chocolate.
Next: birding near Casa dowii boutique lodge
Photos by Casa dowii.