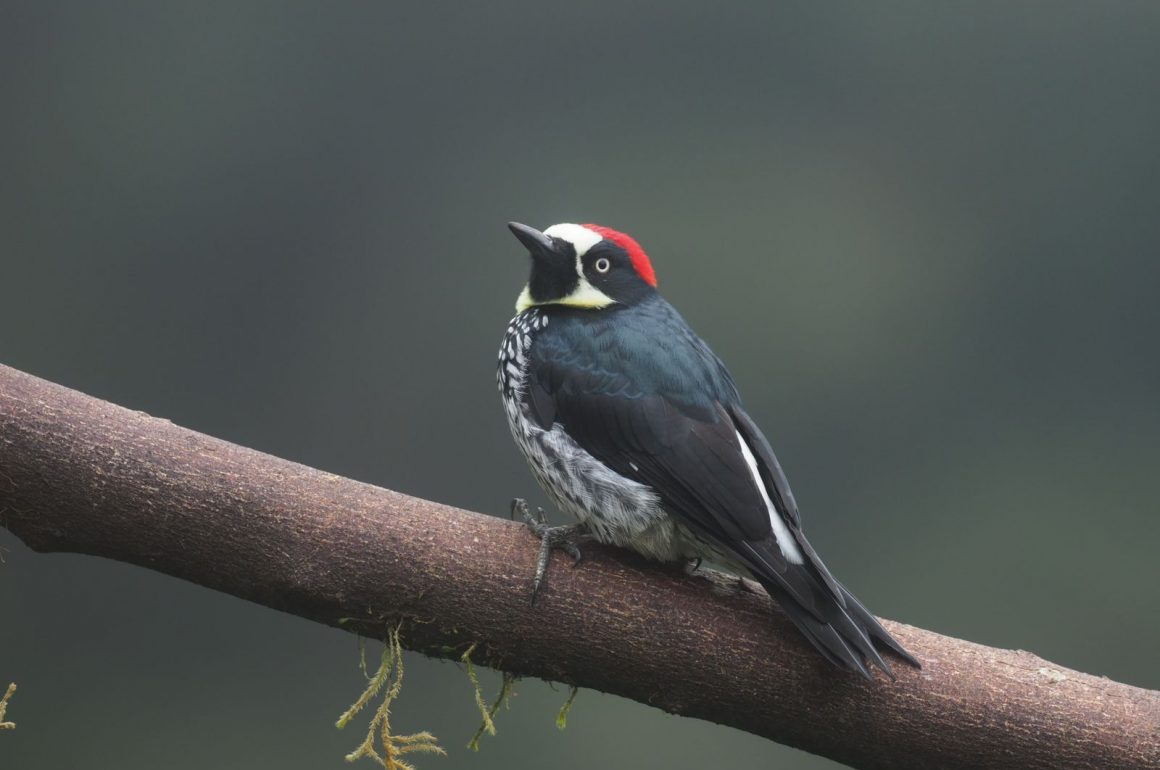 Continued from over the misty mountains cold.

Off to lunch in the Savegre River Valley we go, known for Flame-coloured Tanager, Long-tailed Silky-flycatcher, Wren Thrush, Volcano Junco, Volcano and Fiery-throated Hummingbirds. Situated in misty, cool montane oak forest, the touristy hamlet of San Gerardo de Dota is the most popular birding area in Talamanca: it hosts the largest population of the Resplendent Quetzal in the world. They migrate altitudinally, moving up and down the mountain, following the fruiting trees of wild avocado. As the slopes are this steep there are always some fruiting avocado trees, keeping the Quetzals in the area year-round and making San Gerardo de Dota the best place nation-wide to find them.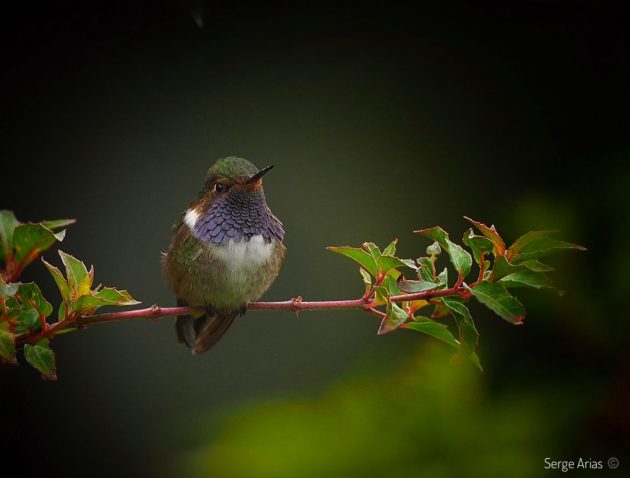 Volcano Hummingbird male, Talamanca race 

There is a bit of history attached to the status of the most popular birding area in Talamanca. "In the 1960s, Efraín Chacón constructed a dirt trail [from San Gerardo de Dota] to the Pan-American Highway, and brought his family to build a house, to farm and fish for trout. They became accustomed to feeding the visiting fishermen, and in 1971 they built a small cabin for guests. In 1978 two researchers from Harvard University were impressed by these quetzal-filled cloud forests, published photographs in the United States, and the Chacóns began to host increasing numbers of American birders. In 1980 they registered what was to become Savegre Hotel Natural Reserve and Spa. When nature travel companies began searching for destinations in the 1980s, they contacted the Chacóns, who provided accommodations. Efraín adapted very quickly to the conservationist convictions expressed by foreign guests, recognizing that ecologically sound tourism could be beneficial on several fronts. 'If we know how to conserve the forests, and work with the least impact possible,' he later remarked, 'Savegre would maintain both its natural resources and its visitors.'" (Slightly edited for length, from Creating Ecotourism in Costa Rica 1970–2000 by Geoffrey Jones and Andrew Spadafora)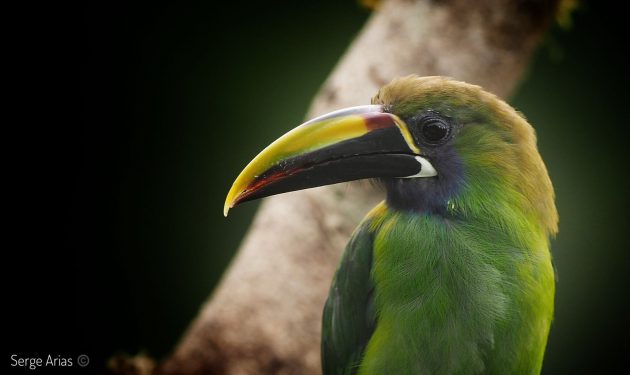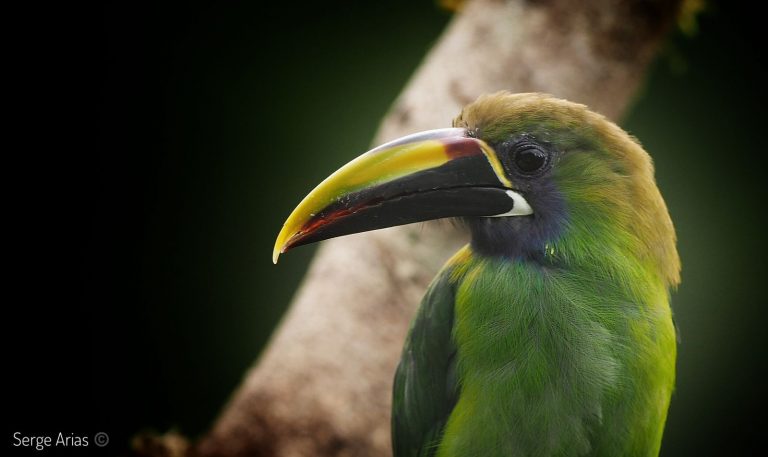 Northern Emerald-Toucanet

After about 30 km / 20 mi, and reaching 3000 m / 10,000 ft a.s.l., we went down the good tarmac that once was a dirt trail constructed by Efraín Chacón in 1961, to enter San Gerardo de Dota, where Serge stopped in front of a Quetzal decorated restaurant, with Miriam's Typical Meals written in Spanish above the bird painting. Miriam's is a plain, simple place offering delicious local cuisine cooked in a wood oven, combined with an awesome birding station! As it is the only destination in Costa Rica mentioned in the book Fifty Places to Go Birding Before You Die, it comes as no surprise that the restaurant has its own eBird hotspot with more than 170 recorded species!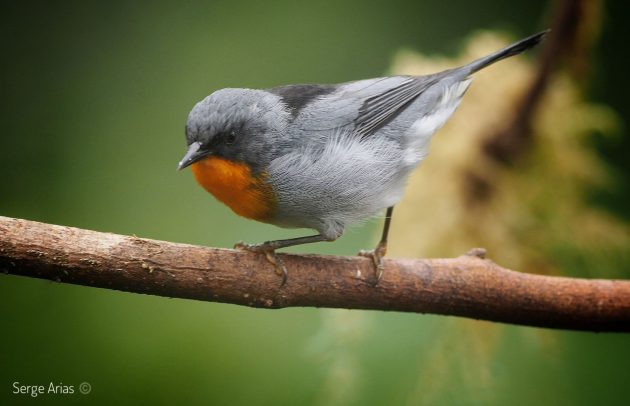 Flame-throated Warbler

And so, before lunch, we ordered tea and sat on a balcony overlooking the feeders. What a profusion: numerous Rufous-collared Sparrows, Large-footed Finches, Flame-coloured Tanagers, followed by several Northern Emerald-Toucanets and Acorn Woodpeckers (cover photo), farther followed by single Hairy Woodpecker, Spot-crowned Woodcreeper, Black-billed Nightingale-Thrush, Sooty Thrush, Sooty-capped Chlorospingus, Flame-throated Warbler, etc., more than two dozen species before the rain forced us inside. Oh yes, also five hummingbirds: Lesser Violetear, Talamanca, Fiery-throated and Volcano Hummingbirds, plus White-throated Mountain-gem. There were no Quetzals this time, they harvested the nearest fruiting tree two weeks ago. Time to eat.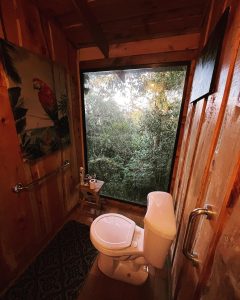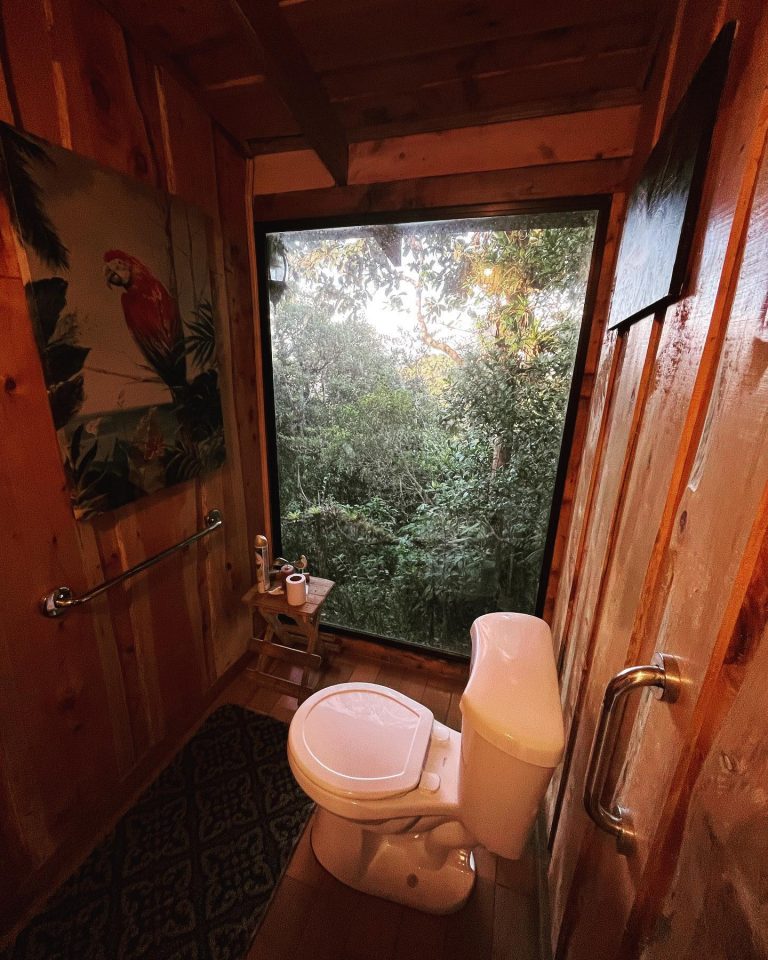 Back at Casa dowii, that evening we tried playback on the resident Bare-shanked Screech-Owl, but got no response. Sometime later, it was already dark and I was in a bathroom when Serge knocked at the door: Look out, opossum at the feeder! Like most of the lodge, this bathroom has a glass wall, this one overlooking the feeders and my lifer mammal, my first opossum ever. Checking the field guide, I came with a Common Opossum. And that was it, I guess, tomorrow I am flying back to Europe.

A dozen relaxed days of slow birding at Rancho Naturalista (900 m / 3,000 ft  a.s.l. Caribbean Middle Elevations biom) and Casa Dowii (2100 m / 7,000 ft  a.s.l. Highlands biom) got me 189 bird species observed, 65 lifers among them, together with 10 mammal species / 6 lifers. Some of the best birds of the Caribbean slope at Rancho Naturalista include Great Green Macaw, Sunbittern and three tiny hummingbirds, Snowcap, White-crested and Black-crested Coquettes; together with Buff-fronted Quail-Dove, Spangle-cheeked Tanager, Prong-billed Barbet and Flame-throated Warbler in the cloudforests of Casa Tangara dowii. More importantly, I crossed my first big threshold: a thousand bird species, as well as gained 3 new bird families – Limpkin, Prong-billed Barbet (Toucan-Barbets) and Vireos, totalling at 127 bird families, over 50% of all bird families in the world.
And for that I have to thank the Costa Rican Tourism Board (Instituto Costarricense de Turismo) for inviting me to the magical kingdom of Costa Rica, Lisa Erb – legendary owner and manager of the Rancho Naturalista Lodge, and the birding tourism visionary Serge Arias (who is these days advertising his first tour to Galapagos outer islands), Rafael Soto Quirós and Rocio Guido Ortega (Costa Rican Tourism Board), and Neo Michel (formerly of Futuropa).
.

Read the previous Casa Dowii stage in over the Misty Mountains cold.
Photos by Serge Arias