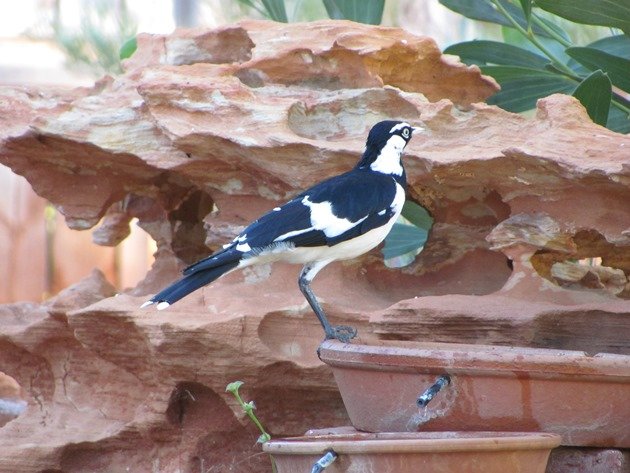 It is always an interesting exercise to make a list of birds that you see in one day. It is amazing how a common bird can elude you all day and just shows you the vagaries of birding. Whenever possible we make Christmas Day a day to bird together all day and make a list. It is a little tradition we started when we were not both working on Christmas Day and a great way to pass the day when you don't have family in the same state or time zone! There's not a lot of traffic around Broome at any time, but even less on Christmas Day and there are plenty of birds to be seen. We were expecting to hear the Blue-winged Kookaburras about 5am, because that is normal, but we didn't hear them and in actual fact the early morning wake-up call culprit was the above Magpie-lark carrying on seeking attention. Maybe the Blue-winged Kookaburra was considering us on Christmas morning and keeping quiet, but it was not so considerate on Christmas Eve or Boxing Day! It actually eluded us until 4pm!! A Willie Wagtail was in our garden early and last year it eluded us until it became the 100th bird of the day in the afternoon.
Our list started in the garden with the usual suspects, which included the Grey-crowned Babblers and our mango loving friends. We then consulted the all important tide chart and headed out. Our first stop was Cable Beach to find the Pied Oystercatchers in their territory even though the breeding season is over. There were also Sanderling running along the beach that have returned from their northward migration. Our resident Red-capped Plovers were running among the rocks along with a few Great Knot, which had also returned from the north.
We continued to Gantheaume Point at the far end of Cable Beach to find the Sooty Oystercatchers, Whimbrel and Red-backed Fairy-wren. The Ospreys were on the tower as usual and the Striated Heron in the reef system was soon found and we moved on down to the port. Brown Boobys are not common at this time of year, but one was resting on a marker buoy at the port. The tide was coming in slowly and the Red-necked Stint were running along the tide edge and on the other side of the bay we could see Bar-tailed Godwit, Terek Sandpiper, Great Knot and Grey Plover and Golden Plover feeding on the mudflats.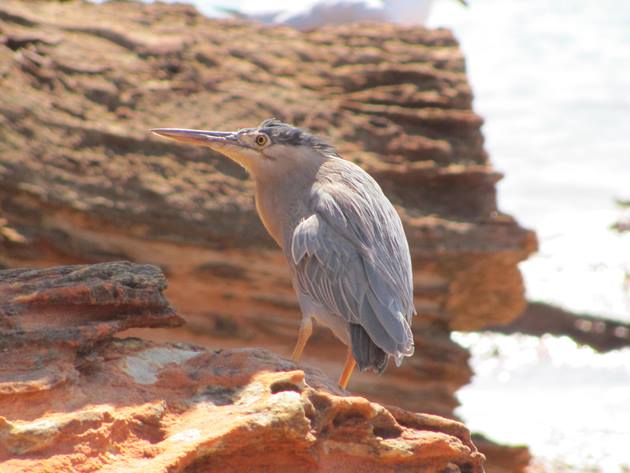 Striated Heron
The obvious stop next was the Poo Ponds where we added a nice selection of birds to the list. There were plenty of Australian Pelicans, Royal Spoonbills, Black-winged Stilt and Gull-billed Terns, but the numbers were down on the Plumed Whistling Ducks which normally line the edge of the ponds in their thousands. We had seen a lone Black-tailed Native-Hen in recent weeks and we were delighted to discover there are now two of them. The variety of ducks was good and especially the high presence of Pink-eared Ducks. There were Pacific Black Ducks, Grey Teal and Hard Heads present and Eurasian Coot swam among them.

 Pink-eared Ducks and Grey Teal
The beach nearby is a good place for Common Greenshank and Common Sandpiper, which are not common on all the beaches around Broome. A short walk found us both species despite the tide being rather low.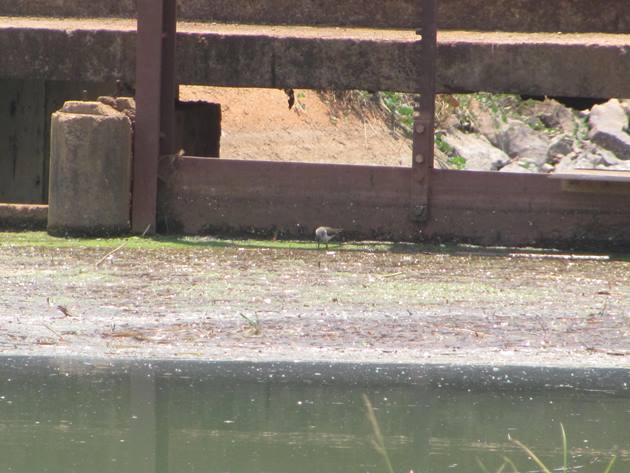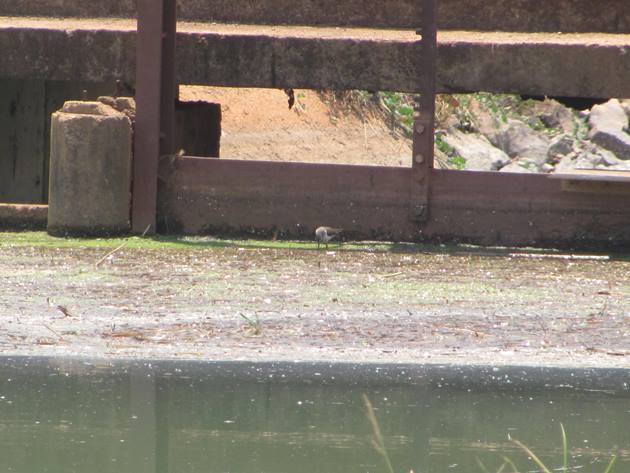 Common Sandpiper
We had a walk on Streeter's Jetty hoping for a Red-headed Honeyeater or two, but they eluded us. I heard some sounds coming from a mangrove bush and we discovered a Horsfield's Bronze-Cuckoo that appeared to have been raised by a protective Dusky Gerygone. It must have been commending itself for the growth of its offspring! Our next plan was to head out of town because it was midday and we had 72 species within the town limit. We headed out on the highway and soon found a Dollarbird and Australian Magpie and once we were on the open plains we had Brown Songlarks, Horsfield's Bushlarks and Australasian Pipits. The raptors included Black-shouldered Kites, Black Kites, Wedge-tailed Eagles, Whistling Kites and Kestrels. A small muddy pool offered us 19 Sharp-tailed Sandpipers and there were less than normal Australian Pratincoles.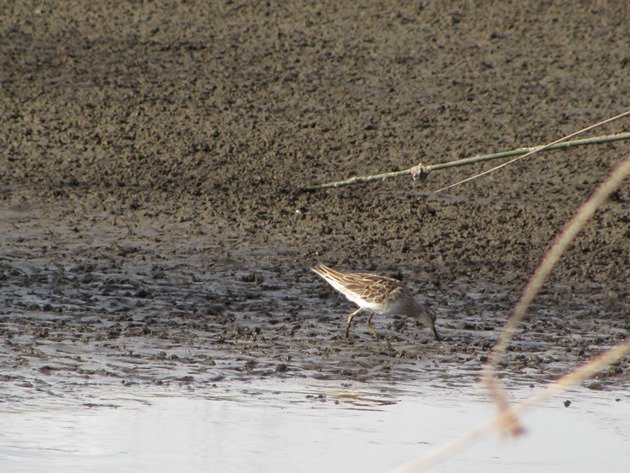 Sharp-tailed Sandpiper
We took a dirt road out to Roebuck Bay which was very dry and dusty and it wasn't until we reached the coast that we added any new birds. Thousands of shorebirds now call Broome home over the summer months and they line the shore at high tide. We had planned to reach the coast at high tide to find some missing species from the other side of Roebuck Bay and we soon had our Black-tailed Godwits and Eastern Curlews. We were surprised to see one lonely Red-necked Avocet because they are rarely alone and sometimes absent at this time of year. There were also two Little Curlew and a few Oriental Plovers on the beach due to the extreme heat.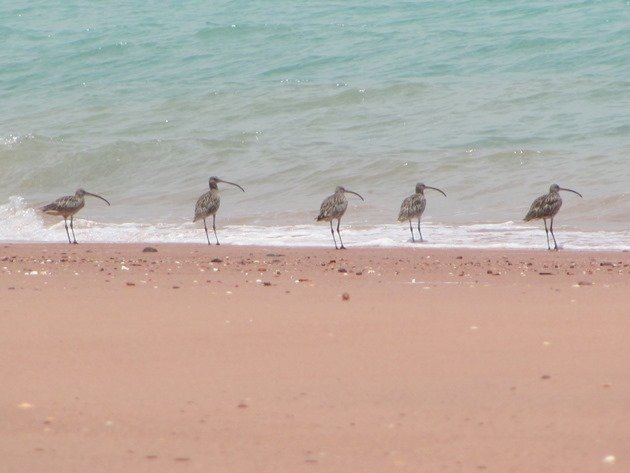 Eastern Curlew
By the time we had checked out the beaches at high tide along the northern shores of Roebuck Bay we were ready for a walk again and we had reached 96 species and it did not make sense to stop so close to 100. We went to a local wetland in the knowledge that we would easily get another 4 species and no doubt more. The first bird we heard and then saw as we pulled up was the Blue-winged Kookaburra that had eluded us all day! It didn't take long to hear the call and subsequently see Restless Flycatchers, Purple Swamphens, Mangrove Gerygones and Golden-headed Cisticolas. A fight broke out between a male Variegated Fairy-wren and a male Red-back Fairy-wren and we had surpassed 100 species. The Wood Sandpipers were feeding along the edges and among the reeds.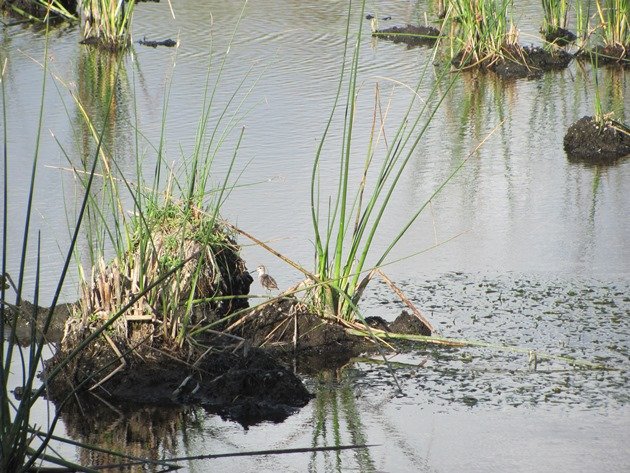 Wood Sandpiper
The water level had dropped substantially since our last visit and is actually drier now than it has been all of the year. As a result of the water levels being lower there are now more birds and we found Glossy Ibis, Little Black Cormorants, Wandering Whistling Ducks, Little Pied Cormorants and both Red-kneed and Black-fronted Dotterels. The late afternoon light brought out the brightness in the Black-fronted Dotterel's bill.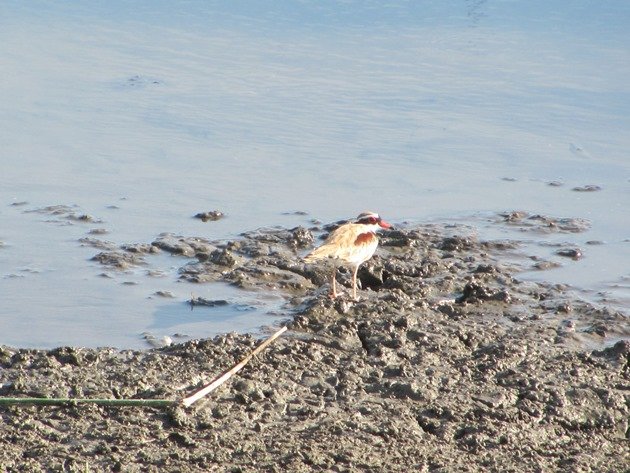 Black-fronted Dotterel
We heard and then saw a Sacred Kingfisher and wandered into the dense vegetation in search of Nankeen Night-herons, which are quite easily found if you know where to look. It seemed incredible that it was 5pm and the Red-winged Parrots that have been spending so much time in our garden and around Broome had eluded us until then and they became bird number 117.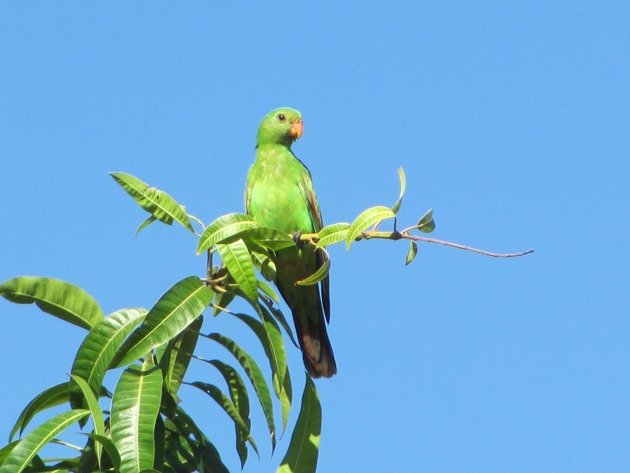 Red-winged Parrot
We had one more stop on the way home in the hope of seeing the Brolga that are so often behind the Rodeo ground, but it was not to be. The weather was starting to look like we were in for a change and the sky was full of clouds and lightning, but we scanned the area for anything we may have not had yet on our Christmas day list. Thankfully we found two Black-necked Storks along the fence-line and our tally at 5:30pm was 118.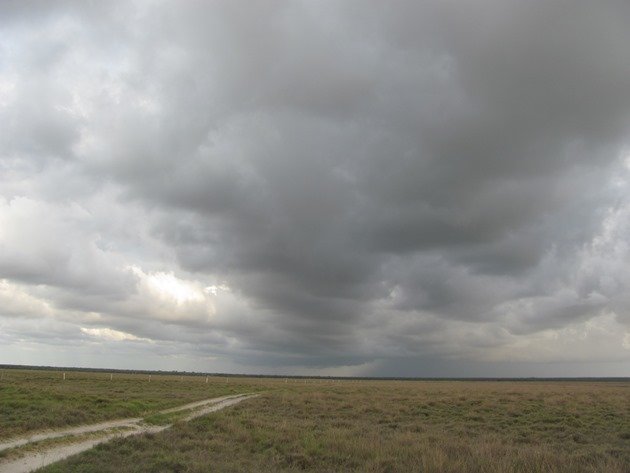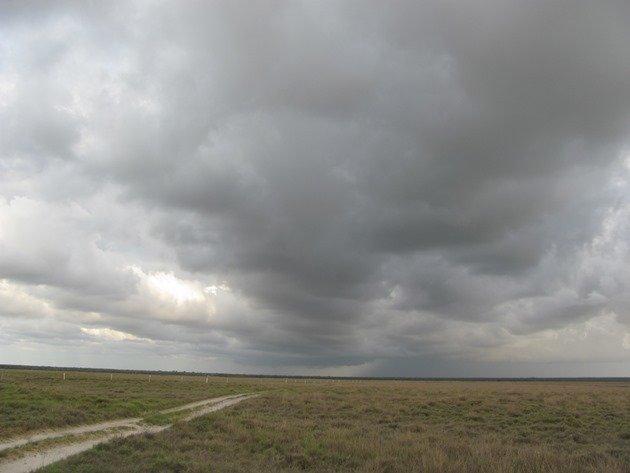 A storm without rain for Broome
Last year we had done the same with a slightly different route and one different location. We achieved 124 last year and the Blue-winged Kookaburra had also decided to elude us until late in the day….what do they know that we don't about Christmas Day lists!!
Due to the fact we currently have Cyclone Christine battering our coast I am hoping something may get blown off course that is not already on my 2013 list! Of course there are a few of us that will be out in force this next week as we start a new year and a new list!