Yesterday evening and again this morning I checked out areas near the end of the Mohawk River where large concentrations of gulls tend to be in winter. Not only was I wishfully thinking that the errant Ivory Gull might show up but I also hoped to see my first Glaucous Gull of the year, or at least an Iceland Gull.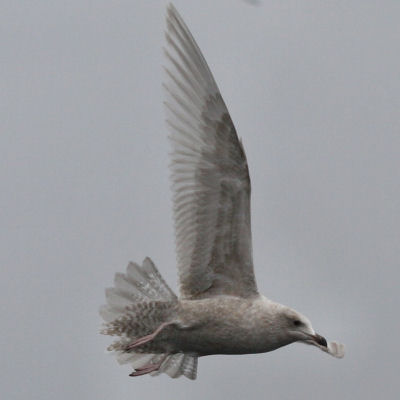 Iceland Gull
Cohoes-Crescent Road, which parallels the Mohawk from Cohoes, to, yes, you guessed it, Crescent, has several spots one can pull off to view the mostly frozen river. Also, just before it reaches Route 9 the road is the only thing between the river and an enormous garbage dump that keeps the gulls and crows fed, even when the river is frozen.
The evening's drive along the river produced the sounds and sights of hundreds of American Crows and the three common gulls (Herring, Ring-billed, and Great Black-backed) all flying to their roosting sites.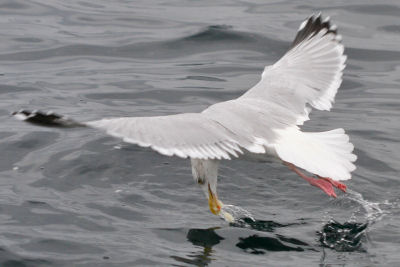 Herring Gull
From New Street in Cohoes I looked out over the Cohoes Flats (which I often visit) and spent five minutes watching two American Crows chasing a juvenile Great Black-blacked Gull with what looked like half of a bagel in its mouth. By the time the gull dropped the chunk of bagel my arms were getting shaky from holding my binoculars up to watch the mid-air acrobatics. And after the crows and gull expended all that energy it was a Ring-billed Gull that ended up with the prize.
Other than Mallards in every bit of open water and a couple American Black Ducks there wasn't much else around (you know, because hundreds of crows and gulls just isn't enough). Then one crow distinguished itself by saying "Caaa" in a nasally voice instead of "Caw" like the other crows. This made it a Fish Crow, a regular resident of Cohoes. I stuck around until almost dark, enjoying the spectacle of gulls and crows galore.
This morning the first birds that caught my eyes upon my arrival at the Cohoes Flats were two Common Goldeneyes, a species that I had never observed before at this regular birding stop. A distant adult Bald Eagle perched in a tree was a more usual suspect but still a thrill to see.
A second Fish Crow willing to vocalize joined the one from the evening before and they serenaded me while I scrutinized the gulls roosting on the ice. Of course there were only the usual three species.
The drive over to Crescent was uneventful, as was scanning the other two gull roosts on the ice. Sometimes you go birding with the best of intentions and still get bubkus.
A flock of about fifty American Robins in Crescent dining on a stand of sumac was the final sighting of the morning before I had to hustle off to work.
To learn about Common (as opposed to common) Gulls, give Jochen a visit here. I warn you though, if you are not a hard-core guller your eyes may start to glaze over…