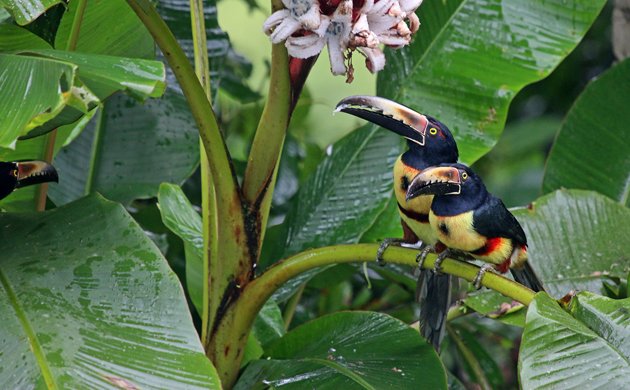 Few if any species are as emblematic of the Neotropics as Ramphastidae, the family that includes the toucans, toucanets, and aracaris. Even non-birders can appreciate the huge-billed and colorful birds. Costa Rica has more than its fair share of these charismatic creatures to the point where the first edition of The Birds of Costa Rica features an Emerald Toucanet and the second edition, just published, features the subject of this post, the Collared Aracari. On the trip to Costa Rica that I just returned from I was pleased to see both of those species as well as Black-mandibled Toucan and Keel-billed Toucan. Yeah, it was a heck of a trip.
Collared Aracari are a common species in the Caribbean lowlands of Costa Rica though nowhere did I get as good a look at them as I did at Finca Luna Nueva Lodge where, in addition to regularly appearing in the working organic agricultural areas, they also would come right next to the pool where a non-native ornamental plant, the Pink Banana (Musa velentina) grows. In speaking to one of the owners of the lodge, Tom Newmark, he let me know that they agonize over plants like this. On the one hand, they want native plants growing. On the other, the birds love Pink Banana, and the guests love seeing the birds up close. The horse is probably out of the barn on this plant anyway, as it has spread quite a bit, but I can see both sides of the argument. Fortunately for me and the aracaris, we don't have to make difficult decisions like whether or not to remove such plants. They just enjoy eating the fruit and I enjoy watching and photographing them as they do!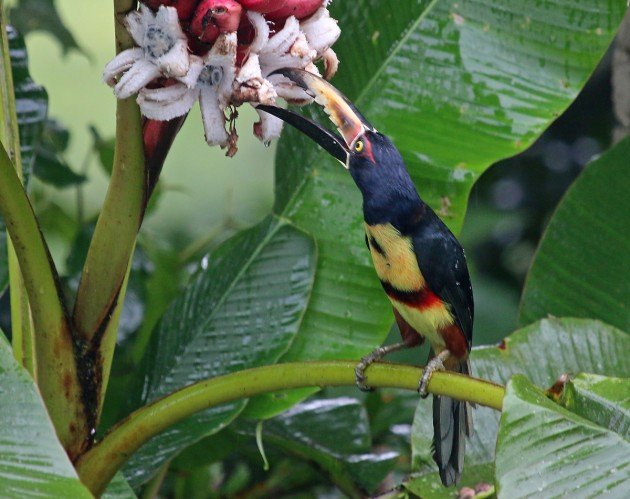 At first, only one bird flew in to eat the bananas.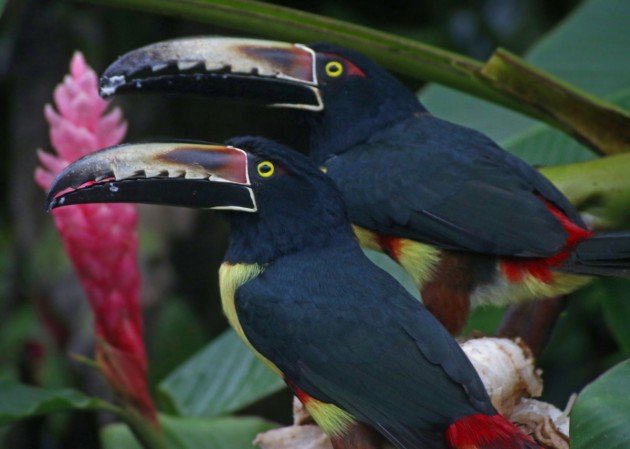 Both days I saw them there though, it didn't take too long for the first bird to be joined by more. Collared Aracaris are weird for toucans in that they often travel in groups unlike other toucan species which are in general likely to be seen in ones or twos.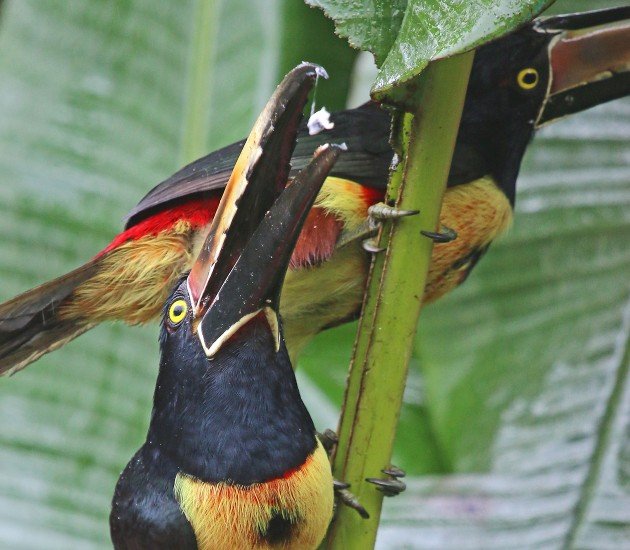 It was great to watch them get a piece of the fruit and them toss it back and down their throat. I don't think they miss, ever. Also, look at that serrated bill!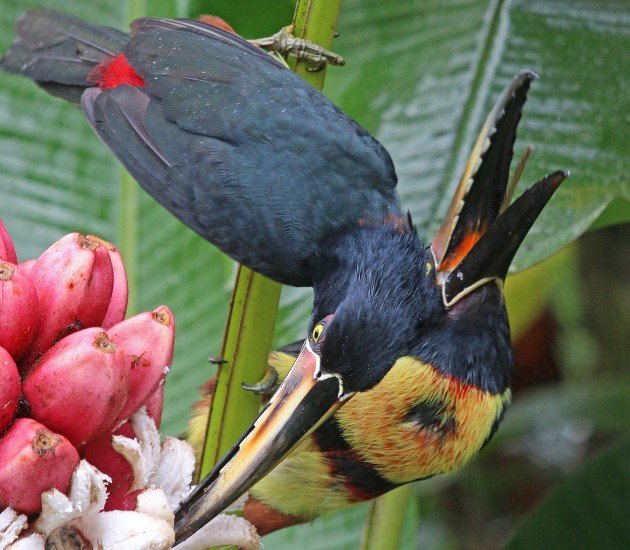 In addition to the serrated bill, Collared Aracaris have a barbed tongue, which you can see in the bird on the right. Disturbing, no?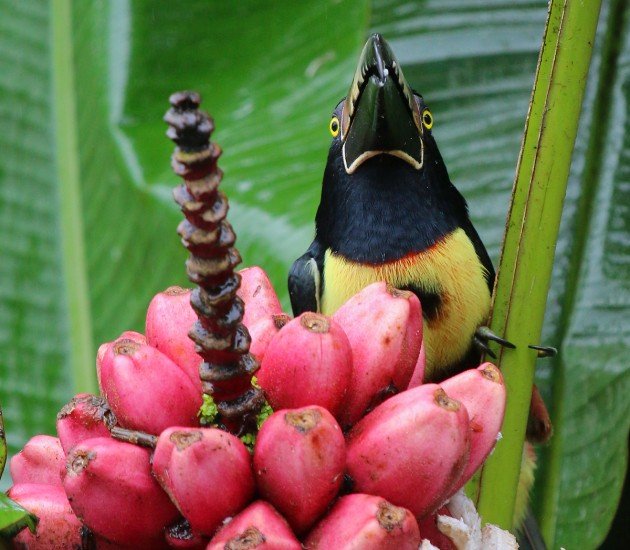 This was the only point either day that the birds seemed to pay me any mind. This bird stared at me for about four seconds after I coughed and then went back to eating.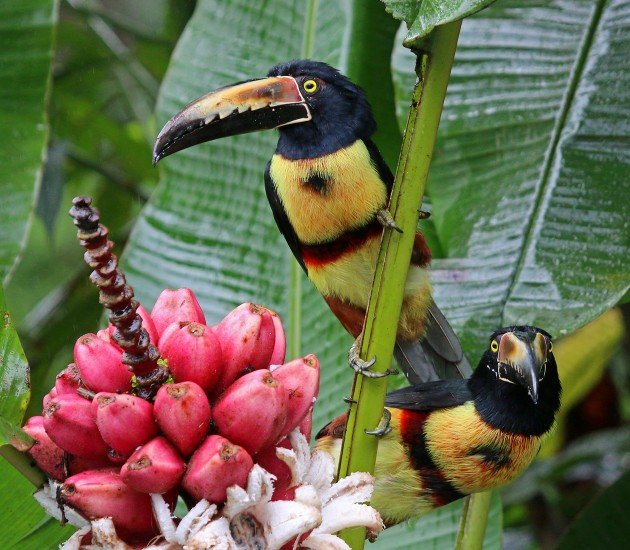 Collared Aracaris and Pink Bananas. What an amazing world we live in and how lucky we are when we get to see new parts of it!
…
If you liked these images of Collared Aracaris and want to see more great images of birds (and other creatures) check out 10,000 Clicks, our big (and always growing) collection of gallery posts. You won't regret it!
…
Mike and Corey were hosted by Finca Luna Nueva Lodge for four nights in order to see the birds that visit both the working organic farm and the preserved rainforest on the property of the lodge. We had a great time and think it is a worthy place to visit if you want a taste of the wonderful birds that Costa Rica has to offer.
…