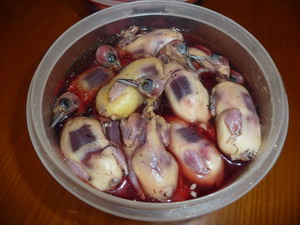 BirdLife Cyprus today gave me to go-ahead to share their Final Trapping Report for Autumn 2010 with the public, and the conclusions are horrific. Among them:
2. The picture emerging from autumn 2010 is one of a bird trapping disaster on a scale unseen since BirdLife's monitoring work began almost 10 years ago. Trapping levels may still be lower than in the 1990s, but this cannot hide the fact that we are now faced with a conservation emergency in Cyprus.

5. The estimated toll of around 1.4 million birds within the Famagusta and Larnaca districts represents an ecological disaster, especially when the non-selective nature of trapping is taken into account. Trappers are making hundreds of thousands of Euros by selling blackcaps and other birds to be served up as illegal, expensive ambelopoulia delicacies.
Note: Some readers may not yet be aware of what Ambelopoulia is, or why it is a problem or even where Cyprus is. There are a few links for you to catch up. And if you want to help in an easy way, Sign the Petition Against Poaching In Cyprus.
The results are just staggering.
BirdLife Cyprus' monitoring staff found 5.4 Km of active mist nets this Autumn, and present a conservative estimate of 16 Km of nets used in total this season. That's 1333 12-m nets, each capable of trapping an average of 20 birds per day (basis for this estimate is cited in the report). This is about a 75% increase from 2009, which is itself a 35% increase from 2008. These sharp increases suggest a reduced fear of enforcement action.
Most people reading this will probably think that this is a problem that just needs to be addressed by the Cyprus authorities. Not so. While Cypriot citizens are responsible for these criminal activities, the Sovereign British Area (SBA) authorities are it seems even more culpable than the Cypriot authorities (see Figure 6 from the report):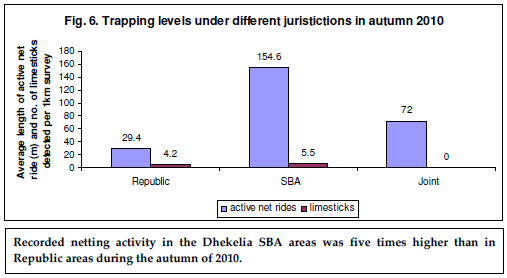 Figure 6 (above) shows trapping levels under different jurisdictions and in areas where the Republic and SBA jurisdictions meet ("joint" areas). Mist net use is notably high in 'joint' areas and alarmingly so in SBA areas.
Make of that what you will. Brits reading this will probably be pretty angry at their country's representatives here then, and probably rightfully so. But let's not forget that the trappers as being little more than opportunistic. They trap where they can with the least expense to themselves, and that has been on "borrowed" property on the SBAs. The motivating demand for ambelopoulia will not go away by tearing down the nets and removing the sticks that the trappers use.
The demand for ambelopoulia can be countered though in the long-term through education and in the short term through direct action against the offending restaurants. But, on the latter, only if there is the sustained will to follow on direct action against restaurants up by MPs, Judges, and Police. BirdLife Cyprus' report touches on this in its Conclusions & Recommendations:
The estimated toll of around 1.4 million birds within the Famagusta and Larnaca districts represents an ecological disaster, especially when the non-selective nature of trapping is taken into account.

This situation must be addressed, with urgency and through the state authorities drawing up targeted action plans and allocating additional resources to reversing this situation. BirdLife accepts that it may be impossible to completely stamp out bird trapping in Cyprus in the near future (what with public demand for "forbidden" ambelopoulia delicacies remaining strong), but we believe a target of reducing trapping levels to 2-3% of 1990s levels is feasible (instead of the unacceptable 25% that it is today), given the necessary political commitment.

A priority area for enforcement action remains the restaurants providing the economic impetus for trapping by buying and serving ambelopoulia. The Cyprus Police operation of 20 October represents a good start in this battle. But if the raids on Ayios Theodoros and Choirokitia are not followed up with similar operations in other areas (and repeat raids in the same areas) then it is our belief that the trapping fraternity will be encouraged rather than discouraged by the October Police action. This because the negative reaction to the restaurant raids was so strong from some quarters (the "usual suspects" among the island's MPs, journalists and community leaders) that if the Police now shy away from further action, the trappers and offending restaurateurs will feel they have "won" the battle against enforcement and have increased "license" to continue with their illegalities.

Priority must also be given to increasing enforcement resources on the ground and changing public attitudes to trapping and to eating ambelopoulia. Clear condemnations of trapping – with a focus on its ecological impact and the fact that the 'market' is dominated by criminal gangs – from Ministers and other key decision-makers and opinion-formers could go a long way towards
achieving a shift in public attitude. Such statements could also serve to impress upon judges the seriousness of trapping offenses, leading to the imposition of deterrent penalties for those convicted, including jail sentences.