This past weekend was so full of birding excursions and great birds that I am having a very difficult time deciding what post to write first.  I know, I know, it's a horribly difficult life to live, but somehow I manage to muddle through.  Anyway, after birding Alley Pond Park on Sunday morning and seeing a wonderful number of wood-warblers I headed home to get dry and to eat before my next birding outing.  Several good birds had been reported at Fort Tilden, an old army base in the southwesternmost part of Queens.  And when I say good birds I mean that the listservs were humming with messages about a Yellow-throated Warbler, a Western Kingbird, a Clay-colored Sparrow, a Lark Sparrow, and a Dickcissel.  That is one heck of a haul!
Anyway, I had earlier talked on the phone to Jean, who will be remembered by 10,000 Birds readers as the birder who guided Charlie and I to a Great Horned Owl nest way back in April.  Jean had taken part in the Queens County Bird Club field trip to Jamaica Bay while I was at Alley Pond Park, and she and a couple other birders were eating lunch at a diner before attempting to twitch the aforementioned rare birds at Fort Tilden.  When she called and asked if I wanted to meet them at the diner to get a ride to Fort Tilden I jumped at the offer, both because I like birding with Jean and because getting to Fort Tilden by mass transit is a very, very, very long ride.  So we met up and I got introduced to Donna and Ari, and off we went, pulling over briefly to see a duo of Boat-tailed Grackles.
Seeing as it was on the way, we decided to stop off at Big Egg Marsh to see if we could convince any of those secretive Ammodramus sparrows to show themselves.  We did not, but did manage to see a nice Marsh Wren, a boatload of Savannah Sparrows, what could have been a Connecticut Warbler (the darn bird would not let us get a clear look at it and then it disappeared into the bushes and would not come out), and a whole bunch of adult and juvenile Black-crowned Night-Herons that roost in the trees at the edge of the marsh.  It was a fun foursome of birders: like I said, I enjoy birding with Jean, and both Donna and Ari are funny and warm people who, though I had just met them, made me feel like I had been birding with them for years.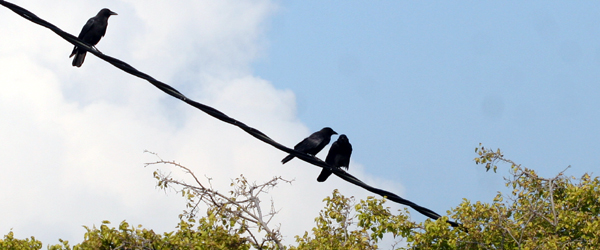 three American Crows on a wire at Big Egg Marsh
We lingered perhaps a bit too long at Big Egg Marsh, scanning through flocks of House Sparrows hoping to find our own Dickcissel, admiring freshly-bathed House Finches, drinking in Palm Warblers and a nice Magnolia Warbler, and just generally enjoying the birds and company.  Then we piled back in the car and made our way to the barrier island by way of the Cross Bay Bridge.  We headed west on the island and made it to the community garden at Fort Tilden where it did not take us long to find our hoped-for Dickcissel (in fact, we found two!).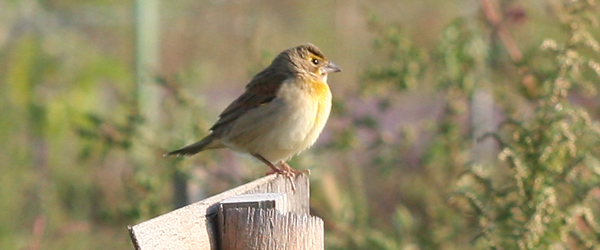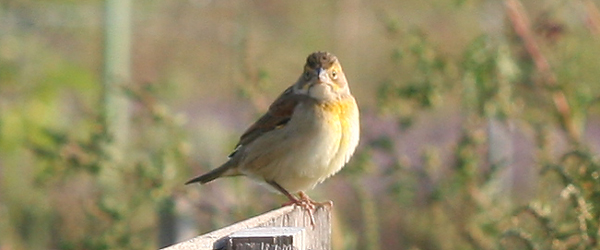 Dickcissel was a life bird for Donna so she was particularly pleased, and we were all pleased with the fact that the bird cooperated, teeing up on a fence post in great light.  The other Dickcissel was not as brightly-colored and not as cooperative, but we really didn't mind.  Then the two birds flew north to some other shrubbery, and Ari and I saw a third bird that was the same size and shape that flew the same way go with them so there might even have been three of the midwestern birds!
We also enjoyed watching a couple of Bobolinks feeding in the garden, and then we spent a couple of hours walking the shrubby edges around Fort Tilden, hoping to find some of the other rarities without any luck.  We did, however, come across the most cooperative Black-throated Green Warbler in the history of birding.  The picture below is just a taste of a post to come (I told you I had way too many great birds to write about).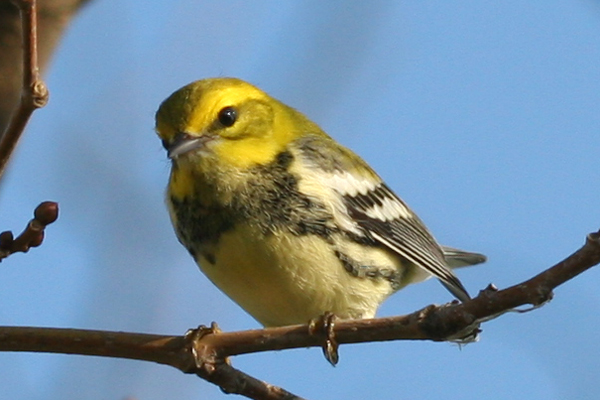 While wandering about we did manage to find some Black-throated Blue Warblers, a Yellow-bellied Sapsucker, a Sharp-shinned Hawk, a Merlin, some Ruby-crowned Kinglets, and host of other birds.  None of them could compare with the Dickcissels though…and we went back for one more look in the setting sun before we headed home.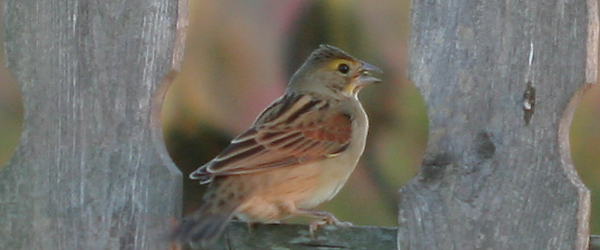 And an interesting note: it was at Fort Tilden last September, in the same exact spot, where I got my life Dickcissel…I guess the community gardeners know how to attract birds!