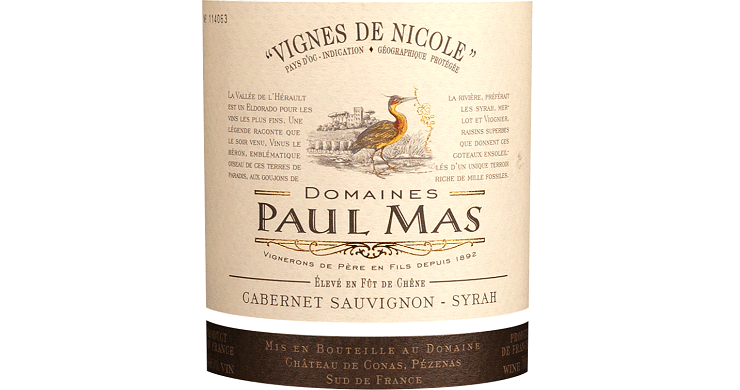 When I picked up a bottle of this week's featured wine last March at a shop in southern Quebec (on my last trip out of the United States before the pandemic), I assumed the European heron on the label of the 2018 Domaines Paul Mas 'Vignes de Nicole' Cabernet – Syrah blend was a Gray Heron (Ardea cinerea). My last trip to Europe may have taken place years before I became a birder, but this is one of those European species I tell myself I can recognize thanks to its occasional appearance in the appendices of some North American field guides that describe casual and accidental rarities from Eurasia. And while I've never been to Canada's Maritime Provinces or Alaska – where most North American sightings of Gray Heron have been recorded – I still remind myself to take a second look at any Great Blue Herons I see just to make sure it has those telltale rufous thigh and isn't some lookalike from across "the Pond".
But now that I take a closer look at the bottle in hand, I think the correct identification might instead be Purple Heron (Ardea purpurea), a species whose transatlantic crossings appear limited to landings in the Lesser Antilles. To me, the ochre plumage of the bird on the label and that long, thin bill look better for Purple than Gray.
Purple Heron from Nederlandsche vogelen ("Dutch Birds"), a five-volume Dutch natural history compendium by Cornelius Nozeman and Christiaan Sepp, published in installments in Amsterdam between 1770 and 1829.
In any case, as it happens, this particular heron has a name: Vinus. According to legend, Vinus the heron frequented the clay and limestone hills of the Hérault Valley in the Languedoc region of France, where he preferred dining on grapes grown on the hillside to fish fetched from the river. It was here that Jean-Claude Mas founded what has become fifteen châteaux and domaines of Les Domaines Paul Mas, now comprising 2,100 acres of vineyards in this idyllic corner of southwest France – the site chosen thanks in no small part to the excellent taste in grapes of Vinus the heron. He became the mascot for the label and appears on all its bottles clutching a bunch of grapes.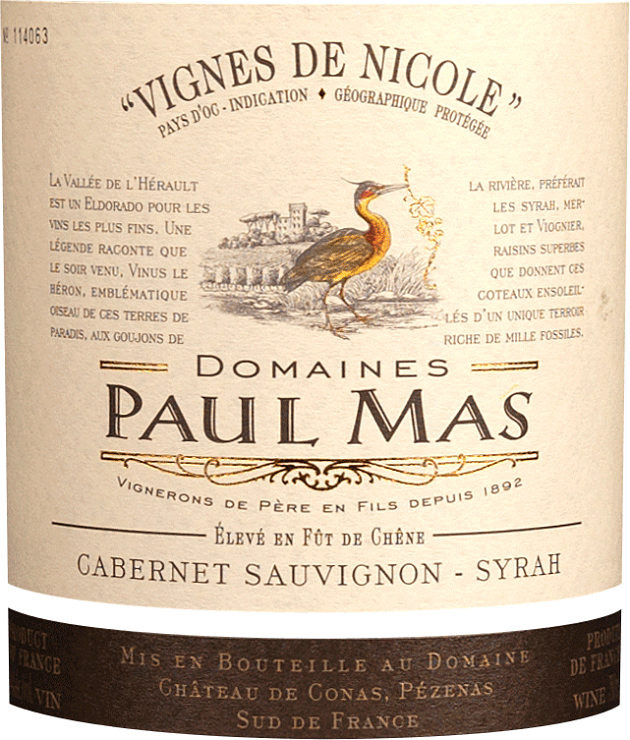 Come to think of it, Vinus's appetite for wine grapes somehow seems more befitting of a Purple Heron anyway. Gray isn't a very appealing color when it comes to wine.
The 2018 Domaines Paul Mas 'Vignes de Nicole' Cabernet Sauvignon – Syrah is a blend of two of the many varieties grown in Languedoc, made with grapes from 15-year-old vines rooted in clay and calcareous fossil soil. Half of this blend is aged in new oak barrels for eight months. The resulting wine is crimson with purplish tints, with notes of blackcurrant, toasted hazelnuts, licorice, and cedar on the nose. Black cherry and plum dominate the palate, with suggestions of pepper, cocoa, and spice adding intricacy over a backdrop of oaky but mild tannins. This Cabernet Sauvignon – Syrah blend is dry and complex, and makes an excellent value wine to enjoy now, or a good choice to mature for several more years.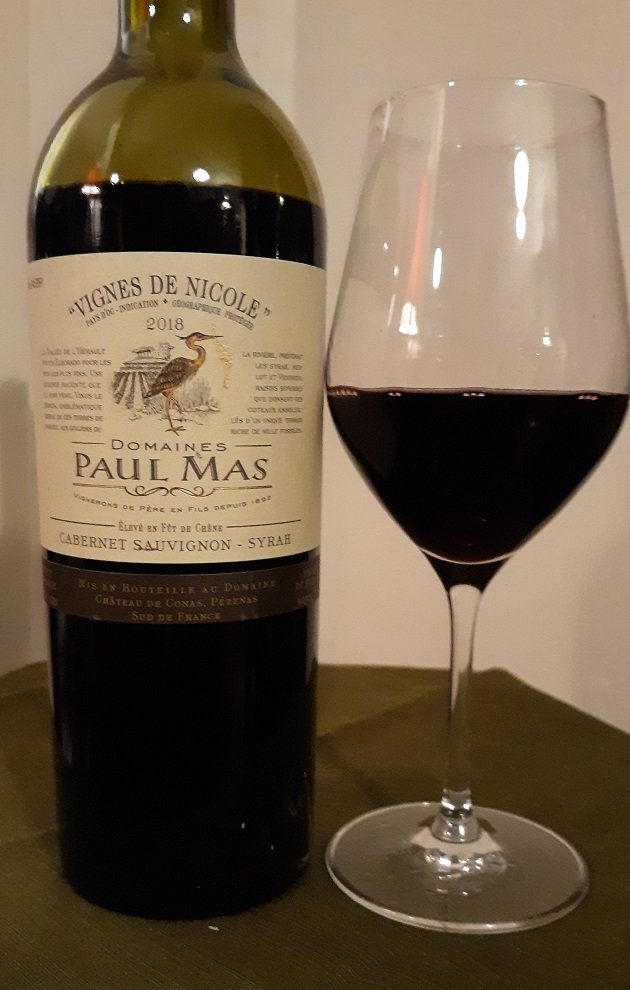 Good birding and happy drinking!
---
Domaines Paul Mas 'Vignes de Nicole' Cabernet Sauvignon – Syrah (2018)

Four out of five feathers (Excellent)