When Doug Gochfeld posted a belated report he had received of a Gray-hooded Gull* in Coney Island on the New York State birding listserv I was fascinated.  Here was a bird that had only been confirmed in the ABA area once before** and it seemed as if this bird was destined to be a single-observer bird.  After all, the birding world did not become aware of the bird for nearly a week after the initial sighting so what were the odds that it would be refound?  You can imagine my surprise, then, when I got home from work on Friday to discover that the bird had been refound by Brooklyn-birder extraordinaire Shane Blodgett!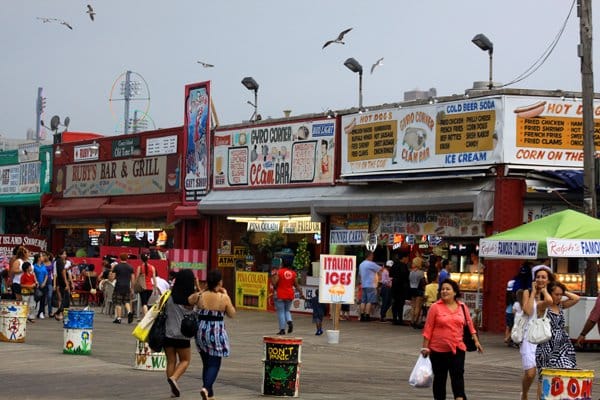 the Coney Island boardwalk
Fortunately, my mom has been staying with Daisy and me this past week to help out watching Desi and she was cool with me making the run through rush hour traffic to Coney Island on a madcap twitch to see the amazing Chroicocephalus cirrocephalus, a bird that spends its life in either South America or Africa and is not known for wandering long distances.  I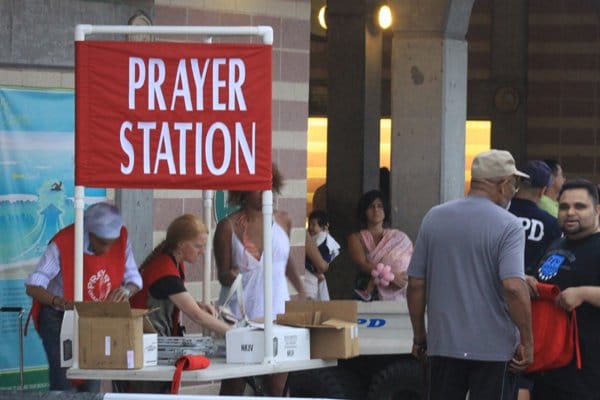 had to battle heavy traffic on both the Van Wyck Expressway and the Belt Parkway to get to Coney Island all the while chatting off and on with other birders en route and Shane, who let me know the bird had disappeared but had to be around somewhere.  Of course, when I arrived it was to the dreaded phrase of "You missed it by five minutes!"
Seth Ausubel, Andrew Baksh, and Shane were all still looking for the bird, Seth with a little more desperation because he had missed the bird by even less time then I had.  To make matters worse a portion of the beach had been cleared so fireworks could be set up and a pretty big thunderstorm was rolling in, both events that would make finding the bird nearly impossible.  The boardwalk was crowded, the bird did not cooperate, and the rain came and I gave up, not even attempting to use the services available to help the desperate in the photograph above right.
I got home before Desi drove my mother crazy and before Daisy would have been legally required to rip me limb from limb and we went out and had a wonderful dinner in Astoria (delicious Venezuelan arepas if you must know).
The next morning, while Desi and Daisy slept in, my mother and I quietly left the house for an early morning assault on Coney Island.  Though the dawn light on the boardwalk was a new way to see the landmark amusement district it did not illuminate the Gray-hooded Gull.  European Starlings, however, looked nice on the boardwalk silhouetted in the light.
Other birders also had no luck and the number of gulls was much lower than it had been the previous evening so we gathered up a couple of New Jersey birders there for the bird and checked a couple of other spots where Laughing Gulls congregate and had no luck at all.  I am sure, however, that the bird is still around and will be found this afternoon, when I can't go birding.  Oh well, here's hoping it is around when Desi and I have a chance to chase it on Sunday!  If you are going to look for the bird it seems that afternoons and evenings at high tide are the best bet.  Good luck if you go and I hope to see you in the field!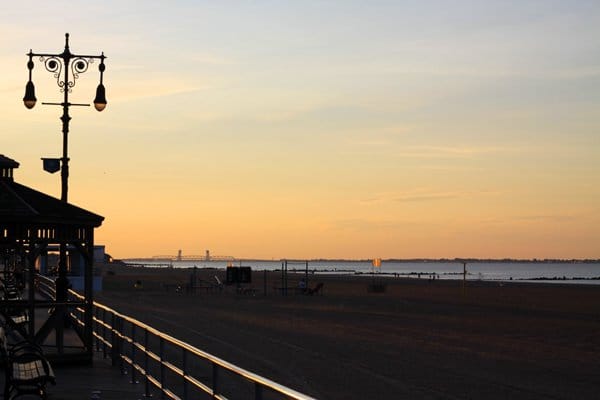 PRE-PUBLICATION UPDATE: The bird is being viewed even as this blog post gets published.  AAARRRGGGHHH!!!
*The name that the American Ornothologists' Union uses though others use Gray-headed Gull.
**In Apalachicola, Florida on 26 December 1998.