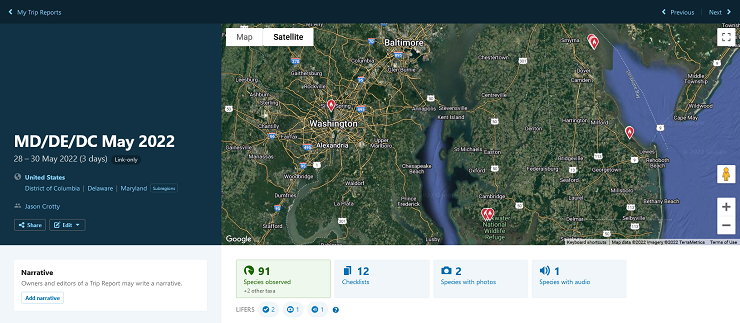 eBird Trip Reports were introduced relatively recently, in December 2021. A Trip Report is a way to separate out a group of checklists within certain dates to obtain a comprehensive single-page summary, including the number of checklists submitted, number of species observed, number of lifers, and a map. I have found Trip Reports a useful way to organize checklists from birding trips.
For example, in May, I was on the Maryland shore for a wedding and submitted several checklists for Maryland, Delaware, and the District of Columbia. Both states were new to me in terms of eBird, so I had never visited Bombay Hook NWR, which made my list of the Top 25 NWRs for Birding.
When I got home, I created a trip report, which indicates that I submitted 12 checklists (primarily from Bombay Hook NWR, Prime Hook NWR, and Blackwater NWR) and observed 91 species, two with photos and one with an audio recording. Two of those birds were lifers (Worm-eating Warbler and Grasshopper Sparrow). The links are clickable and sortable, so I can, for example, instantly see that I observed just one Worm-eating Warbler on a single checklist and that I also submitted an audio file. A check-mark indicates that it was a lifer.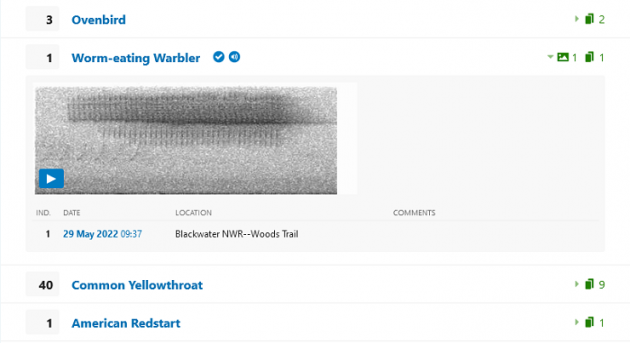 Creating a trip report is simple. From the "My eBird" page, click "Trip Reports" from the menu on the left and get to the "My Trip Reports" page. Click the green "Create Trip Report" button and then select the beginning and end dates for the report and give the report a name. The report can be public, or private, or only available to someone with the link. You can retroactively create trip reports for older checklists.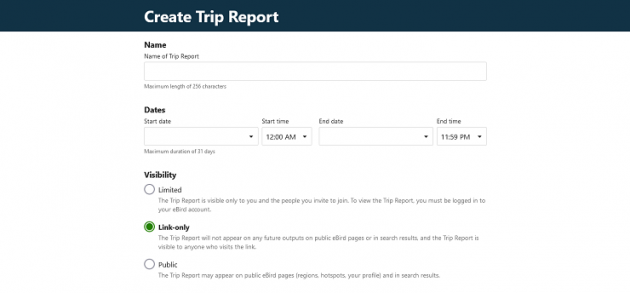 So far, I have 17 trip reports and they are an easy way to summarize some of my birding trips, easily allowing me to see detailed cumulative information about the trip.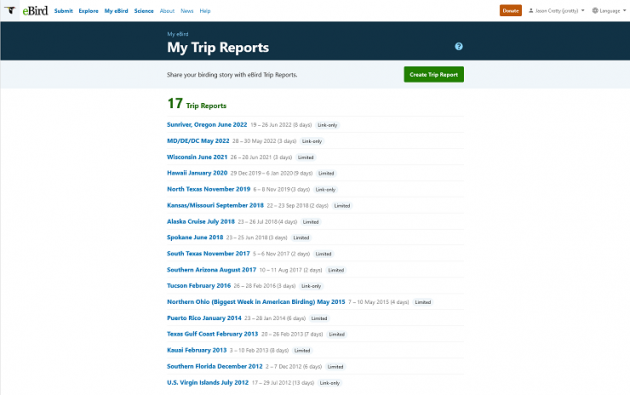 For example, in terms of lifers, my most productive trip was to the U.S. Virgin Islands in July 2012, which was our honeymoon. (Our tenth anniversary is later this month.) As the first trip to the Caribbean, all the common regional species (e.g., White-cheeked Pintail, Scaly-naped Pigeon, Zenadia Dove, Green-throated Carib, Gray Kingbird, Pearly-eyed Thrasher, and the ubiquitous Bananaquit, etc.) were new to me.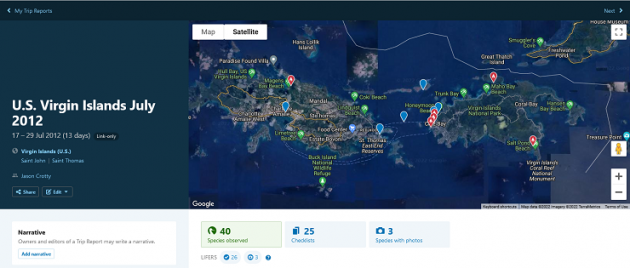 The folks at eBird continue to find ways to easily access one's checklist information in ways useful to birders.