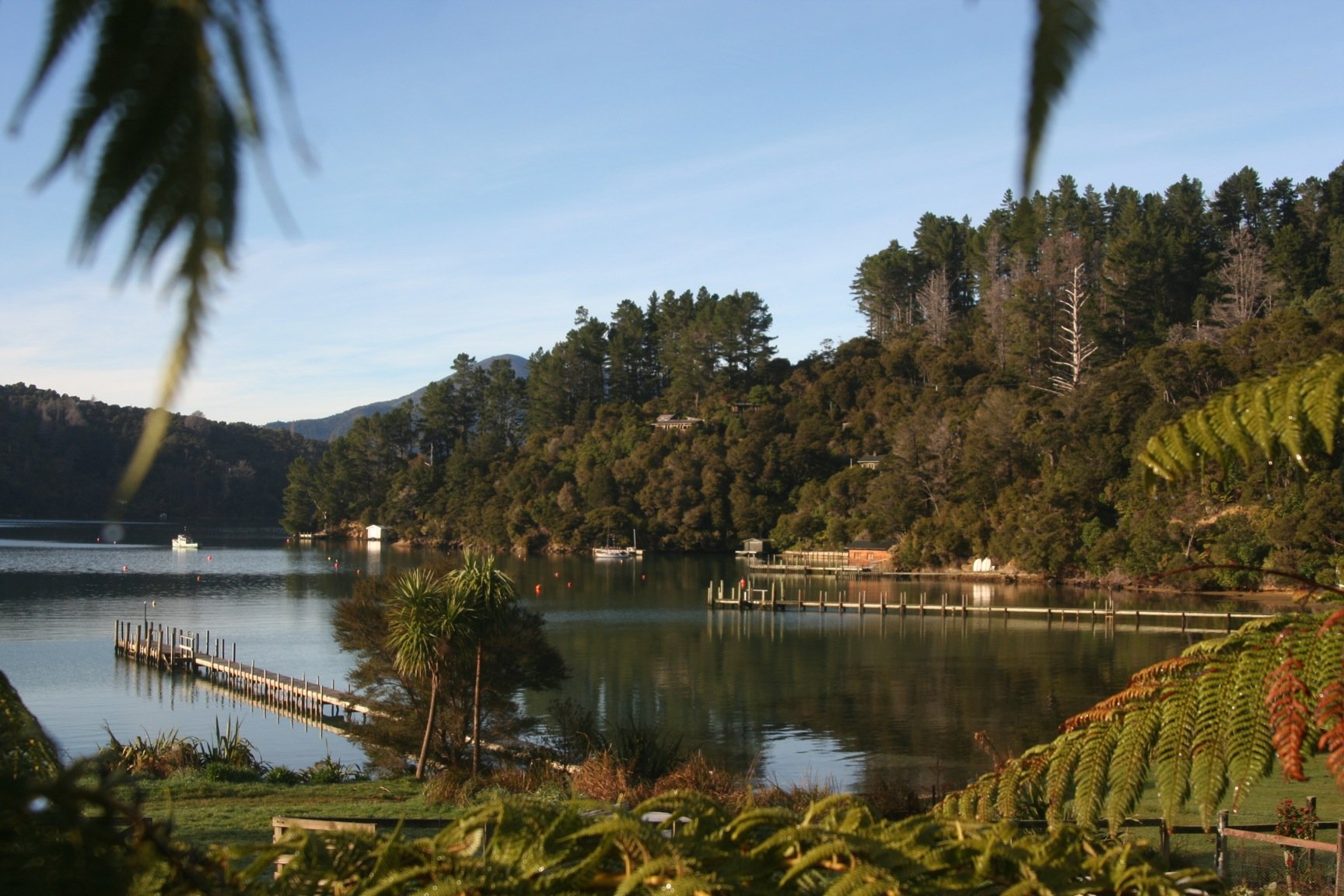 After all the excitement (such as it was) of last week it was nice to have an escape route from the city already lined up for the following weekend, a two night jaunt to the Marlborough Sounds. This scraggly collection of islands and deep long bays forms the tip of South Island closest to to North Island, but till this point my only experience of the area had been the long passage down Queen Charlotte Sound to reach the ferry terminal of Picton. That I haven't been to stay there before is perhaps surprising, given that the area holds its own endemic species, the King Shag (or Rough-faced Shag if you're the IOC Bird List people on a quest to call every New Zealand bird a name no one here actually uses), as well as being a good place to see another rare endemic, the South Island Saddleback.
But it wasn't birding that brought me on this trip, but the family bach owned by the family of a friend of mine. Baches hold a prized place in New Zealand culture, being once described as "something you built yourself, on land you don't own, out of material you stole" (most are on firmer legal ground these days). They are generally small holiday homes or cabins, simple and basic constructions built to keep you warm and dry a night while you have your holiday outside swimming, tramping, fishing, hunting and the like. Pete's family bach was actually pretty luxurious by these standards, with a fire and a logburner and a very 1970's feel to the decor, located in a bay off Queen Charlotte Sound about twenty minutes north of Picton by water taxi. Anyway, the purpose of the trip was not to bird but for some stressed out city types to unwind, tramp and drink a lot of beer and wine.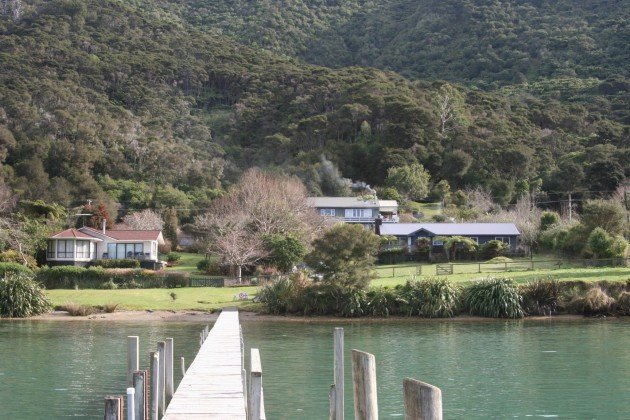 Some baches in Marlborough Sounds, Pete's is on the right.
That isn't to say we didn't see any birds. Well, we didn't see any on the ferry trip, as we left Wellington after work, and it being winter, that meant it was dark. But that was okay, because it made the late night water taxi ride all the more impressive. The shape of the area we were moving through was hard to get a feel for, with only a few small lights among the dark shapes of the bays and hills, but a sinister low yellow moon rising above the hills added to the impressive bioluminescent display of the water made for a memorable trip. Followed by several beers while the fires warned the house before bed.
The birds began calling at dawn, Tui, Bellbirds and the ever present Grey Warbler all being heard from the house and seen through the windows with bleary eyes. After some bacon had brought us back from the dead I wandered down to the dock, where a White-faced Heron and a pair of Sacred Kingfishers were hunting. Even better, at the end of the dock a large New Zealand Eagle-ray was feeding under the clear still water, and stayed there long enough for those who wanted to see it to come down.
We eventually pulled ourselves together enough to drag ourselves for a short two hour or so tramp up the hill behind the bach. On the way we encountered some very friendly New Zealand Fantails, which flew around us looking for insects that we might be stirring up. The pair followed us for quite some time, as they tend to do on tramping trails around the South Island, endearing themselves to the group. We also managed to find a Weka on the walk, which while not as bold as some I have encountered (that is, it wasn't actually trying to steal stuff from us), certainly allowed close looks.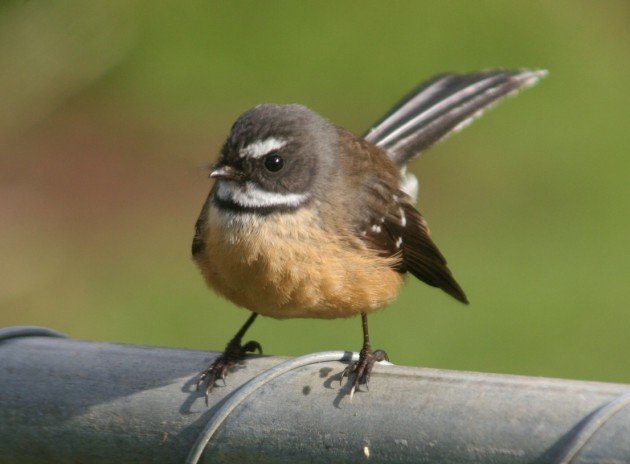 New Zealand Fantail
 Exhausted after the walk (particularly the terrifying downhill bit – how we didn't end up dead I'll never know) and lunch we set about doing some yard work, basically burning a huge amount of storm-damaged branches. Another Weka came to inspect us as we did some yard work (read, burn a bunch of branches) by the water in the afternoon. It was also then that I managed to work out what the weird looking distant ducks were, they weren't ducks, they were huge rafts of Fluttering Shearwaters. I've never seen so many petrels so close to shore in such sheltered waters – petrels are birds I associate with large bodies of open water. A final interesting bird was heard that night over another round of beer and wine, as several Blue Penguins made the bay their home.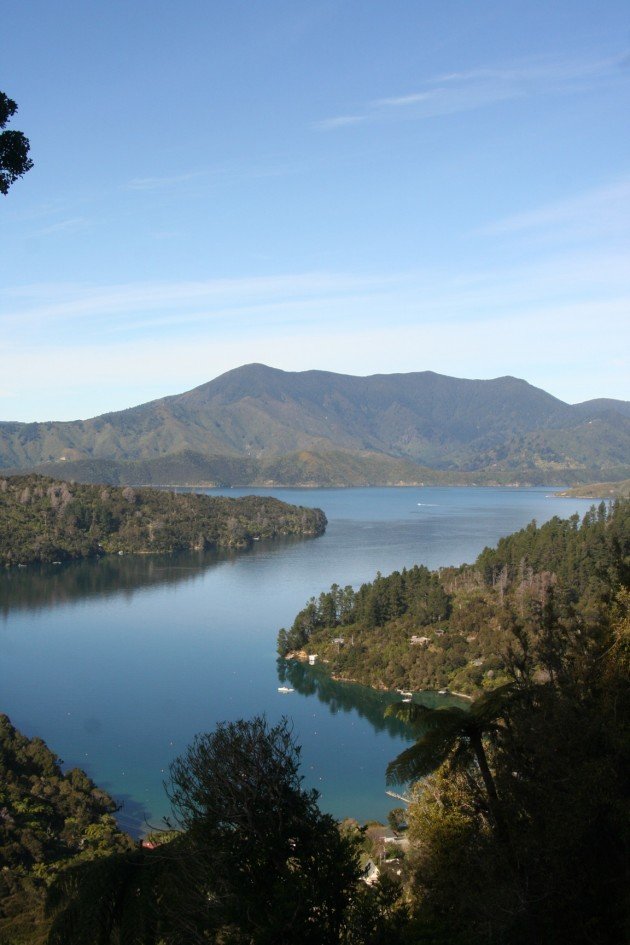 Lochmara Bay with Queen Charlotte Sound in the background
Not everyone has a mate who has a family bach in Marlborough Sounds, but visitors to New Zealand can still have the true Kiwi experience by renting a bach while visiting. The totally understandable impulse, when coming here for the first time, is to try and fit as much in as you can, rushing from Auckland to Christchurch, but it is worth slowing down a bit and just enjoying the country if you can.