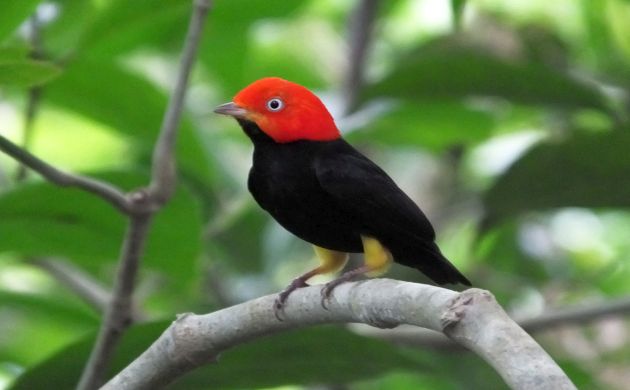 Costa Rica is situated right between two oceans. To the north of this mountainous isthmus, we have the Atlantic. In the other direction, the Pacific. The pair of seas are close enough for the occasional adventurous frigatebird to just soar way up and right over to the other salty basin. The proximity of both slopes also facilitates seeing a lot of different species in a short span because the montane barrier has resulted in differences in terms of species and habitats. Over there on the Caribbean (that's what we call the Atlantic Ocean in Costa Rica), the lowlands are supposed to be blanketed in lush, over-vegetated rainforests. They used to be but a burgeoning population in need of more living room and land for cattle and crops destroyed a fair portion of those rainforests during the 20th century. Fortunately, nowadays, there are protected areas and efforts to establish biological corridors that provide more hope for the endangered Great Green Macaw, and other species.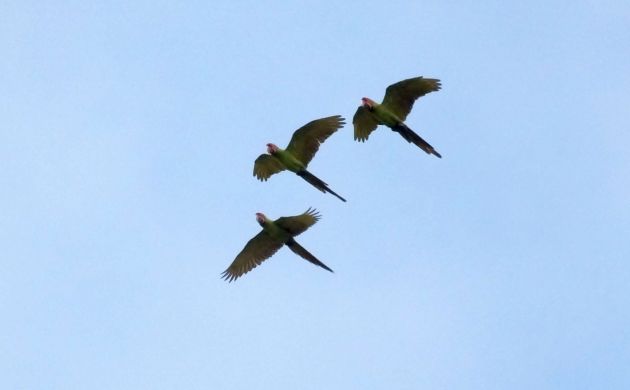 Three Great Greens in flight at a site in the Caribbean slope foothills.
I don't see many long-term benefits to a landscape where large areas have been converted to monocultures of banana, pineapples (real eco-deserts full of poison), and cow, but it's at least worthwhile to know that such habitats are pretty worthless for birding. Yeah, you might see some edge and open country species but since you can see those same birds at the edge of forests along with toucans, parrots, puffbirds, and antbirds, I strongly suggest skipping the open areas and heading to the largest areas of rainforest that you can find ASAP. In Costa Rica, that would mean the Sarapiqui area because this is where we find the closest Caribbean lowland forests to San Jose. This is where we also find frequently visited sites like the La Selva biological station, Tirimbina, and lodges like Selva Verde, and is where you have a fair chance of seeing the Great Green Macaw, Snowy Cotinga, and lots of other lowland species. But, if you want to go further afield, fear not, there is some wonderful lowland forest birding up near Nicaragua and down south by Panama as well.
I try to get down that way at least once a year preferably in the fall because the coastal forests south of Limon also act as one of the best areas in the country for migration (Tortuguero being the other top migration spot). Pay a visit during October and you will probably see aerial streams of swallows, Purple Martins, and Chimney Swifts, the classic River of Raptors, and other migrants on their way to South America. If you don't feel like watching migration in action (if not, you probably aren't a birder), you can also see lots of fun, local lowland rainforest species because there's a fair bit of forest and old second growth around Cahuita and Puerto Viejo. Since these are tourist destinations, there's also plenty of places to stay and a pretty good variety of dining options as well (including one of the best Italian restaurants in Costa Rica- check out the "Pecora Nera").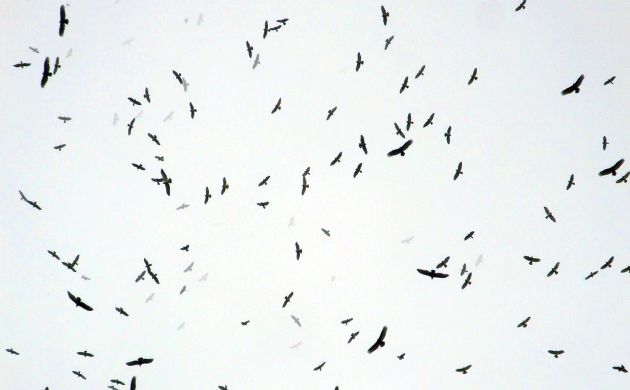 Nothing like watching kettle after kettle of Turkey Vultures, and Broad-winged and Swainson's Hawks pass overhead for hours.
A couple weeks ago, while guiding a trip to the area, we stayed at a rural tourism initiative known as Casa Calateas. When you see "rural tourism" in Costa Rica, that usually means a small, basic lodge owned and run by a local community so they can benefit from tourism. Those places are often located in good habitat, the food is tasty, local fare, and it's a great way to support the economies of communities trying to make a living from tourism instead of cutting down the forest. Don't expect posh rooms or many amenities but you can expect good service, clean rooms, appreciative local people, and pretty good birding for a great price.
At least that's how it was at Casa Calateas. I hadn't been there before so I wasn't sure what to expect other than the satellite glimpse via Google Earth, what other guests had said, and one or two eBird lists. It all looked good though, so we did the trip, and thankfully, it was birdalicious. Although I dipped once again on Black-chested Jay for Costa Rica, I did add my other main target for the trip, Spot-crowned Antvireo. This small antbird species is common in Panama to Ecuador but rare in Costa Rica. It was satisfying to finally add that to my country and year list but if you really want to see it, I suggest birding elsewhere. Nevertheless, it's still worth looking for it at Casa Calateas just because you can expect lots of other cool species in the process.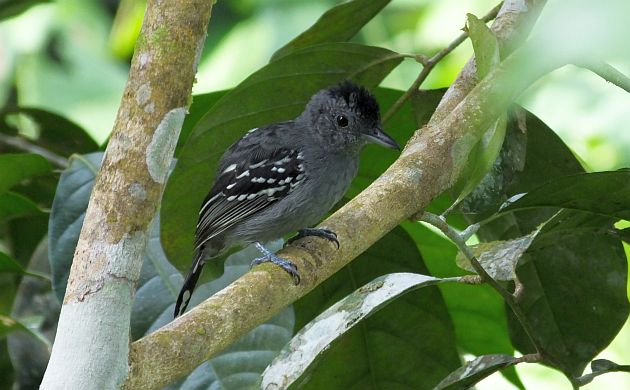 Black-crowned Antshrike is one of those cool species- common at Calateas and other lowland forest sites in Costa Rica.
We watched from the viewing platform and I suggest you do the same. We had looks at Semiplumbeous Hawk, White-necked Puffbird, toucans, parrots, hundreds of migrating Mississippi Kites, and several other birdies. It was kind of like a canopy tower although most trees were pretty far off.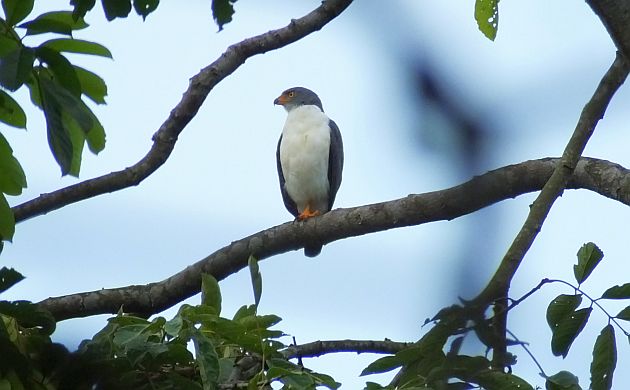 We had several sightings of the uncommon Semiplumbeous Hawk!
I also suggest checking the trees near the platform to see if one of the resident Great Potoos is around. At least two gave their growling, frightening calls all night long and were joined by the low rumbling call of the Crested Owl. Although we never saw the owl, we almost bumped into the potoo as it roosted on a tree near the platform.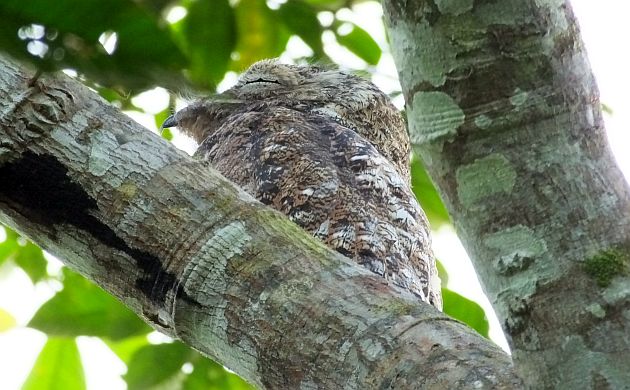 The looks at the potoo were almost too close!
You can also expect solid birding right around the lodge and on the entrance road. Although the habitat is more like old second growth with some primary trees, it's apparently old enough to support forest species like Bicolored, Spotted, and Chestnut-backed Antbirds, woodcreepers, and Purple-throated Fruitcrows. Sunbittern is also regular on the entrance road and who knows what else might show up in this underbirded area. I hope to go back to do some surveys.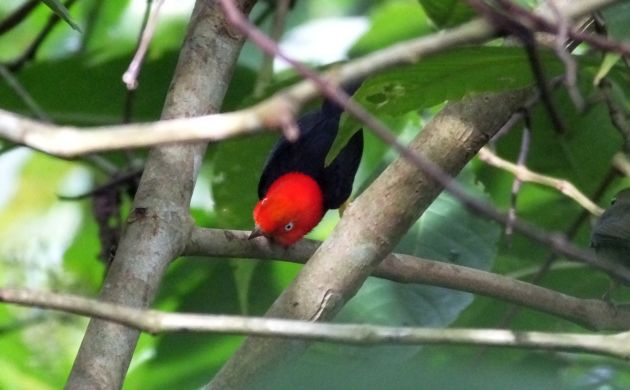 Dancing Red-capped Manakins were fairly common too!
Visit in October, and you can also expect several migrants. On our first morning, I had close looks at a Chuck-wills-Widow, and we had several Bay-breasted Warblers, Scarlet Tanagers, Rose-breasted Grosbeaks, Swainson's Thrushes, and Red-eyed Vireos over the course of the weekend.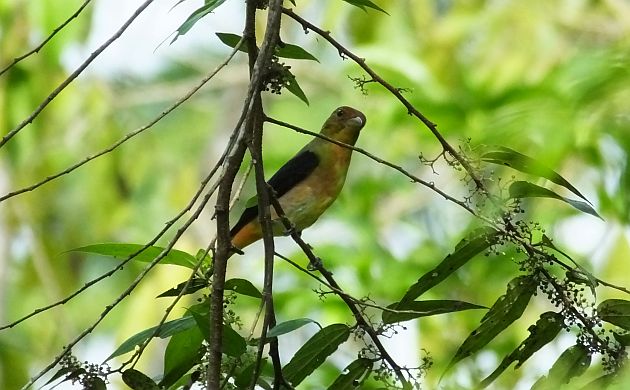 The Scarlet Tanagers in fall have shed their scarlet appearance.
It takes about four or four and a half hours to drive to Casa Calateas from the San Jose area. If you don't mind the drive and feel like good lowland birding while supporting local tourism, I suggest that you pay a visit. If you feel like going to the beach, that's possible too, there are several beaches anywhere from 10 minutes to an hour's drive from the lodge.
Check the eBird list from a Saturday at Casa Calateas.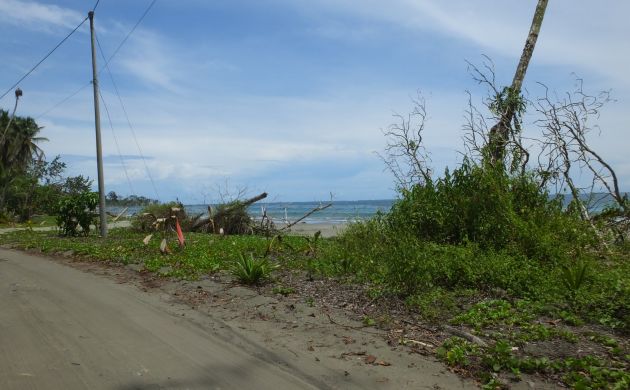 A nearby beach at Cahuita National Park.