I've already shared some pictures from this past Saturday's trip out along the south shore of Suffolk County looking for shorebirds.  The guy I traveled and birded with, Andrew, has already posted his account of the day on Birding Dude.  So why am I writing another post about the time we spent searching for birds?  Because I am a bird blogger and that is what bird bloggers do!  Besides that basic bit of information I also have a bunch of pictures that I haven't used and I think Mike and Charlie are conspiring to get rid of me because of my lack of production (Just kidding, Mike and Charlie wouldn't do such a thing, right, guys?  Guys?).
Anyway, we had a relatively reasonable starting time to our expedition out east: Andrew picked me up at twenty after six and away we went.  Our plan was to meet Andy Baldelli, he of the amazing fly-by Western Sandpiper call, and bird the heck out of Sagg Pond, a tidal pond that Andrew and I had been told teemed with shorebirds, that Andy knew well.  We arrived at almost exactly eight AM and we got right down to birding.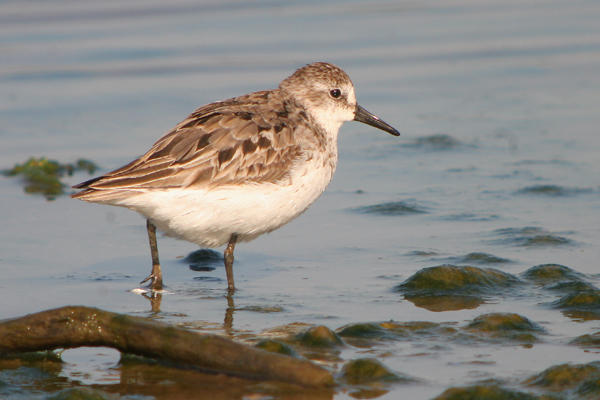 At first it was just common birds for eastern Long Island, but when common birds include over ten species of shorebirds, Willow Flycatchers feeding young, Black Skimmers, Common Terns, Great and Snowy Egrets, and a bunch of other stuff, well, you know we birders were busy.  Besides, we had to look at each and every bird through the scope to make sure it wasn't something uncommon, and, of course, this technique soon led to our first and only Pectoral Sandpiper of the day.  As we worked our way around the low-tide pond we continued trying to get bins or scope on every single bird, a method that worked out well as we (and by we I mean Andy and Andrew) managed to find three different Western Sandpipers, as well as a White-rumped Sandpiper.  Me?  Well I was, ahem, focused on the big picture, like this shot of Sagg Pond (the ocean is just beyond the strip of sand in the middle).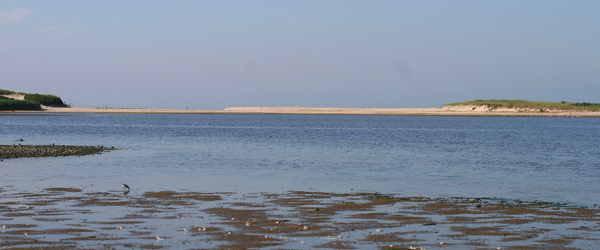 I also did the important documentary work, like showing that three species of plover (Semipalmated Plover, Killdeer, and Piping Plover) could indeed fit into one photograph.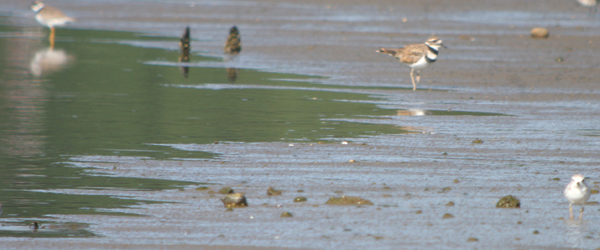 I did spend quite a bit of time watching juvenile terns.  A Least Tern colony between the pond and the beach provided plenty of terns to watch, and a juvenile Common Tern was around as well.  It amazed me how the young Least Terns would sit silently when adult Least Terns would walk past but then start begging when an adult that was their parent came by with food.  How do they know?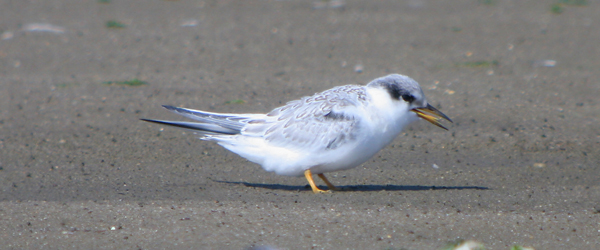 Also fun was trying to digiscope hunting Osprey at very long range.  Even though the shot below was taken at a couple hundred yards and through heat shimmer and is very cropped I am still pleased with the result.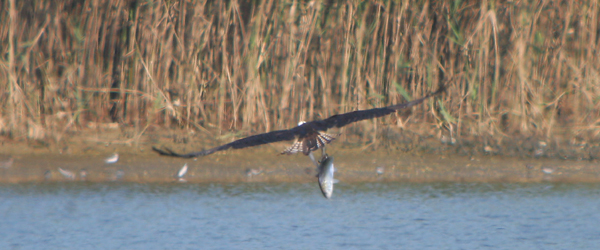 And, as always, I enjoyed taking some shots of skimmers, both loafing and flying.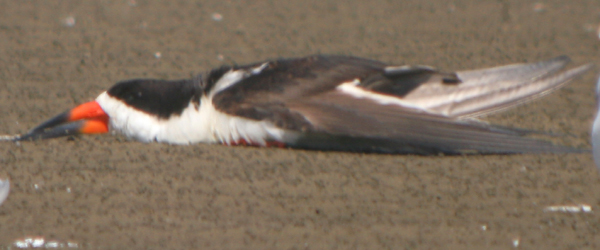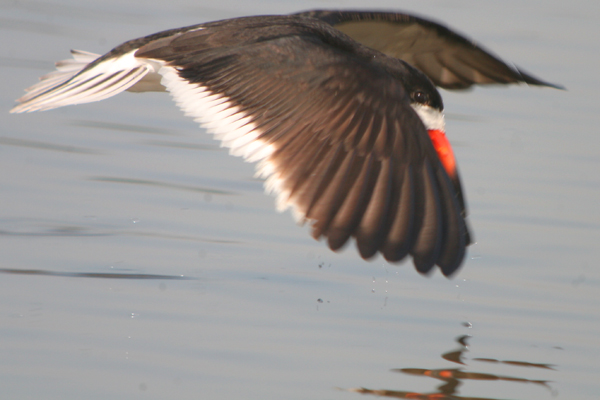 Even nicer than the skimmers, though, were the three Black Terns loafing with the Common Terns, two if which are pictured below.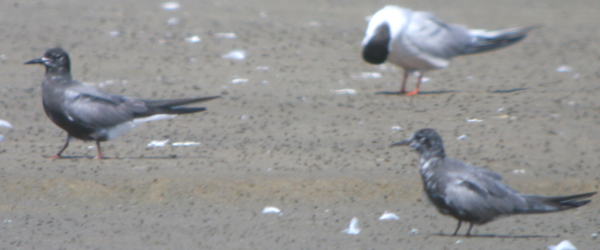 Eventually, after drinking in all the many birds at Sagg Pond (especially the Whimbrel) we decided it was time to move on to other locations.  First, we stopped for refreshments at a small cafe that Andy knew about (and delicious it was) and then we started exploring a host of tidal creeks, hoping to find a rarity at a rarely-birded spot.  While we didn't find anything like an American Avocet or a Ruff (we tried hard) we did manage to get a Saltmarsh Sparrow (no longer Saltmarsh Sharp-tailed Sparrow since the name change) to pop up and sit for some lousy long-range shots.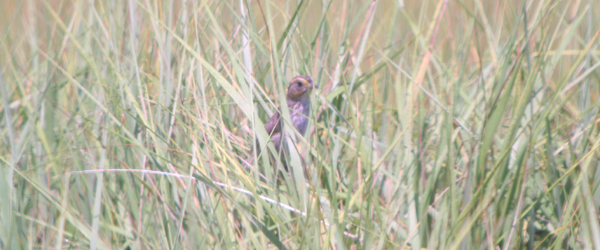 We made our way out to Pike's Beach next and walked out in the bay to examine the terns and shorebirds loafing.  We added American Oystercatchers for the day and also a horde of Royal Terns (we ended up with a maximum count of fifteen).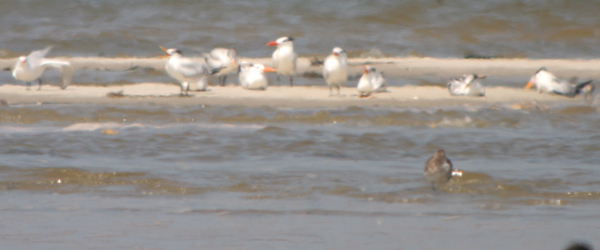 After Pike's Beach we made a brief stop at a bar for fortifying margaritas then we did a brief seawatch, which netted us several subadult Northern Gannets and my first-of-the-year Cory's Shearwater.  A brief look back at the bay side just netted us more of the same shorebirds and terns so we eventually called it a day (though I did like the bathing Least Tern below).
The ride back to Queens was uneventful, though I started felling lousy: when I woke up on Sunday I was plagued by the worst head cold ever (I still haven't shaken it) but it was well worth it for all the birds we saw!
Thanks to Andrew for driving and to Andy for showing us around…it was another great day's birding in Suffolk County!