The weather has already improved, and in 23 days the spring will be back. With longer and warmer days, we feel the urge to bird in the country, away from our local city patches. So, if you were coming into my neck of the woods – Belgrade, where would I suggest you go birding?

Forest

From magnificent cliffs to deep and damp beech forests, Resava Gorge Reserve is a nature lover's perfect getaway. The reserve lies mere 50 km off the main Belgrade-Nis highway, near the town of Despotovac (150 km or 2 hours southeast from Belgrade). Forest covers 70% of the area (hornbeam, beech and oak).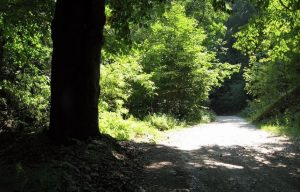 Along the creeks, search for White-throated Dipper, Grey Wagtail and Common Kingfisher. Above them, on limestone cliffs, Alpine Swift and Crag Martin breed. Old beech forests are inhabited by Grey-headed Woodpecker, Eurasian Green Woodpecker, Black Woodpecker, White-backed Woodpecker (rare), Stock Dove (uncommon), Collared Flycatcher, Red-breasted Flycatcher (rare), Marsh Tit and Coal Tit. More open woodland and scrub holds Red-backed Shrike, Common Redstart, Sombre Tit, Icterine Warbler, Common Nightingale and Cirl Bunting. Raptors to look for in this reserve are Golden Eagle (rare) and Short-toed Snake Eagle (uncommon), European Honey-buzzard and Peregrine Falcon (declining). The commonest owls are Eurasian Scops Owl and Tawny Owl, while the rare ones include Ural Owl and Eurasian Eagle Owl. About 120 species have been recorded so far.

To get there, after you pass Despotovac drive through Dvoriste and Strmosten villages, following the signs for the Lisine Valley, an area popular with weekend crowds. The good side of this popularity is presence of restaurants and inns (from personal experience I can recommend a place for carnivores called Vodopad – By the waterfall). The downside is that weekends may get overcrowded.

Grassland

South Banat's wide vistas hold endless surprises for the spring visitor. The Deliblato Sands Nature Reserve lies about an hour east of Belgrade, so conveniently close to the city that you can choose to go for just the morning and to be back by noon, or to spend the entire day in the sands. Dominant easterly winds have shaped the prominent dune relief rising from 70 m / 200 ft a.s.l. (the altitude of the Danube) up to 200 m / 650 ft a.s.l. More than half of the area of Deliblato Sands is now overgrown with planted forest of black locust, black and white pine. The rest is grazing pasture and steppe.


Here, characteristic birds to look for are Eurasian Nightjar, European Bee-eater, Eurasian Scops Owl, Hoopoe, Wryneck, Eurasian Green Woodpecker, Grey-headed Woodpecker, Red-backed Shrike, Lesser Grey Shrike (uncommon), Crested Lark, Woodlark, Tawny Pipit, Barred Warbler, Golden Oriole, Common Nightingale, Hawfinch. Local raptors include European Honey-buzzard, Long-legged Buzzard (rare), Booted Eagle (rare), Montagu's Harrier (uncommon), etc. About 180 species have been recorded so far.

The best access roads are from Vladimirovac village (north) to Devojacki bunar area (in the arable fields en route, look out for the highly localised Greater Short-toed Lark), from Deliblato village (west) to Cardak area, and from Susara village (east) to surrounding areas. Susara offers the best accommodation around, in the form of the adapted, hundred years old country cottage called Kastel Marijeta (Mariette; cover photo).

Wetland

Halfway between bustling Belgrade and sleepy Zrenjanin, River Tamis floodzone contains abundant oxbow lakes (turned into fish farms) and salt marshes filled with birds. Fish farms in Baranda and neighbouring Sakule villages, about 40 km / half an hour north of Belgrade, offer likely the best wetland birding near the city. Preserved riparian forests still exist in large patches along the river, but also vast areas under cultivated poplars.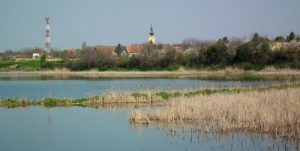 In addition to numerous White Storks (about 60 nests in both villages, and in some years with Spanish Sparrows breeding under the stork nests), other birds include Great Bittern, Purple Heron, Black-crowned Night-Heron, Glossy Ibis, Spoonbill, Ferruginous Duck, breeding Whiskered Tern (plus Black Tern and White-winged Tern on migration), waders, Common Crane on migration (mostly in late February to March), Hoopoe, European Bee-eater, Little Owl, Reed Bunting, Bluethroat (localised), Moustached Warbler (uncommon), Savi's Warbler, Grasshopper Warbler, Penduline Tit, Bearded Tit, Red-backed Shrike and Lesser Grey Shrike (uncommon). Almost 230 species have been recorded so far.

Use the Zrenjanin road to reach the area. In Baranda, ask the fish farm management for permission to visit, in the last building on the right hand side as you leave towards Sakule. In Sakule, daily permits are sold to anglers, and you are likely to encounter a warden checking if you are a poacher. Finally, when you finish birding, it's time for a beer or some lunch. Head back to the town of Opovo, south of Baranda, and ask for the Kod Bobe Restaurant (Chez Boba), a second generation in the same family and the best restaurant in the area.

Interconnecting these three areas in a single tour makes about 450 km / 300 mi of mileage. In a single weekend, spend the morning in Baranda, and when you finish birding, head for Susara and overnight there or, alternatively, in the Devojacki bunar area of Deliblato Sands. It would take an extra day or two, or a separate weekend, to properly add Resava Gorge into the tour.