The family is spending a few days down on the farm, specifically the retired dairy farm my mother-in-law calls home. Ann and her husband Bill have a gorgeous spread in Potter County, Pennsylvania which I've been writing about since I started blogging. Yet, I can attest with pleasure that this slice of pastoral heaven still holds surprises for me.
My first shock was at how many Pine Siskins are still around in late April. Could it be that siskins will be breeding in the Southern Tier this year?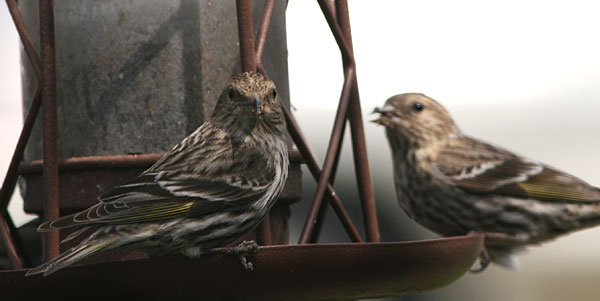 What are looking at?
I'm never surprised by the profusion of birds mobbing Ann's feeders. Four finches (Purple, House, American Goldfinch, and the aforementioned siskins), three blackbirds (Red-winged, Common Grackle, Brown-headed Cowbird), three sparrows (House, Song, Chipping), and the usual chickadees, nuthatches, titmice, doves, and woodpeckers make for a boisterous buffet.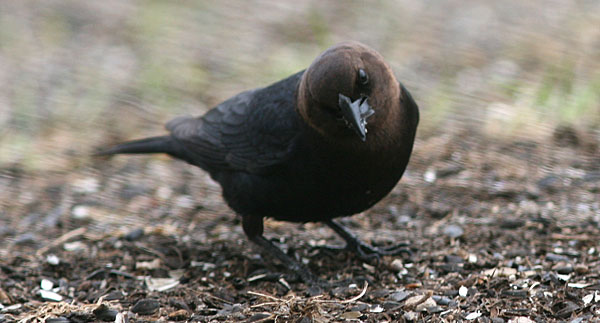 Brown-headed Cowbird

Song Sparrow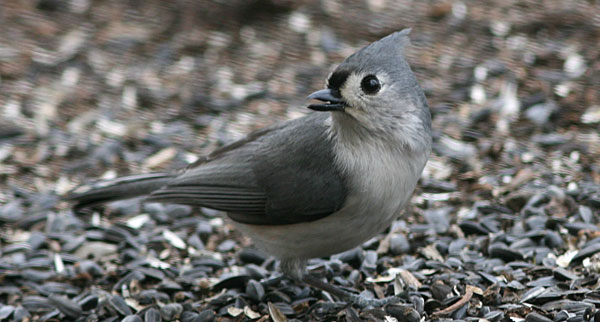 Tufted Titmouse
Dark-eyed Juncos persist in huge numbers as well. Their breeding status in these parts is not in doubt. Seth and I, out looking for the first warblers of spring here, tracked down a sufficiently insectoid song to its hidden source only to find a winter resident where we'd expected a neotropical migrant. That junco breeding call fooled us again and again until we finally wised up!
Yellow-rumped Warbler may have been our only warbler for the day but Seth and I slowly accumulated an impressive day list. Over at Alma Pond, we spied Bufflehead, Wood Duck, and an early Osprey. We also learned that Common Mergansers lay eggs in tree cavities after watching a pair of sawbills desperately try to dislodge a gloating American Crow from its predatory perch. Another frankly astonishing educational moment occurred when an unfamiliar silhouette soared high above us from one hilltop to another. Seth, well-steeped in folksy wisdom, shared that Wild Turkeys feel comfortable making that flight in spring but are usually too well-fed to pull it off in autumn.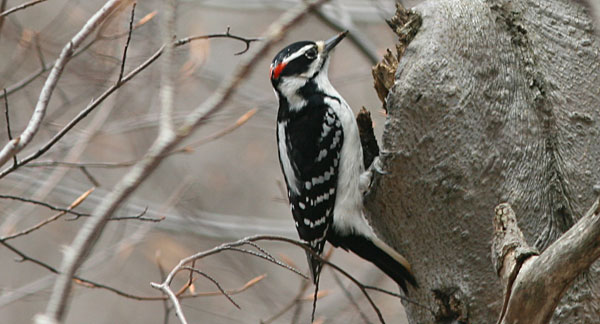 Hairy Woodpecker
If we count the constant deep drumming of Pileated Woodpeckers in the distance, we swept all the expected picids, rolling up Hairy, Downy, Red-bellied, Yellow-bellied Sapsucker, and Northern Flicker throughout the day. We also had a decent crop of raptors with American Kestrel, Sharp-shinned Hawk, Red-tailed Hawk, and Turkey Vulture. Our best birds of the day, however, weren't raptors or woodpeckers. Seth and I explored a part of the farm I'd never seen before, a broad expanse of fields just over the hill behind the house. Ragged stubs of corn stalks stretched toward the horizon, bordered by hedgerows harboring armies of American Robins. We crested the hill for a closer look at a Northern Harrier we'd seen coursing the field but instead of a harrier, we were met by acres of freshly laid manure. However, I was willing to choke on a little stench when the first Eastern Meadowlark popped up, saffron breast blazing in the low afternoon light. The payoff came in a very drab gay-brown package: a Vesper Sparrow consorting with streaky Song Sparrows. Why I was surprised to see birds of farm and field in a farm field is beyond me, but in my defense, I haven't noticed them here before in over 20 years of visiting!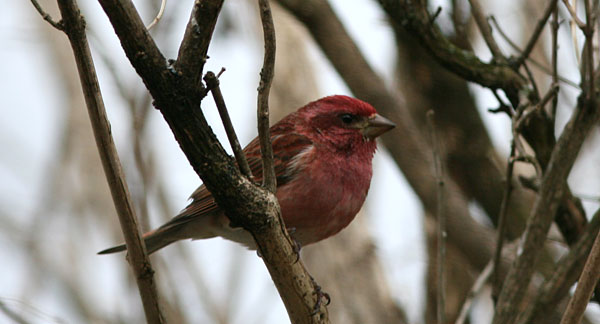 Purple Finch
Our day of casual birding ended with a pair of Hermit Thrushes along with a bevy of Eastern Bluebirds brilliant along the barbed wire fencing. Considering how long it takes for spring to reach these parts, I'd say we enjoyed the best of the season.