It has been a while since I wrote on where to watch birds (unbelievable, I know), and will now focus on the nature reserve of Deliblato Sands and the adjoining Labudovo okno Ramsar Wetland, about an hour east from Belgrade, Serbia. This area is so conveniently close to the city that you can choose to go only for the morning and to be back by noon, or to spend the entire day in the sands.
Covered by grazing pasture, steppic habitats, woodland, scrub, conifer plantations, vineyards and agricultural land, the DELIBLATO SANDS Important Bird Area and a Special Nature Reserve comprises an elongated tract of sand, spreading from the Danube River northwest towards Vladimirovac and Banatski Karlovac villages. Dominant easterly winds have shaped the prominent dune relief rising from 70 m / 200 ft a.s.l. (the altitude of the Danube) up to 200 m / 650 ft a.s.l. Continental climate and the absence of surface water took care of the rest. It was gazetted as a nature reserve in 1977.
About 180 bird species have been recorded here, among them European Nightjar, Honey Buzzard, Long-legged Buzzard, Booted Eagle, Montagu's Harrier, European Bee-eater, Eurasian Scops Owl, Eurasian Hoopoe, Eurasian Wryneck, Green Woodpecker, Grey-headed Woodpecker, Red-backed Shrike, Lesser Grey Shrike, Crested Lark, Woodlark, Tawny Pipit, Barred Warbler, Golden Oriole, Common Nightingale, Hawfinch, etc.

Belgrade (Serbian: Beograd) to Deliblato Sands (Deliblatska pescara). The arrow marks Hatarica.
Be sure to bring at least a bottle of water per person (you could restock at the petrol station as you enter the town of Kovin). Further on, the only facilities are a roadside bar next to Hatarica (which can be closed in the morning or in the off-season) and a small village shop in Dubovac. If you intend to spend the whole day in the sands, you may chill out the hottest part of it in the shade of one of several fish restaurants in Stara Palanka, about 7 km south of the Vracev Gaj Village.
Hatarica grazing pasture, Deliblato Sands
Located some 60 kilometres east of Belgrade, Hatarica grazing pasture (cover photo) is the westernmost part of the Deliblato sands and the first one to reach when coming from Belgrade. It consists of grassland on sand dunes, interspersed with bushes of Hawthorn and Junipers.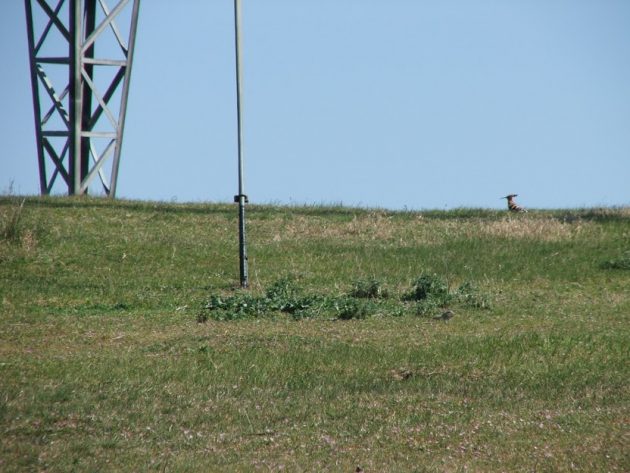 Hoopoe at Hatarica; photos (2) by Slobodan Puzovic
Characteristic birds of these dry and sunny areas are Eurasian Hoopoe, European Turtle-Dove and European Bee-eater; Lesser Grey and Red-backed Shrikes (in winter replaced by the Great Grey Shrike), Woodlark, Skylark and Crested Lark, Sand Martin, Barred Warbler, Northern Wheatear, Tawny and Tree Pipits. There is a small and highly localised population of Greater Short-toed Lark in this grassland. During May migration, European Roller and few dozen strong flocks of Red-footed Falcons were observed on the wires.
Getting there: From Belgrade through Pancevo, Kovin and Gaj. The area is accessible from several points off the Gaj – Dubovac road. Driving from the town of Kovin, Hatarica pasture starts about 2 km / 1.2 mi after the village of Gaj and spreads at the right-hand (southern) side of the road. You may park by the road and explore the grassy dunes on foot. A large roadside puddle holds water through most of the year and at migration time attracts waders – Black-winged Stilt, Northern Lapwing, Green and Wood Sandpipers, Spotted and Common Redshanks, Common Greenshank, Ruff, etc.
When to go: breeding and migration seasons (April to June and late August to mid-September).
eBird list of the recorded species
Part 2/3: Labudovo okno
Part 3/3: the eastern edge of the Deliblato Sands reserve