Joining this story a post late?  Click here to read part 1.
After our slow start to the day we were amazed when, while waiting for Clay's flat tire to be repaired, Brian counted up our list and realized we had tallied 94 species.  We had thought we were doing much, much worse than that and our hopes of getting a decent count for the day were renewed.  Then we got in our kayaks and realized that to get to the marshes we wanted to explore we first had to paddle into the wind and against the incoming tide to head southeast out of the Cape May Canal and into Cape May Harbor before we turned east across the harbor and then north under Ocean Drive and into Skunk Sound.  It was tough paddling and an accidental detour up the dead-end Cedar Creek did not help.  But we persevered and soon found ourselves scanning mudflats with flocks of feeding shorebirds.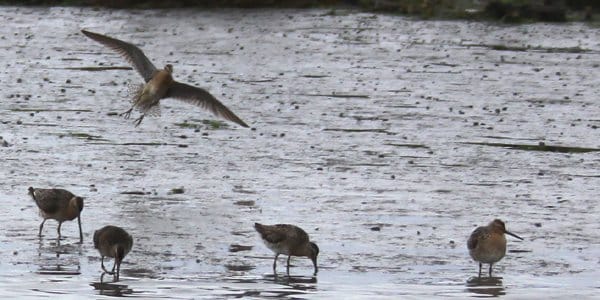 Being in kayaks meant that birds didn't really recognize us as people and we could coast to relatively close range without them flushing.  But if we made a sudden move or tried to paddle the birds would think we were a threat and take off, though they would usually only fly a short distance.  It was nice to get close up to breeding plumaged Dunlins and Black-bellied Plovers though it was also frustrating because I only brought my very short lens with me for fear of having a mishap while changing lenses in a kayak.  Salt water, after all, is not good for the innards of cameras.  Despite the lack of a long lens I still captured an occasional decent image, like the Forster's Tern diving between Clay and Brian.

But we were out in the marshes looking for new birds for our day and were pleased to add species like Clapper Rail, Seaside Sparrow, Common Tern, Brant, and a surprise fly-by Green Heron.  A long range Black Vulture was a pleasure as well, though we were astounded that by the end of the day we had only seen one of each vulture, an absurdly low number and testament to how crummy a day it was.
Our best birds in the marshes, however, were two species of shorebird.  The first was a Long-billed Dowitcher, which Clay identified by voice when I let my kayak get far too close to shore and flushed a bird.  As soon as Clay pointed out its call it was obvious that we were not dealing with another short-billed.  Long-billed Dowitchers are a really good bird in spring in the east and, so far as I know, we were the only team during the World Series of Birding in 2011 to get one.  Of course, we were the only team spending hours exhausting ourselves in kayaks in a salt marsh but that just explains why we are so darn cool.  The second cool shorebird we spotted was actually a small flock on a mudflat that had become an island and was rapidly shrinking as the tide came in.  At first, the island looked like a bare mudflat but a closer examination yielded dozens of Dunlin and, then, a small flock of Red Knot!  Knot bad, knot bad at all…

Sadly, in getting all of these great birds there was one casualty.  Brian's cell phone is now being used by SpongeBob Squarepants after an unfortunate decision by Brian to try to get out of his kayak to see if he could find any good Ammodramus sparrows on foot in the marsh.  The sheer amount of mud that stuck to his leg when he sunk up to his knee on his first step was pretty hilarious, at least to Clay and me…
The long paddle back to the rental place was aided by a tail wind and the still inflowing tide, a relief for exhausted arms.  We were also pleased at having broken the 100-species mark.  As we dismounted from our trusty plastic steeds the rain began to spit, making our decision to take a long lunch an excellent one, and seafood bisque, a giant burger, and a marvelous mojito never tasted so good.  I really enjoyed the interlude but I dreaded getting back on the bike, an adventure you will have to wait until part three to read all about…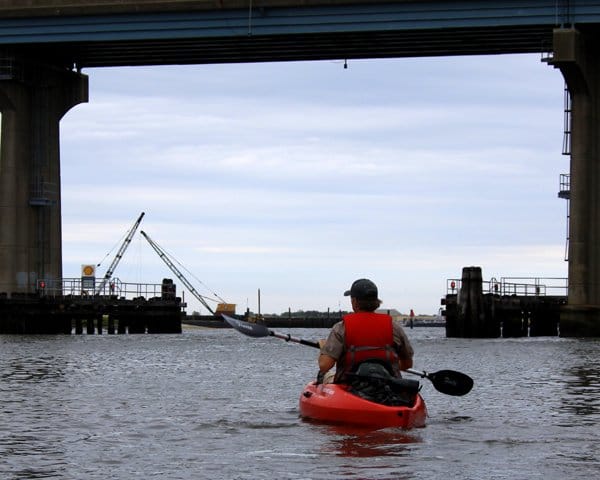 …