Charlie, Corey, and I have been so busy of late that we completely overlooked the fifth blogaversary of 10,000 Birds. Can you believe that this blog is already five years old? Believe it.  On 8/12/2003, I started 10,000 Birds as a way to combine twin interests in birding and blogging. On 8/13/2003, having appeased the birding gods, I saw my first Eastern Screech Owl! Our collective life lists have been growing ever since.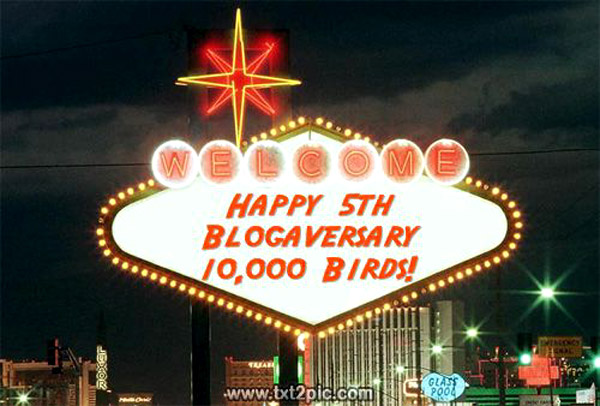 Five years is a (VERY) long time in the still burgeoning blogosphere, yet I often feel like we're still just getting started.  More than 1,000,000+ page views later, the three of us are still in this for the community, the causes, and. of course, the glory money power birds. But a milestone like this isn't about us so much as it's about US, all of us. As long as our readers, commenters, contributors, and friends keep coming around, we'll keep presenting our particular spin on nature, birding, conservation, and the wide, wide world.
We have, as you've surely come to expect, big plans for the next year.  Stay tuned, make yourself known, and don't hesitate to contact us. While etiquette dictates wood or clocks for a fifth anniversary, your continued interest and support is all we need!