Sunday was a day with Daisy's family, and what better way to spend it than with bawdy lasses, courageous jousters, hilarious jesters, and strong mead?  No better way, of course, which is why we headed to Sterling Forest in Tuxedo, New York, to the New York State Renaissance Fair.  For those who don't know, Renaissance Faires are, I believe, a uniquely American institution which feature people dressed as they imagine people did hundreds of years ago and the letter "e" at the end of almost every word on every sign.  They are a place where aficionados of Dungeons and Dragons can feel at home and no one bats an eye at someone dressed up in full armor carrying a sword.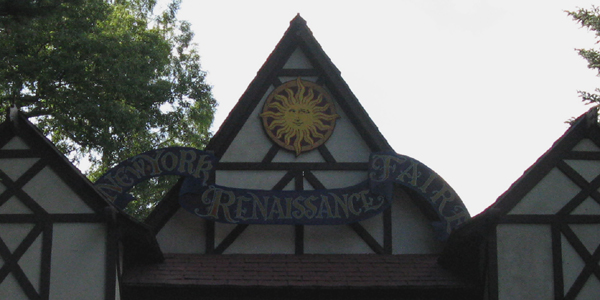 And while we had a great time trying our hands at games of chance and skill, watching men on horseback compete in "jousting" tournaments, and eating delicious, though overpriced, food, the point of this post is describing the raptor exhibition put on by Earthquest, a not-for-profit environmental education organization.
Steve Hoddy, one of the Earthquest animal handlers and an environmental educator for over thirty years, presented four different raptors to the delighted audience: a Red-tailed Hawk, a young Great Horned Owl, a Black Vulture, and a Gyrfalcon X Peregrine Falcon hybrid.  All four birds entered and exited the "stage" under their own power, lured by small bits of raw meat, a most impressive spectacle.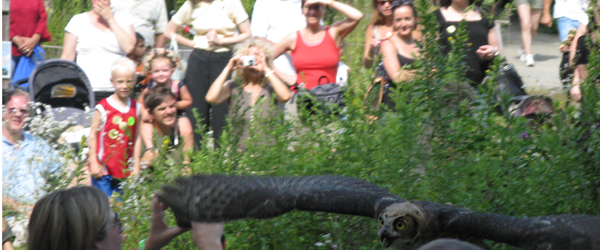 As much as the raptors dazzled and impressed the audience the main goal of Earthuest is to educate the public, which Steve did with wit and humor.  It is not easy to keep people paying attention when one talks about global warming, the overuse of pesticides, and the importance of leaving raptor nests undisturbed, but with large, living props and a warm personality Steve managed to get the message across without sounding preachy.  For those who decry such wonderful birds being held captive, don't despair: all of the birds used in the presentation are rehabbed birds unable to be released back into the wild, or, in the case of the falcon, never wild (the red-tail is missing a toe, the owl is imprinted on humans, and the vulture, bizarrely enough, has a fear of perching on anything but the ground!).  And if anyone doubts the efficacy of such a spectacle, well, I think the woman with the delighted face in the background in the picture below might have had a strong enough impression made that she would support raptor conservation…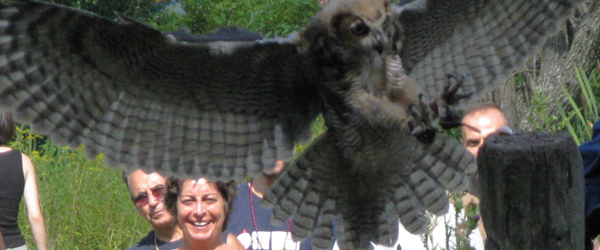 As impressive as the Great Horned Owl is the star of the show was the hybrid falcon.  Steve let him fly free and brought him back to the lure a couple of times: nothing impresses like a falcon at high speed!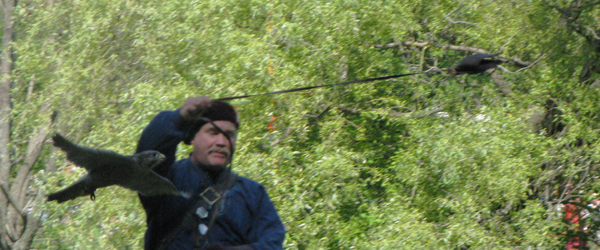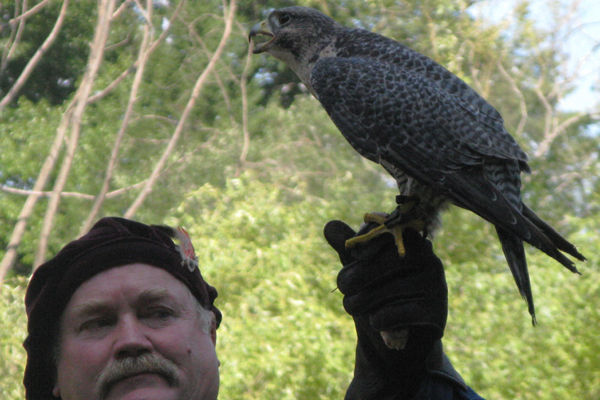 I would highly recommend a visit to the faire: it is fun, family friendly, and there is more than one way to enjoy the birds (apologies to our vegetarian readers)…