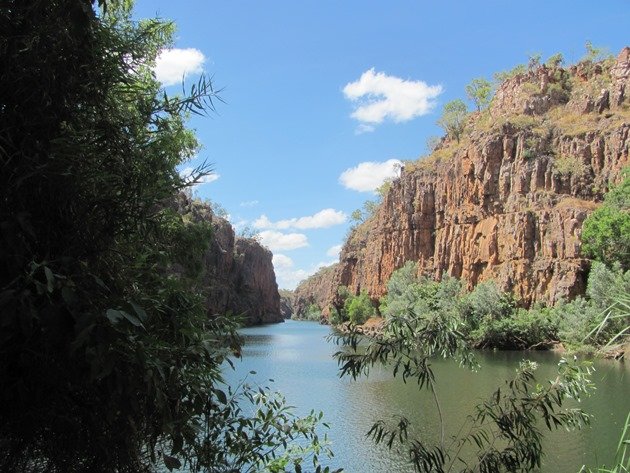 Over the past two weeks I have introduced you to the section of items that Great Bowerbird will collect in a remote area of Keep River National Park with no human influence and then at the Big Horse Creek camping ground. Following our trip east the next National Park was Katherine Gorge, which is located to the east of Katherine in the Northern Territory and is very popular with tourists. There are numerous walks and hiking trials that you can do in the National Park and they vary in length and can be done over several days if you want to hike as far as Edith Falls. Even during the cooler months of the year you will need to carry a lot of water and there are areas with very little shade. You are no longer permitted to swim unless you hike to the second gorge due to the presence of large crocodiles and that hike will take you a couple of hours. If you decide to not venture off into the bush on any of these trails it is still worth driving out there to see the views from near the visitor centre, but even better to observe just what a Great Bowerbird gets up to when he has a busy National Park right on his doorstep!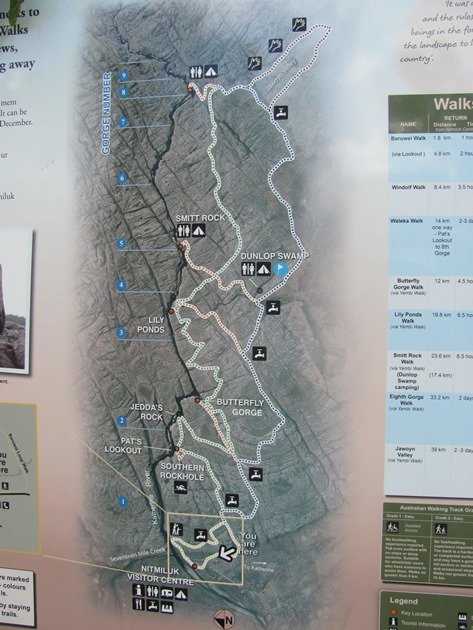 Hiking trails from Katherine Gorge to Edith Falls
Right in the main car-park you will more than likely be welcomed by several Great Bowerbirds and their screeching and carrying on! If you look under the bushes on the far edge of the car-park where the trail follows around to the visitor centre you will no doubt be lucky enough to find a great selection of items collected by the Great Bowerbirds! Due to the fact they use the same area for year after year I can tell you where to look even weeks after we were there. No doubt more and more items are being added and rearranged each and every day and there is plenty of activity around the visitor centre to enable the Great Bowerbirds to "acquire" more items!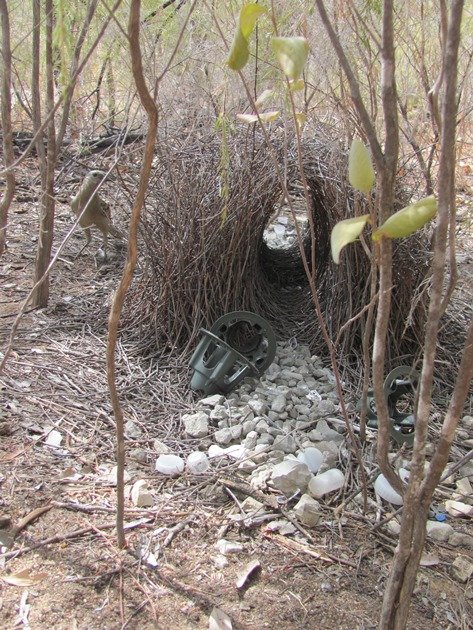 Great Bowerbird bower
By chance as I approached the Great Bowerbird was returning with another item to display in the hope of attracting a mate. There were a lot of plastic bottle tops, pieces of broken glass, ring-pulls, drinking straws and a variety of natural items.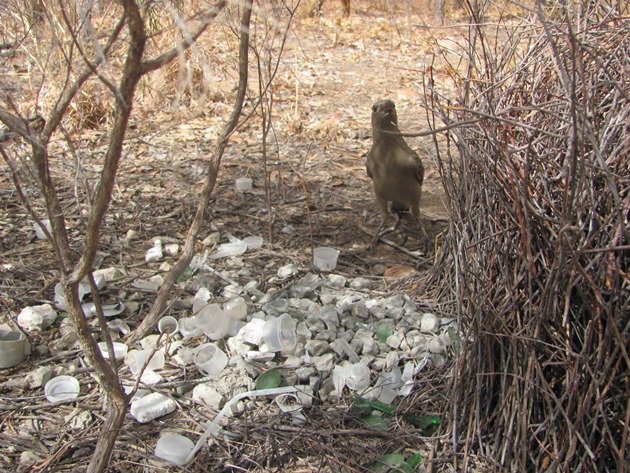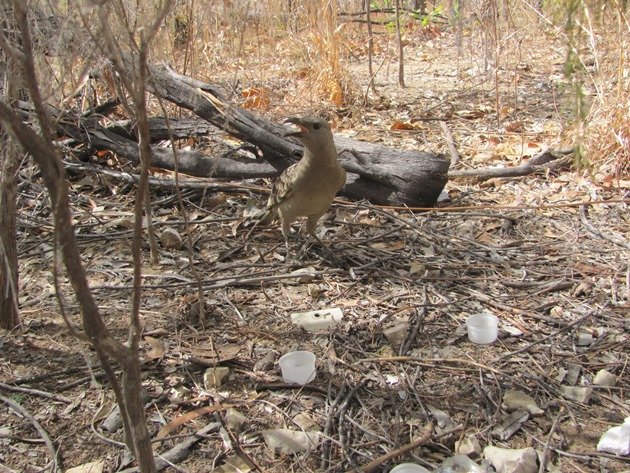 Great Bowerbird at the bower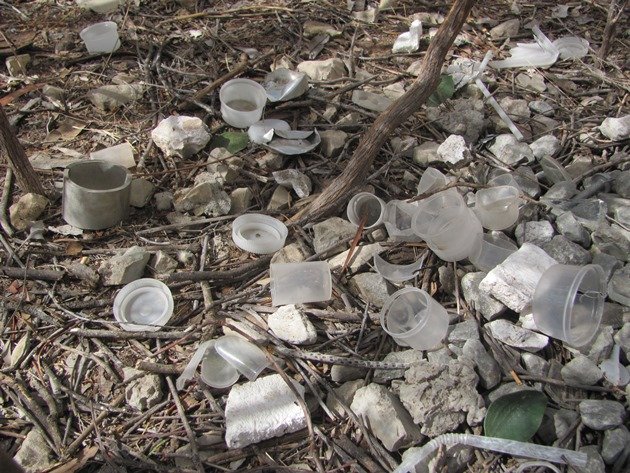 Selection of natural and other items in the bower
The most impressive items "stolen" from the Katherine Gorge National Park and added to the Great Bowerbird's bower were these three very large plastic green items. We believe these items would have been going to be used for preparing and laying concrete somewhere not too far away, but the Great Bowerbird had other plans for them!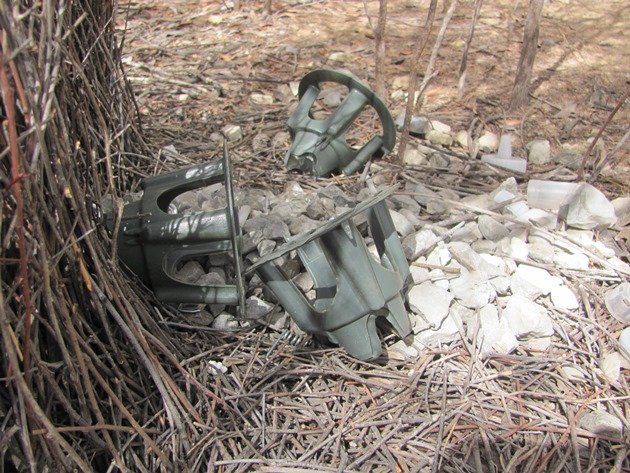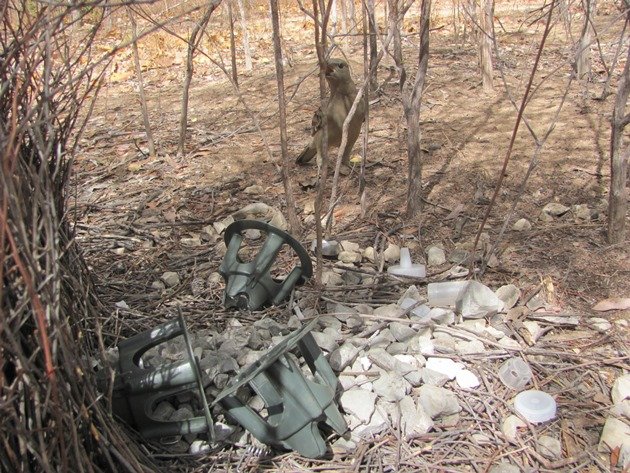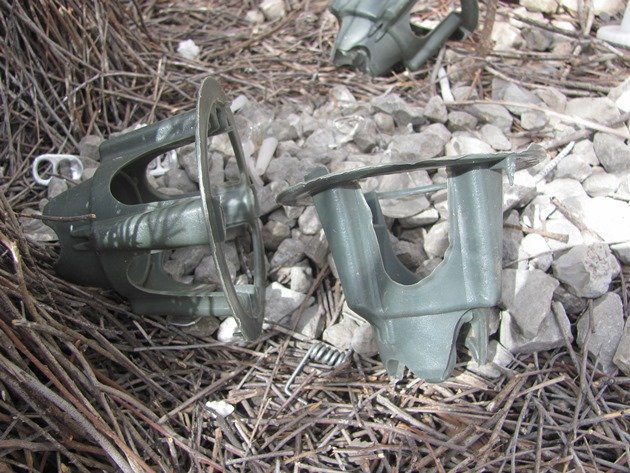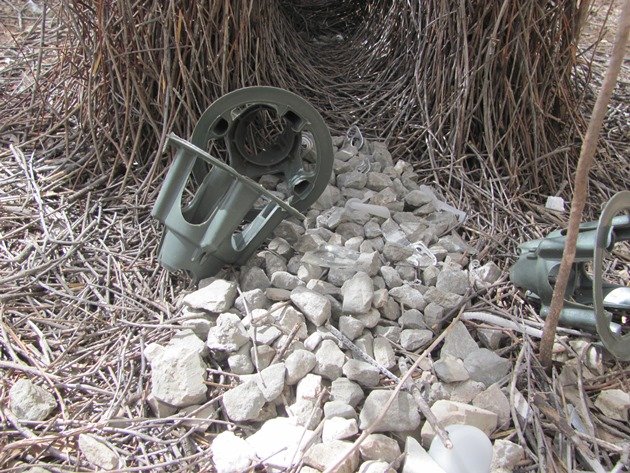 Three stolen cement reinforcing bar chairs!
It would seem nothing is safe around Katherine Gorge National Park, especially if it is green, white or grey! How annoying to be laying concrete and suddenly be a few items short!
The car-park is also a great place to observe Agile Wallabies at the end of the day too! They don't stay still for very long, though!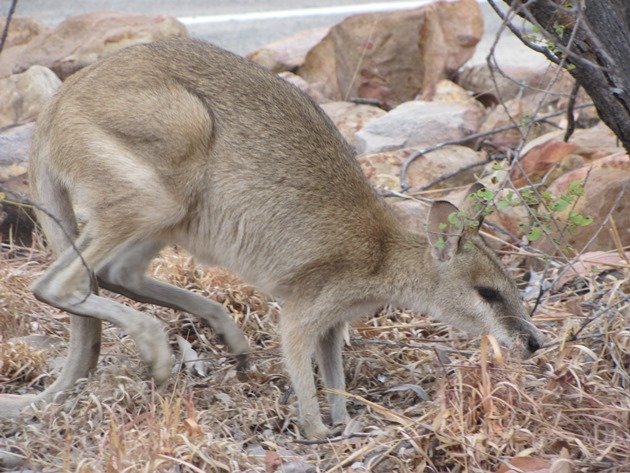 Agile Wallaby
Whether you decide to brave the heat and put on your hiking boots to explore the National Park or just wander down to the Katherine River don't forget to check out what is going on at the edge of the car-park and don't leave anything unattended! If something goes missing while you have your back turned then you know where to look!