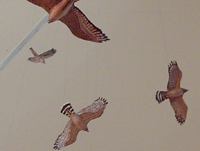 The Core Team gave Hawkwatch 2004 another try this past Saturday. Joined again by Core Team ally Frank and his lovely daughter, Lulu, we sought once more to observe the procession of fall migrants. This time, instead of the dramatic heights of Hook Mountain, we took to the gentle woodlands of Greenwich, CT. Quaker Ridge, which is part of the grounds of the Greenwich Audubon Center, is a great place to see and monitor hawk flights. This renowned hawk watch site is situated at the end of a migration funnel created by the general southwestward movement of hawks and the Long Island Sound coastline. It's also conveniently located right off the Audubon Center parking lot which makes Quaker Ridge fabulously baby-friendly. The informative sightings board and well-crafted wooden chairs and benches don't hurt either. All we needed to make the morning perfect were a few kettles of hawks.
Is it possible that the Core Team has become hawkwatch poison? The official tally for 10/2 listed by Hawkcount! was a meager 27 raptors, half of which were Sharp-shinned Hawk. The day before, however, saw 364 birds pass through on their way to winter grounds. The day after, 235 beautiful raptors filled the air over Quaker Ridge. Do you see a trend here? Everyone else spots hundreds of hawks in flight but we're lucky if we see two or three. Hawkwatch poison, I say.
The birding did seem fairly fantastic at Quaker Ridge. We mostly saw the usual sparrows, doves, crows, chickadees, and titmice. Tons of Blue Jays are in flight right now as they are involved in a migration of their own. We spotted one handsome Cooper's Hawk harassing the smaller birds and a perfect chevron of migrating Canada Geese. Another pleasant surprise was a family of Eastern Bluebirds that took lunch in a nearby field. For the most part, unfortunately, I was too distracted by the dearth of hawks to pay attention to the other avifauna.
We will not be deterred from the Greenwich Audubon Center by one disappointing morning. For one thing, the grounds were simply magnificent, balanced perfectly on that thin line between well-heeled and wild. Tantalizing trails disappeared into beckoning woods but we were regrettably unprepared this time for real walking with the little ones. Next time we'll be ready to explore the abundant woodlands, wetlands and meadows. This time, we explored the Nature Center, easily one of the most impressive ones we've seen at an Audubon site. The center is worth a visit just for the amazing raptor mobile right inside the front entrance. In fact, every detail of the Greenwich Audubon Center is perfectly consistent with a true love of birding and nature. Based on our limited experience of Connecticut Audubon, it's clear that the Nutmeg State represents.