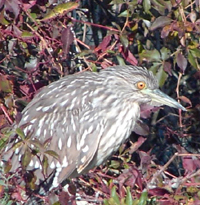 The Core Team drove down Delmarva for the third annual Hopkins family Columbus Day fishing trip. Much fun was had by all. Our itinerary was similar to that of last year's trip. Basically, we bounced between fishing and birding. The addition of Mason to the team meant that we also included lots of playing with the adorable baby.
The birds of Chincoteague NWR and the surrounding area were magnificent as always. Chincoteague will go down fondly as the place we first learned to reliably ID Northern Harrier. We saw plenty of these mighty marsh hawks along with a mess of other raptor species including Bald Eagle, American Kestrel, Peregrine Falcon, Red-tailed Hawk, and Turkey Vulture. This ecosystem is best known for its abundant waders, but the egrets were not as plentiful as usual. This meant that we merely saw hundreds, rather than thousands of Great Egret, Snowy Egret, Cattle Egret, Great Blue Heron, Little Blue Heron, and Yellow-crowned Night-Heron, like the immature pictured to the right.
We spotted all of the expected shorebirds, seabirds, and songbirds. Rather than getting into the complete list, our notable sightings included Belted Kingfisher, Brown Pelican, Eastern Meadowlark, Bank Swallow, Fish Crow, Lesser Yellowlegs, American Oystercatcher, Yellow-rumped Warbler, and some species of scoter flying in great masses right above the surface of the ocean.
We finally picked up the Black Skimmer we've been looking for. In fact, we came upon a large flock of these big-billed beauties mixed in with Ring-billed, Herring, and Great Black-backed Gull. The skimmers floated, fraternized, and, best of all, skimmed, much to our delight. They were worth the wait. We also added another lifer, this one quite unexpectedly. A group of us walked the Wildlife Loop at the NWR in unseasonably intense heat. We stopped to rest a moment right at the spot where we spied the errant White Ibis last year. This year, the rarity was a pair of Red-necked Grebe yucking it up in the muck. Grebes are always welcome sights, but new ones are doubly welcome.
All this and wild ponies too. Chincoteague always delivers!