Hoopoe Upupa Epops
With a name like that you would just want to see this bird! It sounds good and it looks good….even a non-birder would be impressed!
We saw these birds in Egypt in 1994 and they were just great and Grant saw 5 in Busan, South Korea a few weeks ago, just after I got home to Broome. I was deeply jealous, but I had seen some good birds in Busan that he had missed whilst at work.
As I mentioned last week, we were going to be away counting shorebirds on Eighty Mile Beach for a few days and I thought I would get plenty for a post whilst we were there….I did, but I just can't write about it this week! We came home Wednesday evening late and just made it to the airport to collect my parents, who are here for a few days…..delayed by a week due to a certain airline grounding it's planes recently! Thursday was a day off from counting shorebirds and so we were catching up on family news and four of the other shorebird counters went to look at the ephemeral lakes. They stopped off at the roadhouse/petrol station/gas station at the corner of the Great Northern Highway 30 kilometres from town for ice-cream. One of the counters, Kim Onton, saw a bird she did not recognise and asked what it was. It was soon identified as a Hoopoe Upupa epops and we got a phone call….along with many others around Australia. This was a first for the continent!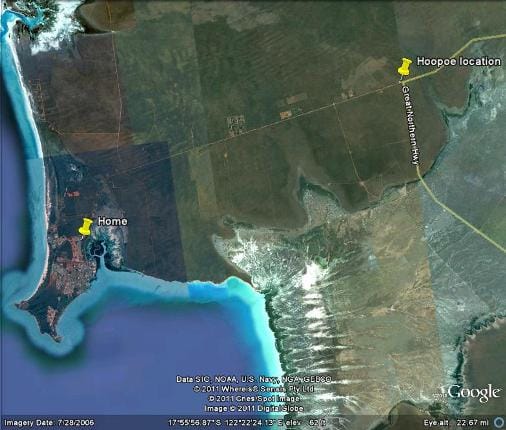 Google Earth image of Hoopoe location
 Well, it was lunchtime, but as all birders know sometimes a bird takes priority over food! My parents were rushed out the door and into the car to see this bird. They had also seen them in Egypt, as my Dad had been working there on our visit in 1994, but this was something special. They have had to do urgent trips to various spots around Broome over their years visiting us here to see a vagrant, so it's not unusual! They understand….I think!
We arrived at the roadhouse and the Hoopoe had crossed the highway and landed midway up a tree, but was clearly visible. A 53 metre long road train (large truck) came along and the bird stayed still….smart move! We waited and it crossed back over onto the lawn into the shade and we waited for it to settle. We then moved in to try and get some photos without disturbing it and it was enjoying the shade.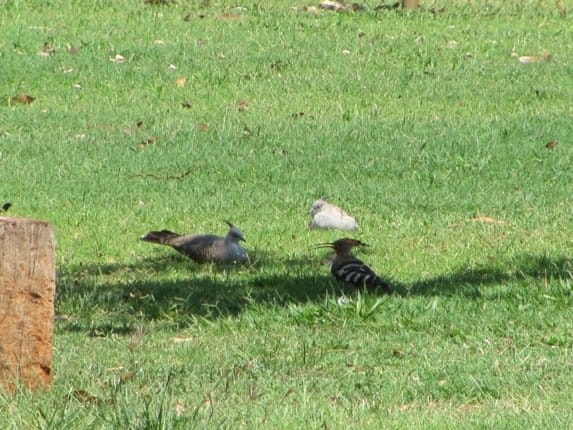 Hoopoe and Crested Pigeons
Initially it was close to some Crested Pigeons, so you know I am not making this up! They looked pretty cool with them all having crests! It then moved out to feed and we invited the employees at the roadhouse to come out and see what they had on their lawn. They have been warned that business may be up in coming days, as people book their flights to Broome!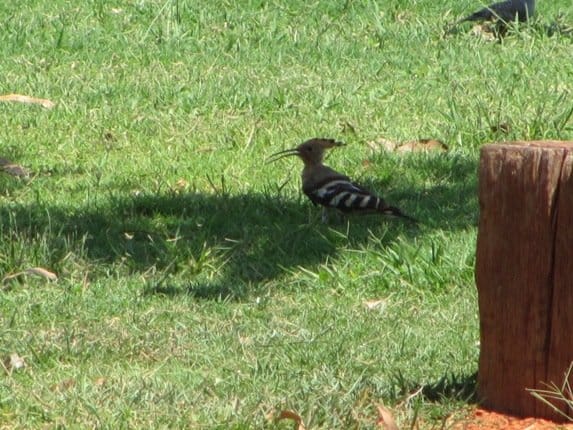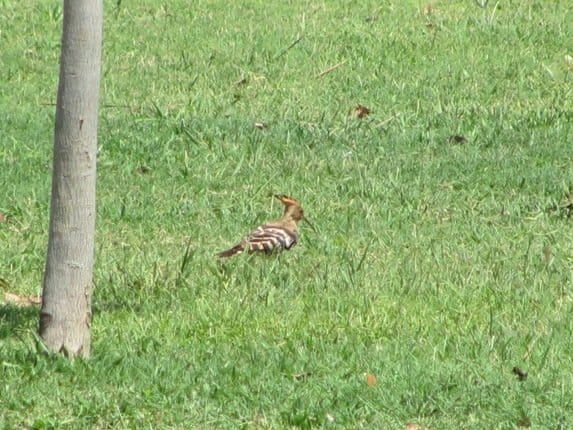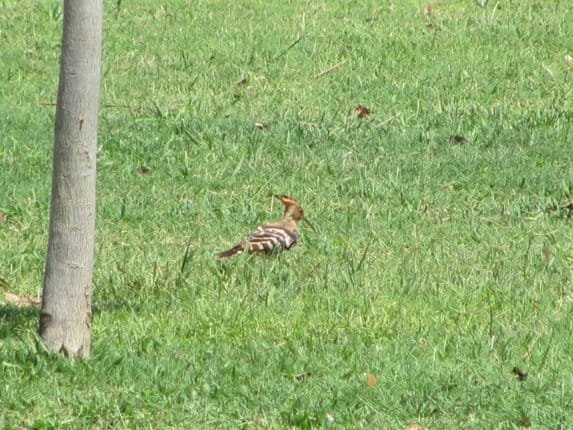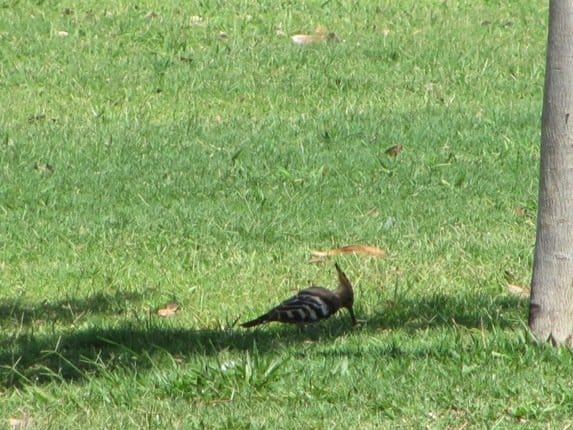 Hoopoe near Broome
We have to go beyond the roadhouse to do further shorebird counts in Roebuck Bay, so we may get another chance to see it yet! This is not a bird we had on our lists as a possible vagrant, but it is welcome! One of the shorebird counters had a very big camera, but that was to his disadvantage as he was shaking so much with excitement! It's the time of year for migration and despite the lack of adverse weather recently it just shows that anything can get off track! Thank goodness it landed in a public place!