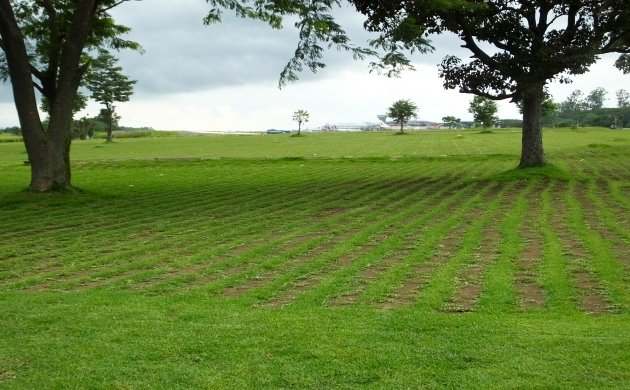 In Costa Rica, sandpipers are locally known as "correlimos", which to me sounds something along the lines of "little runners" and that sounds about right. Although only a certain percentage of Charadriiformes are prone to quick-stepping it over the mud flats, beaches, and nutrient-stink borders of sewage ponds, none of them hop along or flit through the trees either. When not slicing the air in super quick flight, all are solidly terrestrial. They forage, rest, and preen right there on the open, bare ground, for some species, the more open and bare the better, especially so for the "grasspipers".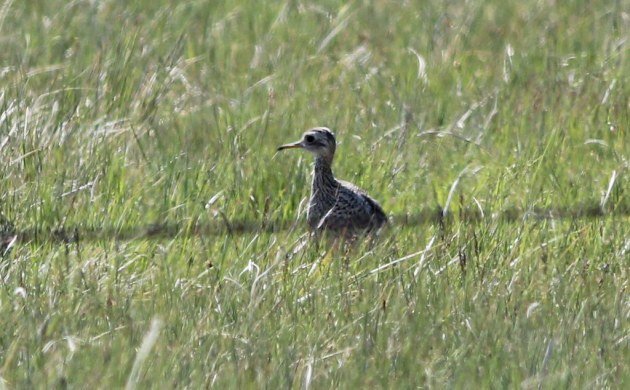 Upland Sandpiper by gary.leavens
These are the sandpipers and plovers that aren't necessarily found in coastal lagoons and salt pans. Although they can occur in such hotbeds of shorebird action, they like even better the open plains with a bit of grass, shallow puddles where they can see far and wide. The four main grasspipers that move through Costa Rica are the same ones usually referred to as such by folks looking for them on turf farms from southern Ontario to Texas. They are the American Golden Plover, Upland Sandpiper, Buff-breasted Sandpiper, and Baird's Sandpiper. On account of its penchant for rice fields and similar open grassy marshes, the Pectoral Sandpiper gets an honorable mention but since Mary and I already saw that far-flying bird on Global Big Day (May 5), I'm only going to talk about the true grasspiper bunch.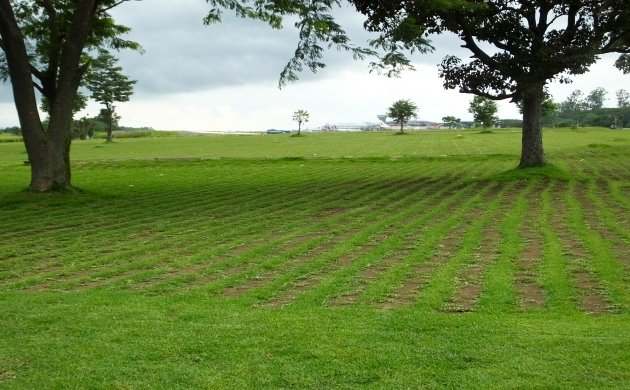 A rare turf farm in Costa Rica, one of the places where grasspipers have been seen in the past.
Looking for these birds in Costa Rica isn't as straightforward as some sites up north. It's more like hoping for them because the abundance of open land on cattle farms and little birding coverage brews up a fine needle in a haystack situation. Not to mention, since they can and do zip over Costa Rica in a single Peregrine evading flight, all a birder can do is keep on checking and hope that one has decided to come down for a rest while you are out there watching the Barn Swallows zip through your field of view. Another strategy is keeping an eye on recent eBird reports and that's how we saw our first and probably best grasspiper of the year.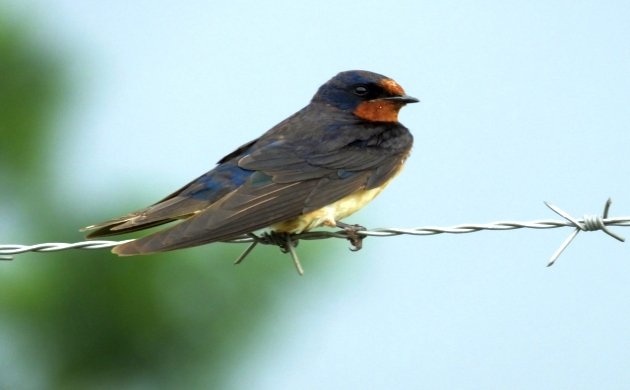 A Barn Swallow in Costa Rica- millions migrate through Central America.
September 25 was a rainy day in much of Costa Rica; pretty typical for this time of year and also partly why I didn't bother doing the 20 minute drive to check the airport. I had other things on the plate in any case but I had a hunch that we should have gone. eBird confirmed that suspicion when I noticed that Richard Garrigues (the main author of "A Field Guide to the Birds of Costa Rica") reported one Buff-breasted Sandpiper from the eastern end of the runway(!). He had been checking for several days and the efforts finally paid off. I thank him for posting his results and doing so once again the following morning when two were seen! This was fantastic news indeed because we had a chance to go after it, to tick it for the year, to check out some grasspiper antics (not to mention a lifer for Mary).
Thanks to another local birder who is very active on eBird, Guillermo Saborio, we got specific directions to where they had been seen and made our way to the airport after lunch. Unlike the previous rainy day, the weather was partly cloudy and windy. It took some scanning but eventually there they were, a duo of grasspipers strutting through the grass and rather close to the runway. We could see their heads bobbing along through the tips of grassy vegetation and blurry lines of the chain link fence. At one point, they took to the air, flashing the white of their underwings as the grasspipers effortlessly rose up and circled around. They landed a bit closer, giving us the chance to better appreciate the blocky heads and buffy underparts of a major year bird.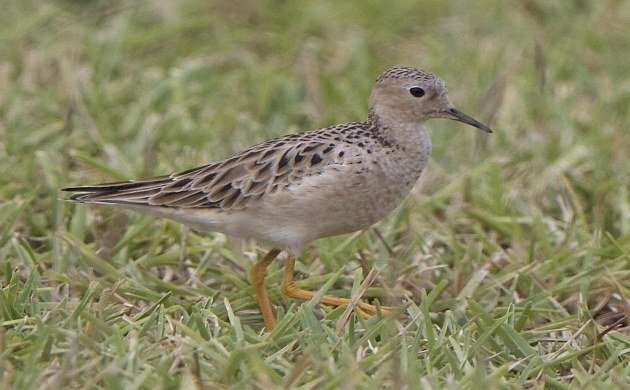 Buff-breasted Sandpiper by Always a birder! 
After unsuccessfully scanning for grasspipers in the form of Upland Sandpipers, we left the airport and got a call from another local birder and friend Diego Quesada. He had been there that morning but had dipped. Yes, we saw them and he now knew exactly where. As we left the airport, he left his house and an hour later, Diego ended up seeing them too. I hope those two Arctic beauties can find enough food to move on and that others can drop in to replace them to continue the eBirding Buff-breasted Sandpiper chain.
I'm still hoping for the plover even though it might be too late to find that elegant fast flyer. If we can hit the Pacific lowlands in time, we might get lucky but in general, that species either flies completely over or just doesn't move through much of Costa Rica. The Baird's does though and our best bet for finding that sandy long-winged sandpiper is by checking wet areas up there above treeline, or finding suitable habitat closer to home. Although they can be seen down on the coast, more seem to move through the high mountains, lately one has even been hanging out in the parking lot of a lodge in the Dota Valley.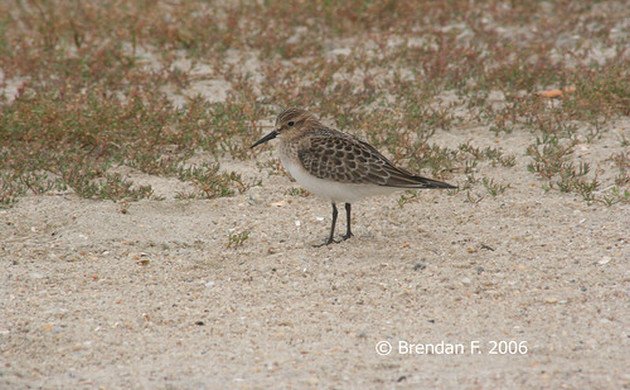 "Baird's Sandpiper" by birderbf
Getting back to the Upland side of things, we nearly connected a few days ago on a road through perfect habitat. Once again, thanks to eBird, we knew where they had been seen but the birding luck wasn't enough to put those elusive near-curlews on the TeamTyto year list. We might still see them though, or maybe even hear them. They call at night, usually a short bubbly whistle. I listen for it most nights and in the early morning, I stretch my hearing through the window hoping to catch a year tick right from the bed, note the auditory evidence of a bird flying through the night from far to the north on its way to secret sites further south. So far, it's been Dickcissels, a friendly (or voracious) neighborhood Ferruginous Pygmy-Owl, and a few other birds but I'm still hoping, maybe that bubbly call will drift in from the sky tonight.
Upland Sandpiper- "IMG_7986" by gary.leavens is licensed under CC BY-SA 2.0 
Buff-breasted Sandpiper "2017-04-22 at 11-42-19" by Always a birder! is licensed under CC BY 2.0 
"Baird's Sandpiper" by birderbf is licensed under CC BY 2.0