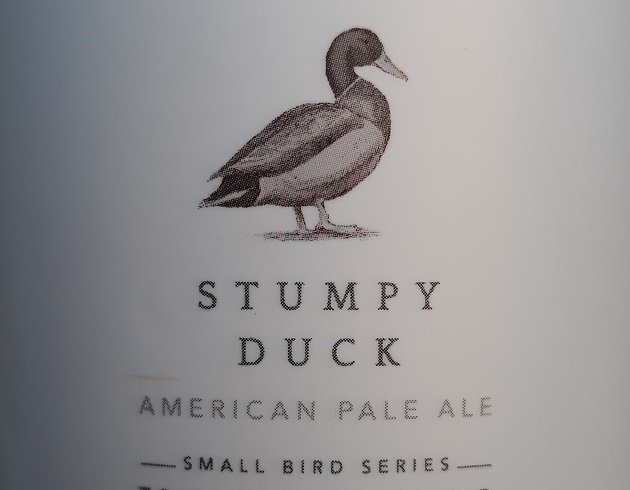 I'll be the first to admit the selection of ducks so far at Booze and Birds has been rather paltry. Our very first post here featured an American Black Duck (Anas rupripes), but since then we've only seen a Northern Pintail (Anas acuta) in decoy form, a white domestic duck, and a pair of flushing North American dabblers appearing only as unidentifiable silhouettes. While I can promise that we've got a few more ducky bottles and cans to enjoy in the near future – and just in time for fall waterfowl migration – I'm surprised that it took that it took this long for us to find one with what is surely the world's most ubiquitous and recognizable quacker: the Mallard (Anas platyrhyncos).
Stumpy Duck is an American pale ale by Trillium Brewing Company of Boston, Massachusetts, one of the most popular breweries in New England for the past few years. Stumpy Duck is part of Trillium's Small Bird Series, a collection of lighter, lower-alcohol beers brewed for summer, with each can sparingly decorated with a different bird in miniature. It bears mentioning that the name of the series doesn't refer to the physical dimensions of the featured species, but the size of the tiny black-and-white illustrations of each bird. Actually, the Small Bird Series includes some rather hefty fowl like chickens and geese – a far cry from the kinglets, gnatcatchers, and hummingbirds I was originally hoping for.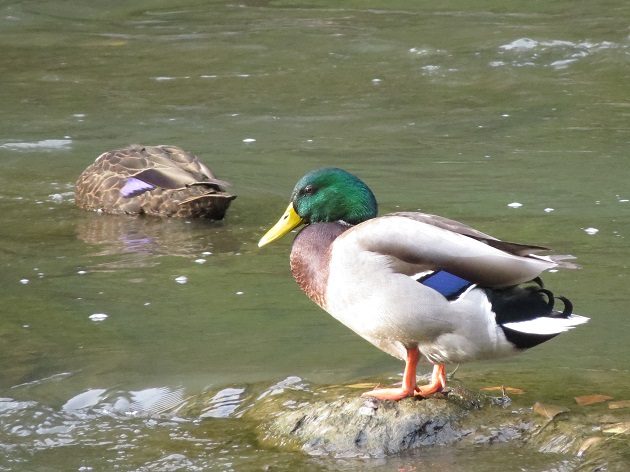 Not exactly a small bird.
I found myself in Boston briefly last weekend (a quick trip to drop off friends at the airport), with just enough time for a short stroll along the Fort Point Channel to add a few new gulls – Herring (Larus argentatus) and Great Black-backed (Larus marinus) – and a Double-crested Cormorant (Phalacrocorax auratus) to my measly Massachusetts state list while my partner took care of some South Boston shopping. Afterwards, we had a great dinner at Trillium's South Boston brewpub, and I made sure to check the to-go counter before I left to see if any of the Small Bird beers were available.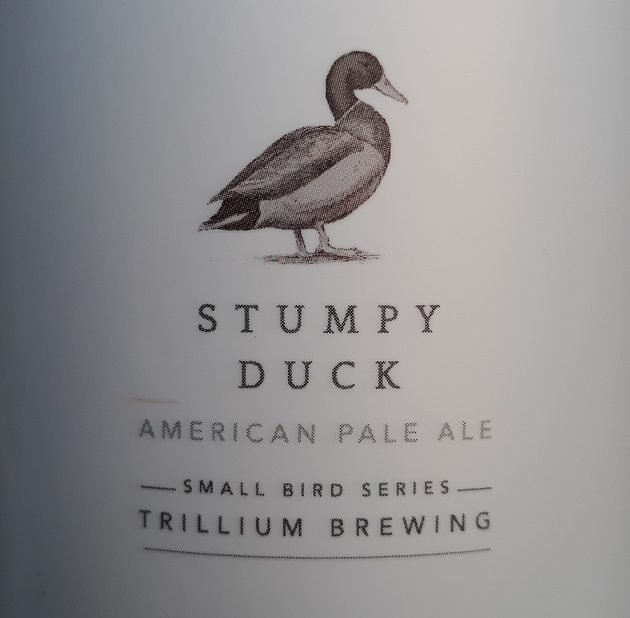 As it turns out, only Stumpy Duck – the Mallard edition of the series – was on hand, but that was fine with me. While the packaging of the Small Bird Series is undeniably tasteful across the board, the selection of species certainly skews towards the obviously domesticated or questionably wild. There are two invasive human commensals (a House Sparrow and a Rock Pigeon), two fully-domesticated fowl (both a rooster and a hen), one introduced gamebird (a partridge), and a penguin I didn't identify but which seems to have been added mostly for a little wildcard variety. In this kind of company, the often-overlooked and underappreciated Mallard starts looking pretty good, at least from a North American birding perspective.
In fact, the only other North American native in the series is a white-cheeked goose representing a beer called Itty-Bitty Goose. Now, any optimistic birder out there would expect a Cackling Goose (Branta hutchinsii) in this situation but to me, the features and proportions of this so-called "itty bitty goose" are all disappointingly wrong for Richardson's et al. Considering the countless hours I've spent combing through Branta flocks looking for a single Cackler, I think I'll stick with the Mallard for now. It's the least I can do for a species that's caused me almost no identification angst over the years. Well, except for that one time I was birding in Florida… (For more on this, see Corey's great article on the Mallard complex).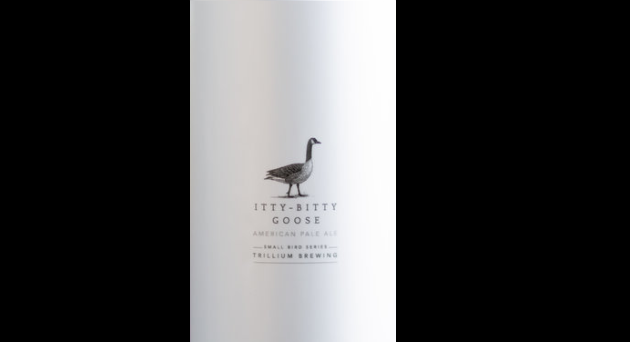 You know, they come in an even smaller version than "itty-bitty"…
Stumpy Duck calls itself an American pale ale but a robust dose of wheat and Columbus, Centennial, and Citra hops make sure it's an uncommonly fruity and refreshing example of the style, perfect for warm weather drinking. It veers into hazy IPA territory with its sunny, golden opacity and generous hopping, though it avoids the sometimes harsh and vegetal tones of the grassiest New England examples. The bouquet is bright and sunny, with blueberries, melon, papaya, and tangerine. A lush burst of peach on the palate gives way to more assertive pine and citrus flavors, but there's a soft, wheaty underpinning throughout that gives this beer a smooth and creamy mouthfeel to the end. Easy-drinking yet complex, Stumpy Duck makes for a crisp and flavorful summer ale that's just as enjoyable for those first few, still warm weeks of autumn.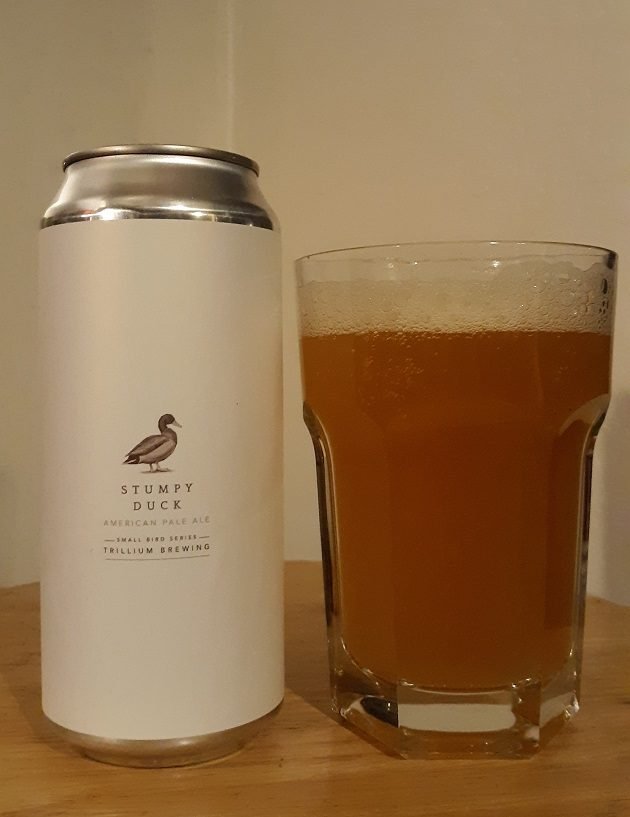 Good birding and happy drinking!
---
Trillium Brewing Company: Stumpy Duck American Pale Ale





Four out of five feathers (Excellent).
---
Birds and Booze News:
It ends tomorrow, but Houston, Texas is celebrating its very first Houston Bird Week, to commemorate the fiftieth anniversary of Houston Audubon. The week even has its own beer, the Paleican Pale Ale brewed by Bakfish Brewing Company of Pearland.