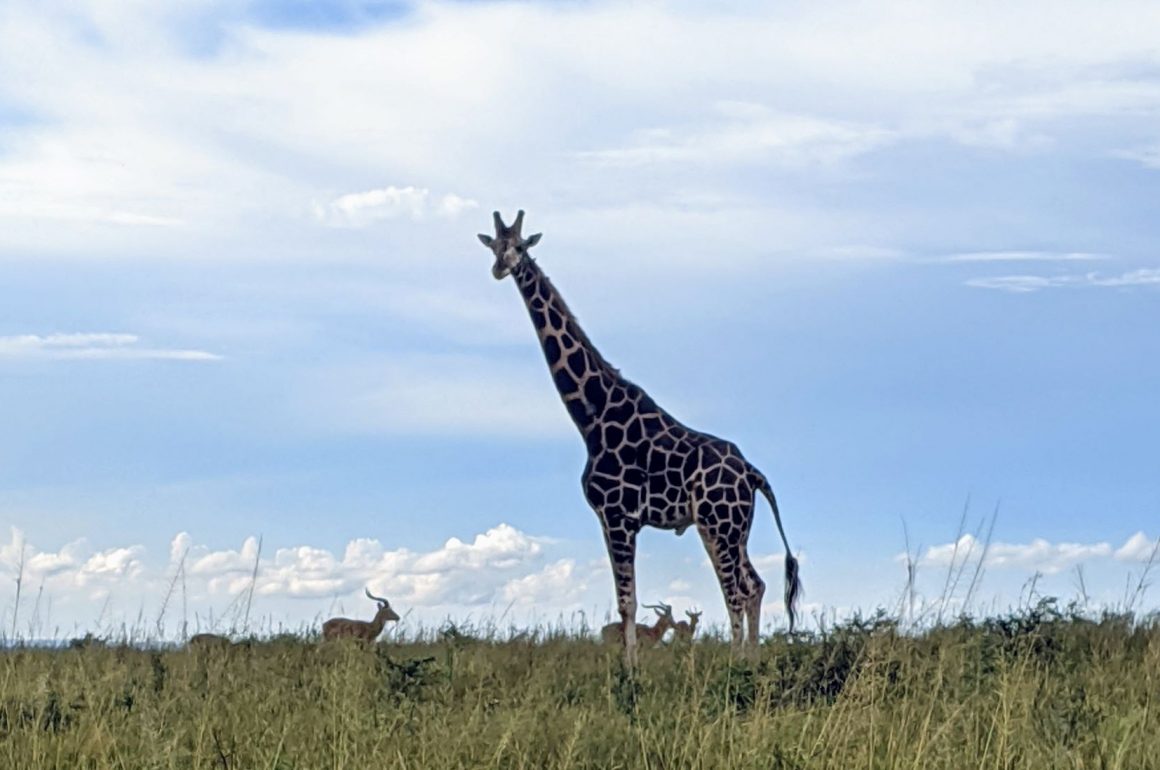 An expanse of habitat as vast as Murchison Falls NP in Uganda, as excessively generous in beauty and biodiversity, permits endless ways to experience both its birds and animals. The route Corey and I took in advance of the 2019 African Birding Expo may not be the only optimal way to go, but this approach yielded an absolute bounty of wildlife excitement in just 48 action-packed hours.
What makes this destination so magnificent? Murchison Falls NP earns all sorts of superlative accolades: most powerful waterfall in the world, top 5 game park in Africa, and some of the most gorgeous sunrises and sunsets you've ever seen. The 5,000 sq km of exquisite savanna and bush may hew more closely to your ideal vision of Africa than any other spot on the continent. Plus, any place you can see both 15 different raptors and 15 different mammals in the same day sounds worth a visit, doesn't it?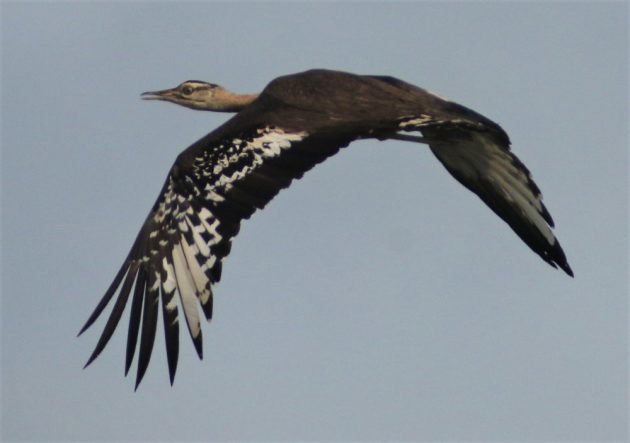 Denham's Bustard is a beauty
If you want to follow our path, start in Masindi. The Masindi Hotel holds the distinction of being the oldest and most historic hotel in Uganda and has some terrific birds on premises. Most importantly, staying in Masindi gives you the opportunity to hit the Budongo Forest Reserve AKA the Royal Mile, one of the Uganda's mandatory birding destinations.
Enter Murchison Falls NP through the southern gate, but be sure to tarry long enough to pick up Beautiful Sunbird, Yellow- fronted Tinkerbird, and a slew of swallows. Move along quickly, though, and keep your vehicle's windows closed, as tse tse flies thrive along this stretch.
Your next stop may be the ferry crossing, but first drop in at the Red Chili Rest Camp for good coffee and great looks at Spotted Morning-Thrush, Black-headed Gonolek, Brown Twinspot, and Brown-throated Wattle-eye. Then consider how you want to tackle the falls themselves. The view from the top will take your breath away, but the cruise to the bottom (which embarks from the ferry crossing) affords abundant views of waders, hippos, Nile Crocodiles, and more Red-throated Bee-eaters and Pied Kingfishers than you've ever dreamed of. I recommend both, but either should net you Rock Pratincole, a cool falls specialty.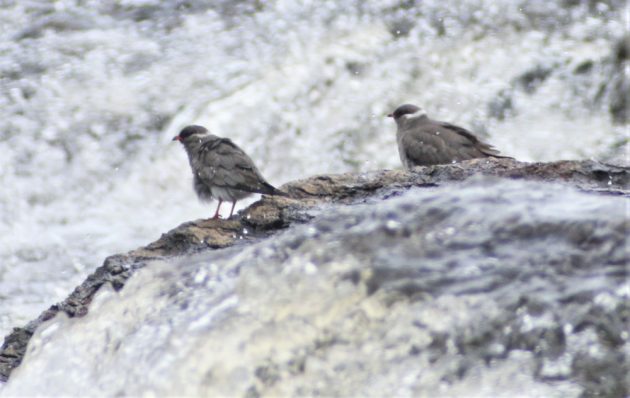 Rock Pratincoles
Murchison Falls NP truly excels as a place to see the kind of wild mammals Africa is legendary for. If you've ever imagined being surrounded by giraffes, up close (at least as close as is safe) and personal with elephants, or one night drive away from seeing notorious predators like leopards and jackals, this is the place for you. Enjoy a fully immersive experience by staying at Pakuba Safari Lodge on the Eastern Bank of the Albert Nile, which is embedded so deep within the park that waterbucks and warthogs sleep on the front lawn. Plus, the food, service, and accommodations meet the highest standards.
How is birding in Murchison Falls, you ask? Mind boggling, I answer! In an unhurried half-day of birding, we racked up over 90 species, including killers like Denham's Bustard, Northern Carmine-throated Bee-eater, and Shelley's Rufous Sparrow. The raptors exceeded expectations in both quantity and quality, with lots of vultures, eagles, and a magnificent Beaudouin's Snake-Eagle.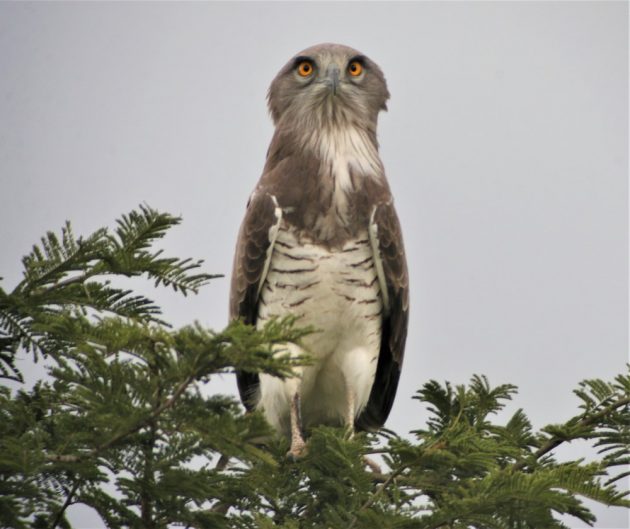 Beaudouin's Snake-Eagle… wow!!
After weeks exploring the Pearl of Africa and visiting multiple game parks, I can look back and declare Murchison Falls NP my absolute favorite game park. Every vista evokes adventure and exuberant, multifarious life in all its expressions. You can't cast your eyes in any direction too long before landing on some sort of antelope or big mammal, and the quality of the birding boggles the mind. Whether exploring Uganda's eastern or western attractions, always make time for Murchison Falls!
TRIP LIST (multiple lists): White-faced Whistling-Duck, Egyptian Goose, Spur-winged Goose, Helmeted Guineafowl, Heuglin's Francolin, Mourning Collared-Dove, Vinaceous Dove, Laughing Dove, Black-billed Wood-Dove, Denham's Bustard, Eastern Plantain-eater, White-browed Coucal, Senegal Coucal, Levaillant's Cuckoo, Dideric Cuckoo, Alpine Swift, White-rumped Swift, Little Swift, African Palm-Swift, Gray Crowned-Crane, Senegal Thick-knee, Spur-winged Lapwing, Crowned Lapwing, Black-headed Lapwing, Wattled Lapwing, African Jacana, African Snipe, Common Sandpiper, Green Sandpiper, Common Greenshank, Wood Sandpiper, Gull-billed Tern, Rock Pratincole, Woolly-necked Stork, Abdim's Stork, Saddle-billed Stork, Marabou Stork, African Darter, Hamerkop, Gray Heron, Black-headed Heron, Goliath Heron, Great Egret, Intermediate Egret, Cattle Egret, Squacco Heron, Striated Heron, Hadada Ibis, African Harrier-Hawk, Palm-nut Vulture, Lappet-faced Vulture, White-backed Vulture, Rüppell's Griffon, Bateleur, Beaudouin's Snake-Eagle, Bat Hawk, Martial Eagle, Wahlberg's Eagle, Tawny Eagle, African Fish-Eagle, Lizard Buzzard, Dark Chanting-Goshawk, Shikra, African Marsh-Harrier, Pallid Harrier, Black Kite, Black Kite (Yellow-billed), African Fish-Eagle, Speckled Mousebird, Abyssinian Ground-Hornbill, African Gray Hornbill, Black-and-white-casqued Hornbill, African Pygmy-Kingfisher, Gray-headed Kingfisher, Pied Kingfisher, Swallow-tailed Bee-eater, Northern Carmine Bee-eater, Red-throated Bee-eater, Black-billed Barbet, Abyssinian Roller, African Gray Woodpecker, Gray Kestrel, Red-necked Falcon, Yellow-throated Tinkerbird, Yellow-fronted Tinkerbird, Spot-flanked Barbet, Brown-throated Wattle-eye, Black-crowned Tchagra, Black-headed Gonolek, Isabelline Shrike, Gray-backed Fiscal, Piapiac, Green-backed Camaroptera, Buff-bellied Warbler, Tawny-flanked Prinia, Foxy Cisticola, Rattling Cisticola, Banded Martin, Barn Swallow, Angola Swallow, Wire-tailed Swallow, Red-rumped Swallow, Common Bulbul, African Yellow White-eye, Willow Warbler, Yellow-billed Oxpecker, Rüppell's Starling, Lesser Blue-eared Starling, Silverbird, Spotted Morning-Thrush, Whinchat, Sooty Chat, Beautiful Sunbird, Speckle-fronted Weaver, White-browed Sparrow-Weaver, Heuglin's Masked-Weaver, Black-headed Weaver, Baglafecht Weaver, Red-billed Quelea, Northern Red Bishop, Red-cheeked Cordonbleu, Brown Twinspot, Bronze Mannikin, Pin-tailed Whydah, Shelley's Rufous Sparrow, Northern Gray-headed Sparrow, Western Yellow Wagtail, African Pied Wagtail, Western Citril
*******
Mike and Corey attended the 2019 African Birding Expo in the company of African birding legend Herbert Byaruhanga and a slew of international birding professionals. We are incredibly grateful to the Uganda Tourism Board for so generously sharing the splendor of birding and wildlife watching in the Pearl of Africa.