While I've long been aware of the existence of at least seven heavens, their distinguishing features, like those of the fabled seven seas, have always been lost on me. Why, one might wonder, is the seventh heaven the best? I can't answer that question for sure but I suspect birds have something to do with it. At least, that's the impression I got after visiting Ecuador's Septimo Paraiso.
Yes, the birding along the trails, which I've already described lovingly, was outstanding. I expected that, considering the remarkable, some might say legendary habitat Septimo Paraiso encompasses. What took me by surprise, however, was the utter primacy of Septimo's hummingbird feeders. At this point in my Ecuadorean excursion, I'd already enjoyed unforgettable visits to the hummingbird feeders at Yanacocha Reserve and Refugio Paz de Las Aves. I frankly doubted I'd be as awed at Septimo Paraiso. But that was before I saw 13 species of hummingbird in one hour!!!
Septimo Paraiso offers visitors a stunning hummingbird garden in which feeders are arrayed in an arc, a veritable rainbow of ridiculously gorgeous birds. These feeders are buzzing too. We hit the feeders so late in the day that the hummers were loading up on nectar in the fading light, trying to hoard enough calories to make it through the night. Even if we didn't get perfect light for photography, we saw some spectacular birds.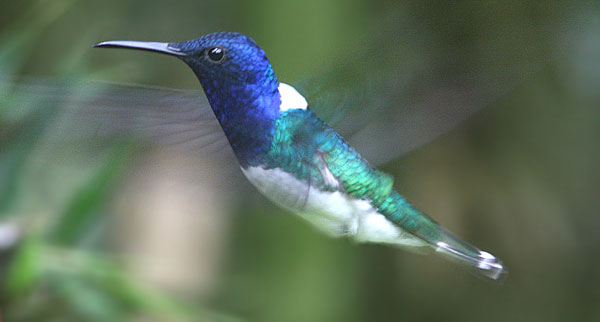 For example, the White-necked Jacobin may be one of the most striking hummers anywhere.

Fawn-breasted Brilliants were as common here as they were at Paz de Las Aves.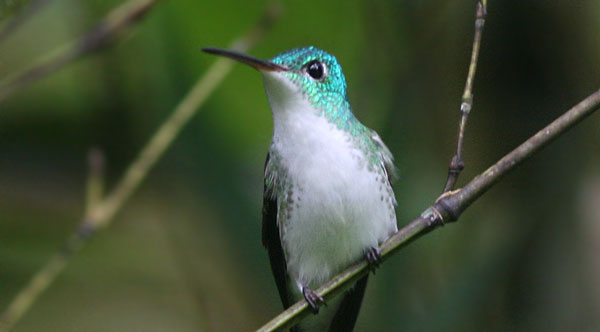 Andean Emeralds also appeared in impressive numbers.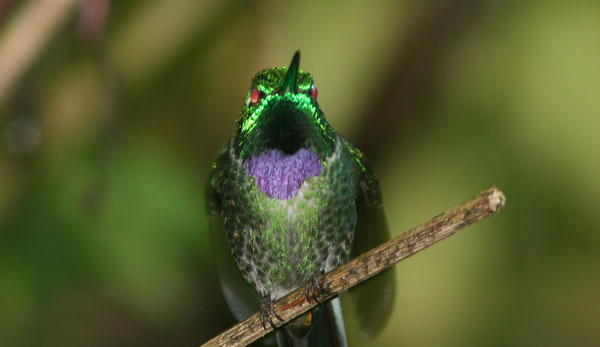 A male Green-crowned Brilliant can look pretty crazy in a certain light but is generally a stunner.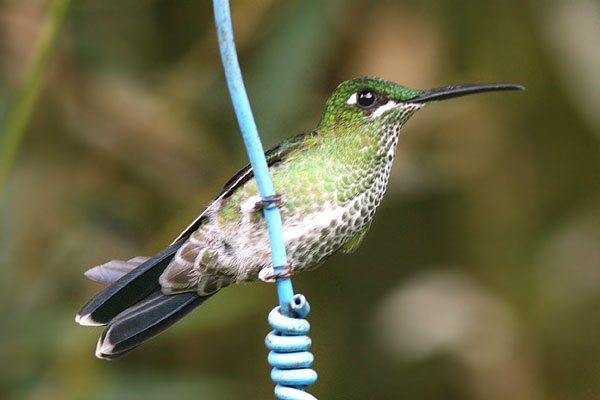 The female Green-crowned Brilliant also deserves attention.
These are just a handful of the hummers on the scene. Species we'd encountered earlier at Refugio Paz de Las Aves, like Rufous-tailed Hummingbird, Violet-tailed Sylph, Brown Inca, and both Buff-tailed and Velvet-purple Coronet, appeared in force. So did Booted Racket-tail in truly inspiring numbers. Almost as tiny as the rackettails but no less cute were the plump Purple-bibbed Whitetips, of which I saw far more females than males. Add a couple of new birds for the trip like White-whiskered Hermit and Green-crowned Woodnymph along with the inevitable ones that got away and you've got an unstoppable hurricane of hummingbirds. If only we had arrived earlier in the day!
Seriously, Septimo Paraiso is a gorgeous ecolodge that deserves a visit if you are ever in the Quito area. Allow enough time to explore the many tracks and trails (and to hit the opulent cafe) but do yourself a favor and check out the hummingbird feeders first!