The Yanacocha Reserve on the west slope of the Ecuadorean Andes is a stunning site to visit, not to mention a highly productive place to watch birds. I've already described many of the avian attractions of Yanacocha but saved some of the best for last. How about those hummingbirds?
Yanacocha deploys some of the most happening hummingbird feeders I've ever seen. A series of arrays placed cunningly at different points maximizes the potential for stellar birds in splendid light. Flowerpiercers and other songbirds may visit these feeders but make no mistake, the hummingbirds are the stars!
I've already shared one photo of the preposterously-endowed Sword-billed Hummingbird. Here's another as a prelude to the inevitable gallery. This bird is just too cool…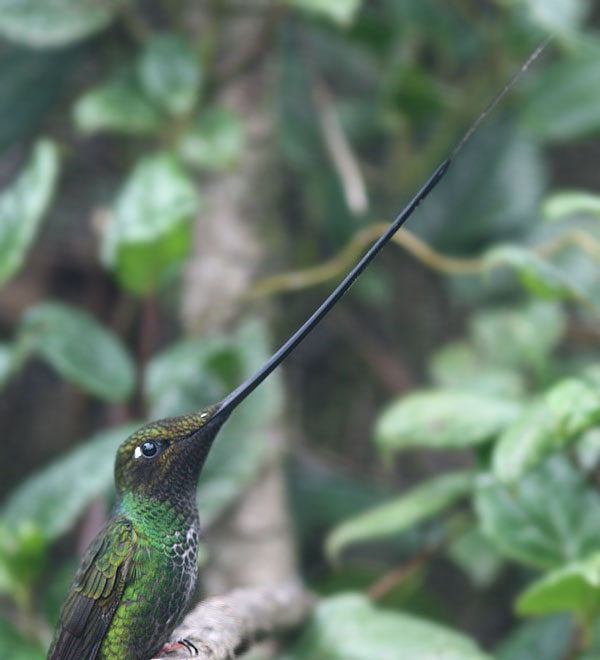 Another big, beautiful hummer species found at high altitudes on both slopes is the Great Sapphirewing. This bird is both great (in terms of size) and has sapphire wings. The male is clad in solid emerald…
…while the female of the species flaunts a rich buffy front.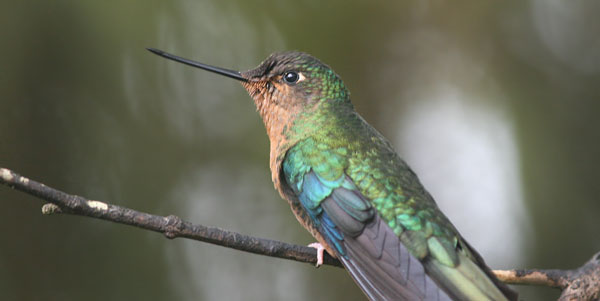 Jumping from the largest birds at the feeders to the smallest brings us to the Tyrian Metaltail, a wee, short-billed nectar sipper named for its copper rudder. This metaltail's gorget flashes electric green in the right light.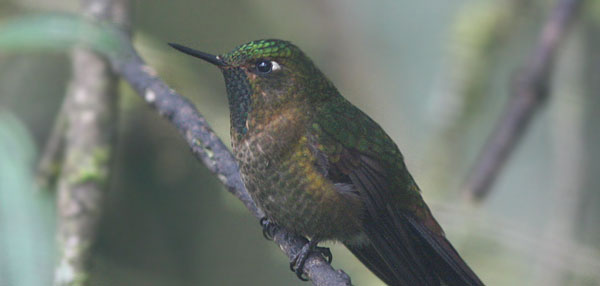 As far as names go, I understand the inspiration for the first part of the Buff-winged Starfrontlet's moniker but don't see the connection for the latter part. Striking bird though!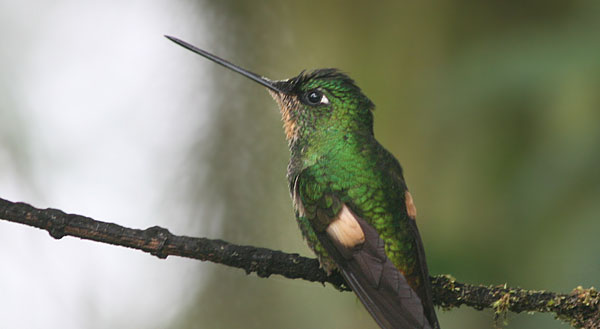 The Yanacocha reserve's raison d'être is to preserve what is possibly the last remaining habitat of the Black-breasted Puffleg, an exceedingly rare hummingbird indeed. I knew that I had little to no chance at spotting one of these birds as they winter in a more remote portion of the reserve. That did not mean, however, that I lacked for pufflegs. So named for the fuzzy feather muffs adorning their tiny hummingbird thighs, pufflegs come in two common varieties here on the slopes of Volcan Pichincha. The Golden-breasted Puffleg is gorgeous with a gilded dusting across its chest…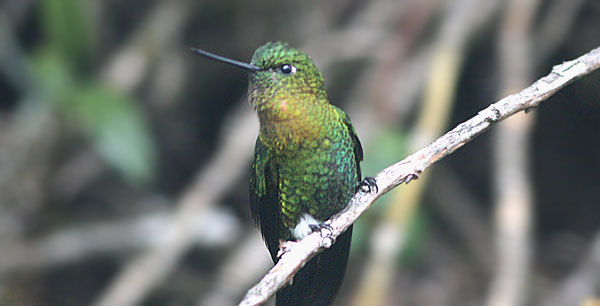 However, I was more impressed with the Sapphire-vented Puffleg with its exquisite amalgam of blues, greens, and golds. What a gorgeous creature!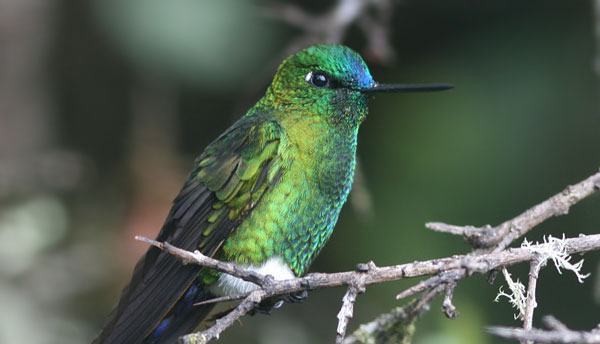 And just in case you needed proof, this bird does indeed have a sapphire vent…