Steve West is an English birder who has lived in Catalonia, Spain for the last 20 years, dedicating much of that time to finding the birds of this biodiverse region and showing them to others. Steve is the author of the website, BirdingInSpain.com which offers free itineraries, checklists, and other resources and has written two books based on his experience as a birding guide in the region: Where the birds are in northeast Spain and Flying over the Pyrenees, Standing on the Plains.
"You mean that sandy-coloured, nondescript bird is a Dupont's Lark? And for that I was rudely awoken at 5 in the morning from a deep and peaceful slumber?" David exclaimed.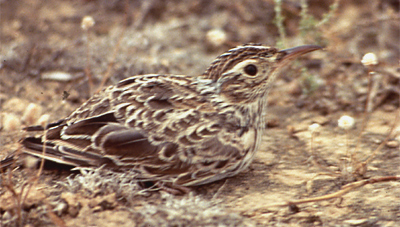 The most notable physical feature of the Dupont's Lark is its long, downcurved bill. Otherwise it is, as David put it a "sandy-coloured, nondescript bird." That in as much as the Dupont's Lark's cryptic plumage enables it to blend in with its arid environment of tussocks and bare, sandy soil. And blending in is something that the Dupont's Lark does exceedingly well: you cannot flush a Dupont's Lark as you might a partridge, a snipe or even another species of lark; the Dupont's Lark much prefers to crouch nervously and then sprint away from peril, unseen by human eyes.
Fortunately, the Dupont's lark has a distinctive song. A melancholy melody which is most often heard on the Spanish steppes at dawn or dusk between late February and mid-May.
"I'm only pulling your leg, Steve," David continued. "Actually, the Dupont's Lark is the bird I most wanted to see on this trip. Shy, enigmatic, charming…"
"And rare," I added.
The Dupont's Lark was not considered to be a species that regularly bred in Spain until the 1980's. And since its "discovery" much of its habitat has been loss to the plow and Spanish boom development. So in addition to its secretive nature the Dupont's Lark is rare. Certainly rare enough to make a chance encounter with a Dupont's Lark an extremely remote possibility.
If there were a "big five" of Spanish birds my candidates would be Lammergeier, Wallcreeper, Great Bustard, Spanish Imperial Eagle, and Dupont's Lark. Of these the last two stand out as being the only species with a European range restricted to a single country: Spain. And in Spain one of the best sites for searching for a Dupont's Lark is undoubtedly the SEO-Birdlife reserve of Belchite.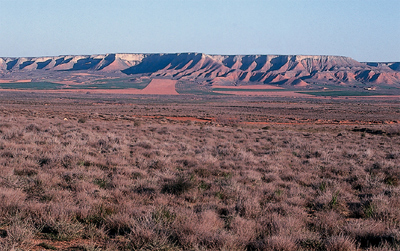 Although this patch of pristine Spanish steppe seems to be a tailor-made meeting point between scope-wielding birders and the Dupont's Lark, an early morning spring visit here is in fact a reliable way of coming into contact with an interesting array of steppeland birds. Lesser Short-toed Larks abound, while Thekla, Calandra, Greater Short-toed, and Crested Larks are rarely far away. One should also look or listen out for avian gems such as Stone Curlew, Black-bellied Sandgrouse, Black-eared Wheatear, Tawny Pipit, Red-billed Chough, and Montagu's Harrier. Migrating Dotterel also stop off in the area in both spring and autumn.
Many eyes make light work. That's the real key to spotting a Dupont's Lark. Don't rely on a "superguide" to spot the bird for you. If the stakes are high, everyone should be playing, clients and guide. So look and scan and bear in mind that the singing Dupont's Lark often sounds closer than it is. And don't get too distracted by the abundant Lesser Short-toed Larks!
"We've been lucky today David. It only took us an hour to actually get the bird in the scope."
"Is this the only site for Dupont's Lark in the area?" David asked.
"No, there are a couple more nearby, but this is by far the best. So I'm glad we got the bird and don't have to come back early tomorrow morning."
David looked disappointed, "Oh, can't we come back tomorrow morning?"
At the crack of dawn? I shrugged, "Well, if that's what you want…"