A friend of mine has this contraption called a Mosquito Magnet that uses carbon dioxide to attract and vacuum up mosquitoes from his yard. It works very well. He then takes all the dead mosquitos and puts them on a tray feeder for his feeder birds to eat.  I'm not sure how many actually do, but it's a nice idea.
This year, his groundskeeper texted to tell me that a bird made a nest in it and it wasn't working. I knew immediately it was a House Wren. And I worried that they might not do well considering all the carbon dioxide, but the wad of sticks they shoved inside blocked it up and they successfully fledged young.  I wondered if the wrens thought they found the perfect house: the bugs just fly into the nest!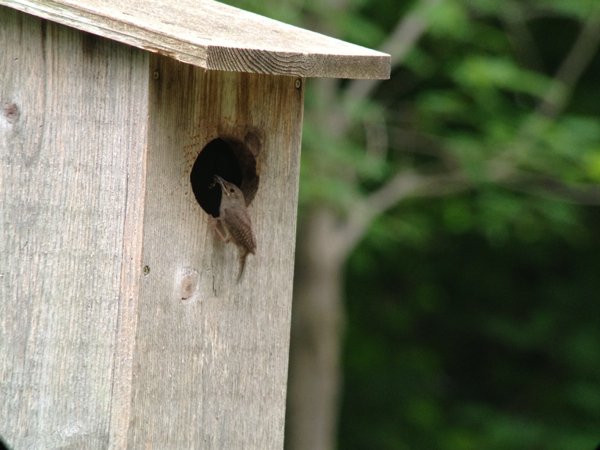 The House Wrens in my friend's yard are incredibly aggressive nesters. These birds are known for building more than one nest in their territory and the ones here go for it gusto.  Wood Ducks don't stand a chance in this yard because the wrens typically get to them first. House Wrens use this decoy system when predators arrive in their territory, they'll defend a decoy nest rather than an actual nest in hopes that the nest raider won't find the eggs or chicks.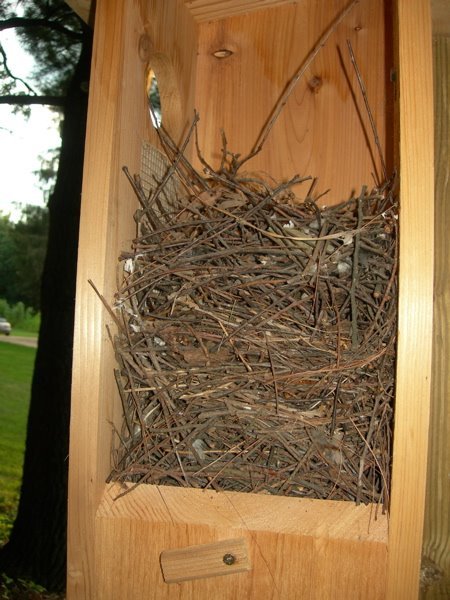 Here's the inside of  a Wood Duck box that has been wrenned. It seems exhausting to me that they would go to the effort to fill up something this deep with sticks, but that's what they do. A pair of wrens actually raised some young in this box.
If you do a quick Google Image Search, you can find some unusual places House Wrens have made nests.