You poor suffering souls who come back repeatedly to read the dreck that I write about my assorted birding adventures will recall that last summer, when we were both still expectant fathers rather than actual fathers, I suspected Patrick Belardo from The Hawk Owl's Nest and all other birders from New Jersey were cursed when it came to birding outside of their own state.  Later that summer, after an excellent day spent birding with a bunch o' bird bloggers, several of whom hailed from the Garden State, I realized that The Jersey Curse was a misnomer and the true curse was The Belardo Curse.  Since that time I have avoided birding with Patrick entirely, even going so far as to make sure he was in Puerto Rico while the Bloggerhead Kingbirds competed in the Superbowl of Birding, though he has tried to curry favor by buying my son clothing.
So it was against my better judgment that I agreed to meet Patrick for a morning of birding some prime locations in Queens and Brooklyn this past Saturday.  The idea of tracking down the Jamaica Bay Barrow's Goldeneye, the Brooklyn Mew Gull, and whatever else we could find at Floyd Bennett Field was just too irresistible and the whole Belardo Curse thing is just a silly superstition anyway.  We met at Jamaica Bay at 8 AM and headed out around the West Pond loop, seeing the expected birds, including a Northern Harrier that flew past at relatively close range, and that I would have gotten great flight shots of if I hadn't messed up the exposure horrifically.  Still, I managed to salvage something thanks to the wonders of photoshop.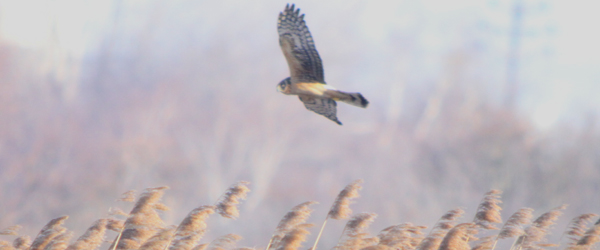 At the west end of the West Pond and from the Terrapin Trail we scanned the bay to the west and saw Bufflehead, American Black Ducks, and Common Goldeneye, but never managed to find the Barrow's Goldeneye we sought.  Bummed out but undaunted we continued our walk, eventually making our way across to the other side of Cross Bay Boulevard where I managed to pick out a fly-by Lesser Black-backed Gull and Patrick spotted a distant Canvasback on an ice-free portion of the East Pond, the only highlights we would have for the day.
Because, as you can imagine, when we made our way to the southwestern portion of Brooklyn and searched for the Mew Gull that has been frequenting Gravesend Bay and the jogging path between the bay and the Belt Parkway we did not see the bird.  Sure, we saw some nice ducks but nothing unexpected.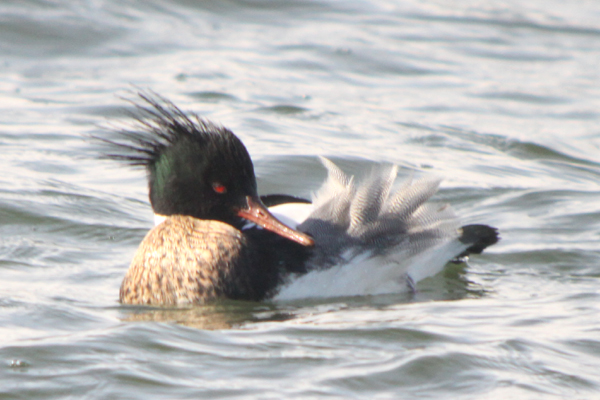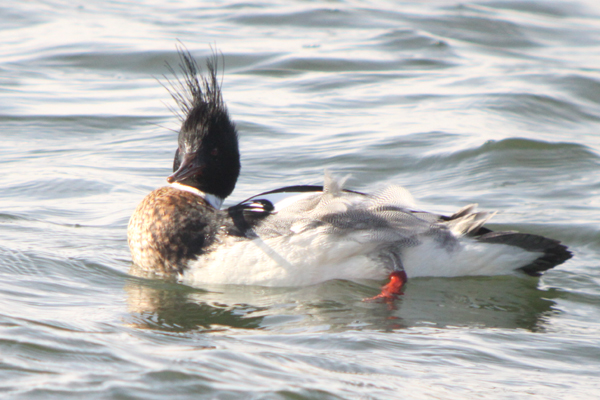 Our visit to Floyd Bennett Field was similarly disappointing, with not a single raptor showing itself and no Horned Larks, Snow Buntings, Eastern Meadowlarks, or any of the other birds that make Floyd Bennett such a nice place to search for grassland birds.  We gave up and Patrick kindly gave me a ride home…
So, is there such thing as The Belardo Curse?  Before you decide, you might want to know that later in the day both the Barrow's Goldeneye and the Mew Gull were reported from their normal haunts and a Western Grebe was reported from the pier at Coney Island, a location we could easily have stopped at considering we drove right past Coney Island on the Belt Parkway.  I'll give Patrick at least one more chance, but if we don't see some good birds we are going to have to perform an exorcism or something…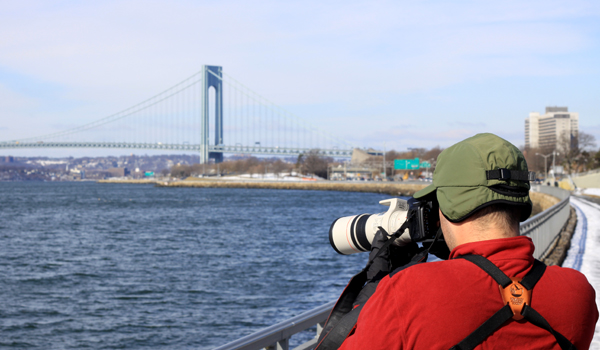 Patrick photographing ducks.  If you want to see good birds avoid this man!
…