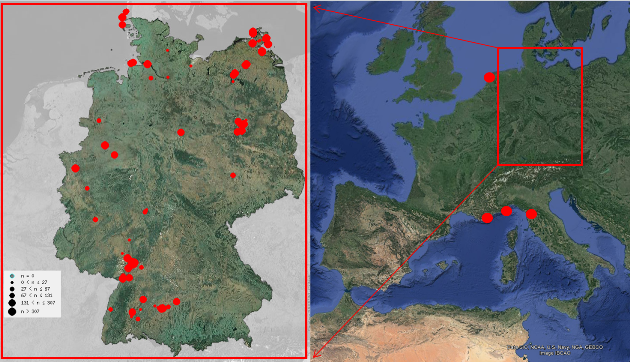 The year 2016 was not a particularly birdy year for me, mostly because I didn't get to go on business trips to Indonesia or Kazakhstan, as was frequently the case during the last few years. I did not see any lifers whatsoever in 2016, making it my first lifer-free year since around 2010. My trips abroad were limited to short family vacations to the Cote d'Azur during the first days of January and a week-long vacation to northern Tuscany / Italy in May. I also got to spend a few hours in the Netherlands. Birding in Germany was okay during the first half of the year but essentially came to an end in June due to several issues, most significantly a move to a different appartment within Heidelberg. I went on a few short family trips within Germany, e.g. to the island of Hiddensee  and the Mecklenburg lake plateau in August, but these were not particularly rewarding from a birding perspective. However, I spent the last few days of the year on the posh island of Sylt in Germany's far north, my first visit to the North Sea propper since 1989. I therefore finished the year on a high note, seeing quite a few species I scarcely got to see during the previous years. You can see my birding activities abroad and within Germany on the maps at the top of this post.
So here they are, my top 10 bird species of 2016, in no particular order except for No. 1, my best bird of the year…
10. Scopoli's Shearwater, Tuscany, Italy
During our stay at the coast of Tuscany, sea watching was often rewarded with distant views of shearwaters too far out to safely identify to species level. During a visit to the fabulous villages of Cinque Terre however, we had a rather strong wind coming in from the sea that pushed quite a few Scopoli's Shearwaters towards the shore. This allowed for my first very nice views at this species since the year 2001, which made me very happy. I didn't get a picture, but the following image will surely convey the atmosphere.
9. Lesser Spotted Eagle, Mecklenburg-Vorpommern, Germany
Lesser Spotted Eagles breed regularly with around 100 pairs in Germany, but unless you know where the territories are you are unlikely to see them. Those 100 pairs are scattered over quite an expansive area, the species can be rather secretive during the breeding period and their migration mostly takes them towards the south-east, so they don't fly over Germany. Since I knew that I was not going to be near one of their territories in 2016, I had little hope of seeing the species. Much to my surprise however, one showed up over one of my monitoring areas in Germany's North-east, which made me happy because all Aquila (now Clanga) eagles are amazing kick-butt species and the Lesser Spotted – in spite of what its name might suggest – is no exception, a fact not conveyed adequately by the crappy and heavily cropped image below.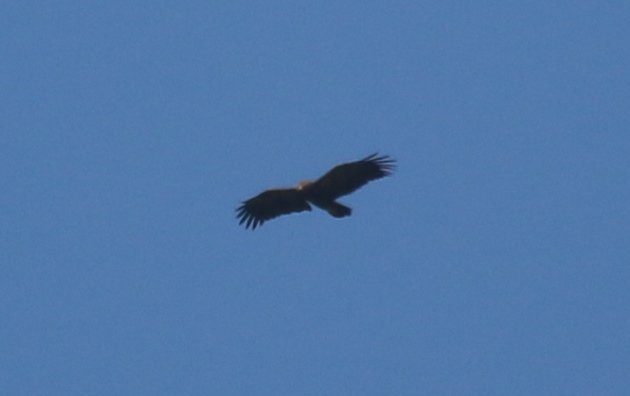 8. Great Spotted Cuckoo, Tuscany, Italy
This is a rather frustrating top 10 bird: at the very last morning of our stay in Tuscany, I heard the very distinct call of this species – quite rare and localized even in Italy – coming from accross the garden of our holiday house. I grabbed my binoculars and ran to the window but to no avail: the bird neither showed itself nor called again. It is therefore only on my list because it used to be a bit of a nemesis for me during the 1980s and 1990s, and I only ever saw it once in Namibia in 1999.
7. Great Bustard, Havelland, Germany
Yes, as you should know by now Great Bustards are a regular, albeit localized species here in Germany and I've seen it very frequently (essentially each year) for the last 6+ years, so it really shouldn't be on this list. But … GREAT BUSTARDS!!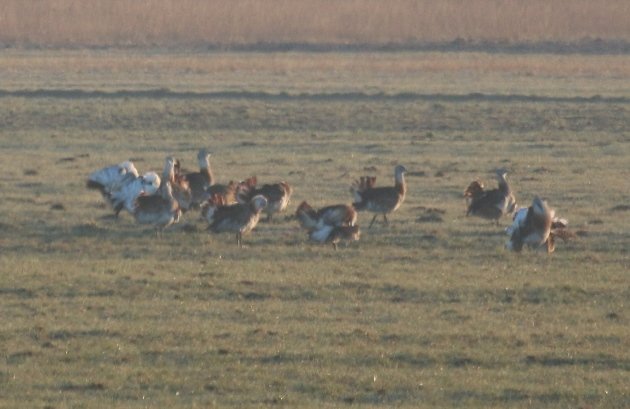 6. Hybrid dabbling duck, Rieselfelder Münster, Germany
Also high on my list of favourite birds for 2016 is a hybrid dabbling duck whose parentage I have yet to find out. It is clear that a Common Teal was involved, but the second partner? Possibilities are Euro Wigeon, Gadwall (I'm pretty sure it's Gadwall), or something more exotic. Whatever it is, it appears to be a rare hybrid combination, and it was great fun finding it, probably because its remote resemblance to a Baikal Teal gave it a bit of a lifer feeling.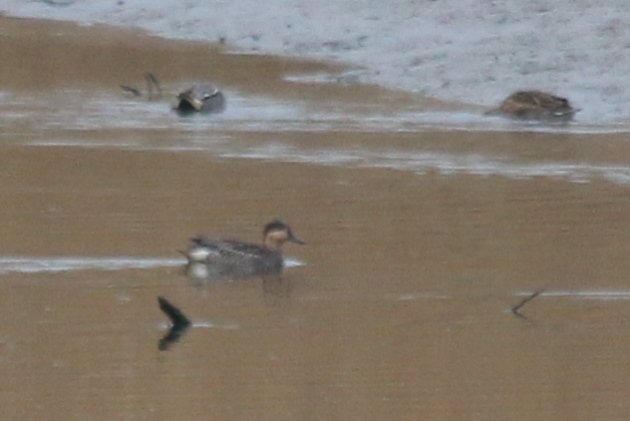 5. Marsh Sandpiper, Den Oever, Netherlands
The story of this bird is one of defiance and pride rather than rarity. You may know (although probably not since you'll likely reside in North America) that a Siberian Rubythroat showed up over the winter 2015/16 in a small village in the Netherlands, an extremely rare and highly sought-after vagrant from Siberia (duh!). Hordes of birders from all across Europe went there and got cracking views of this long-staying bird, but I was not one of them due to the distance involved and a lack of time (certainly not a lack of envy and desire). Towards the end of the winter though a business trip was to take me first to Belgium and then to northern Germany, and going through the Netherlands past that particular village was just a minor detour. So I went for it, I got there, I found the village, I found the place but not the bird. I talked to locals who had seen it just 2 days prior to my arrival but not since. So, after the bird had stayed there for several months (!) I got there too late – by just 2 days. Dang. Like, really dang. The most bitter dip since, like, ever. Now, always focussing on the bright side of life, I drove on and went for a short birding stop at the coast. Getting out of the car, I was more than pleased at seeing a few thousand shorebirds (called waders here) and waders (called spoonbills here – amongst other things). Since the tide was rising, there was a constant coming and going of Tringa sandpipers, mostly Redshanks. I didn't really pay that much attention to them since redshanks are really common at the North Sea, but then I picked up a strange call within a large flock of redshanks, immediately identified it as coming from a Marsh Sandpiper (quite a rare species for the Netherlands), looked up into the flock, found the Marsh Sandpiper and took a few decent pictures of it. After that truly horrible Rubythroat dip had crushed my self-esteem, the finding of a rarity by myself and the – allow me to say "professional" – way I found it reassured me that I am not a completely useless birding loser after all. Thanks, Marsh Sandpiper (seen on the right with a redshank on the pic below), your presence was highly appreciated!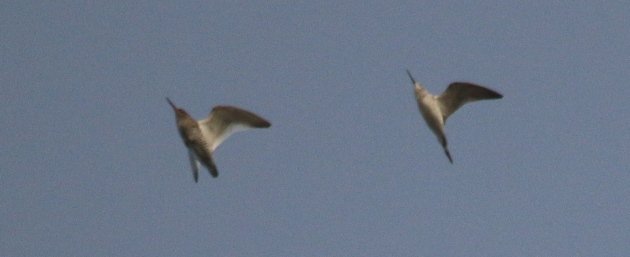 4. Arctic Tern, Große Rosin, Germany
Arctic terns are not particularly rare in Germany, breeding all along the North Sea shore and on the small island Langenwerder on the German Baltic sea coast, where I manage to see them once almost each year. However, they are exceptionally rare inland, and I was lucky and surprised to find one in the most amazing blue skies above the equally amazing wetland Große Rosin amongst a flock of one of my all-time favourite species: Little Gulls. Even though "inland" is stretching things a bit when you consider that the Baltic sea is just 60 km to the North, my observation constitutes only the third Arctic Tern in NE Germany away from the immediate Baltic coast since 2012. That's not bad.
3. Shore Lark, Sylt, Germany
Well, I never really realized how long ago it was that I had seen this species until the big Shore Lark split recently. You see, I had seen members of the formerly united species very frequently in recent years, e.g. in Kazakhstan and during my time in North America back in 2006/07. Thus, I never really thought about the particular northern European form. Then came the split and the reflection, making me realize I had not encountered this suddenly-species since around the year 1998, almost 20 years ago! Shore Larks were therefore very high on my agenda during the last few days of the year as I found myself on the island Sylt, where they can frequently be found in salt marshes along the coast. Well, it did take some searching and a lot of nervous sweat, but I finally connected with a flock at the last possible moment of the trip. Sadly they were rather flighty and better views would have been nice, but hey – any views are good views after nearly 20 years.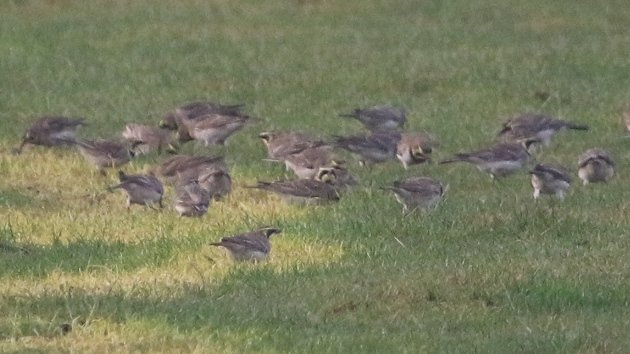 2. Northern Gannet, Liguria coast, Italy
Northern Gannets are symbolic birds for me, which explains why the species is in such a high position on my top 10 list. They are absolutely common along Europe's coasts, and even venture far into the Mediterranean Sea during the winter. However, after returning from the States to Germany in 2007 and with the birth of my son, I took stock of my European bird species – those I had on my life list – reflecting on when I had last seen them. I was quite shocked to learn that my last Northern Gannets were seen in Norway waaaaay back in 1992, some 15 years ago! However, with limited financial resources back then and a baby boy to look after, I realized that it would probably be a few years until I was to see that species again. Well, times improve and babies grow, and we (my family) soon found ourselves in a position again to travel through Europe. Consequently, I have seen Northern Gannets each year since 2012, but the sight of one sailing over and darting into the sea – any sea – is still a very emotional reminder of the fact that life is good, and where I am compared to where I used to be.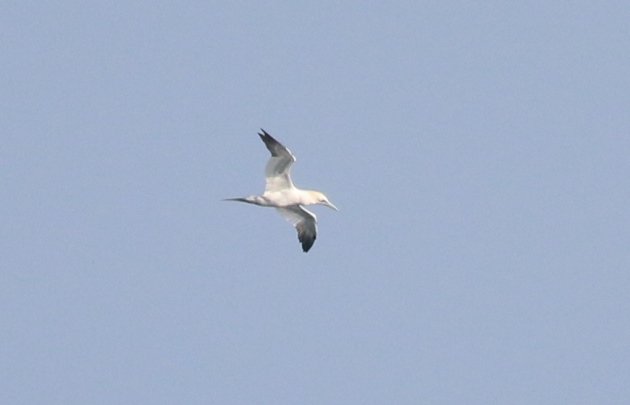 Top Bird of the Year: Sociable Lapwing, Bawinkel, Germany
The title of "Best bird of the year 2016" clearly goes to the Sociable Lapwing I was able to chase successfully in May 2016. Not only is it a very rare species globally and a great vagrant to Germany. I actually longed to see it (in Germany) for at least 20 years, scanning countless lapwing flocks without success, until I was able to finally chase one successfully in May 2014. Sure, that was a relief, but the distance back then was considerable and I only saw the bird for a few seconds emerging from and immediately returning to high grass. Therefore, I absolutely wanted to see this species again, and under better circumstances. When the bird I eventually ended up seeing in May 2016 first showed up near a site I was scheduled to visit later during the year, I was frustrated as I did not expect the bird to stick around for several weeks until my visit. Much to my surprise however, it did, and I got to see it brilliantly (albeit against the light) and it put on quite a show, foraging amongst lapwings and repeatedly flying around to show off its amazing wing pattern. Just four days after I had seen it, and after it had been around that pasture for nearly a month, it buzzed off presumably to Kazakhstan. Take that as an example of how to propperly behave towards birders, you silly Sibe Rubythroat!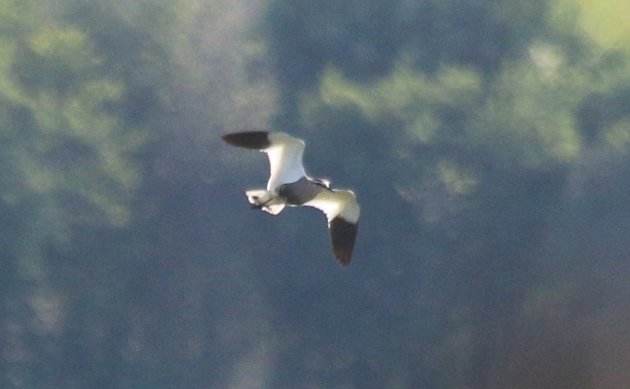 So that was my birding year 2016. Birding-wise it turned out okay, largely due to a few nice days in April / May here in Germany, a few good days in Italy and the Sylt trip at the end of the year. I do hope however that 2017 turns out to be a bit more exciting, and I am currently working on it, with possibilities being Kazakhstan, Indonesia and Sicily. However, nothing is fixed yet, so we have to go with the fact that hope is the thing with feathers.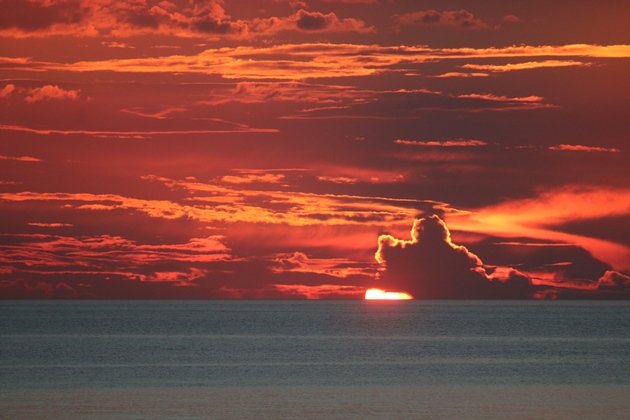 Fare thee well, 2016