Last year at the end of July I wrote a post about birding Jamaica Bay in which I complained about the bugs, the heat, the mud and the difficulty inherent in identifying shorebirds.  This year, so far, Jamaica Bay has been a much more pleasant place, mostly because water levels on the East Pond have not dropped to the point where slogging through the mud to look for rare shorebirds is possible.  Instead, one sticks to the usual trails and scopes what birds there are while keeping one's feet comfortably dry and mud-free.  Though shorebirds have started to arrive on their southward migration they do not yet have much habitat to occupy on the East Pond so at high tide they congregate on the West Pond, which makes them more distant but also more accessible.  And other species are still around as well, and I have spent the last two Sundays trying to see as many species as possible.
You will remember, of course, my post about watching a Great Black-backed Gull killing and eating a young Gadwall.  While that was an exciting thing to watch and certainly post-worthy I can't believe I neglected to mention that I also spotted a fledgling Barn Owl sitting on the next box at Big John's Pond that same day (to say nothing of an adult barely visible in the box).  And this Sunday, after a report of a fledgling Barn Owl perched in the reeds in front of the box I made my way over there again, and, sure enough, there it was!  Two consecutive Sundays with daylight Barn Owls: I guess July at Jamaica Bay has more to offer than torturous shorebirds!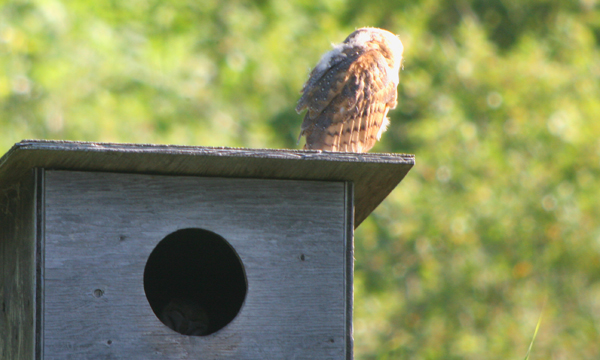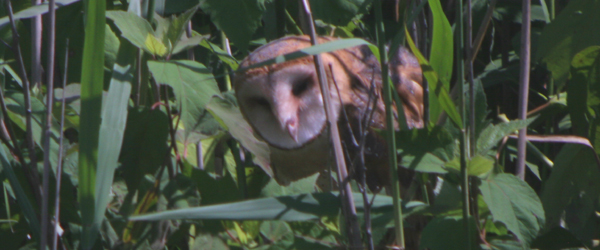 Of course there is much more than owls at Jamaica Bay in July.  There are many species of heron that forage throughout the refuge in the month of July, and seeing them all really helps pad the day list.  Recent reports have placed both a Cattle Egret and a Least Bittern in the area: I've had no luck but I have seen Tricolored Heron, Little Blue Heron, Great Blue Heron, Black-crowned Night Heron, Yellow-crowned Night Heron, Green Heron, Snowy Egret, and Great Egret.  A typical visit in July with careful scanning of the marshes, should net at least six species.
And the terns, so many terns!  Least Terns are easy to find, as are Forster's Terns.  Both Gull-billed and Common Terns are around in smaller numbers and take a bit more searching to find.  Black Skimmers occasionally make an appearance as well: not much is cooler than having one fly over the path in frot of you as it moves from the bay to the pond or vice-versa.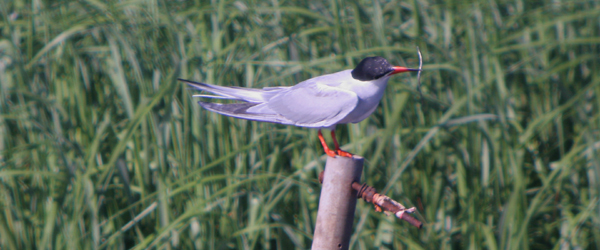 There are plenty of families of land birds as well: all three mimids of the northeast nest at Jamaica Bay, American Redstarts, Yellow Warblers, and Common Yellowthroats are the breeding warblers, Marsh, Carolina, and House Wrens all nest, and Willow Flycatchers, White-eyed Vireos, and Boat-tailed Grackles are just a few more of the birds that one can find feeding young.  And, of course, there are the shorebirds: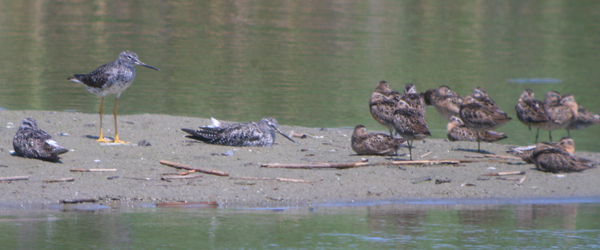 Birds aren't all that one can see at Jamaica Bay: butterflies and dragonflies abound and if one is very lucky and arrives at high tide one might get to see a Diamondback Terrapin come ashore to dig a hole and lay eggs.  I was that lucky yesterday and not only saw several terrapins come ashore but also ran into a researcher who was studying terrapins and held one for him while he was catching another.  Now that was cool!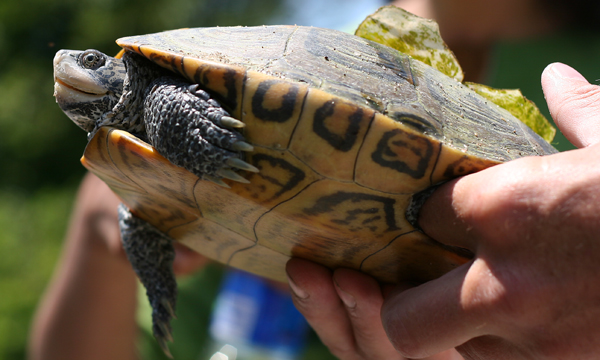 So get to Jamaica Bay, even if it is the middle of the summer.  You won't regret it!