One tends to think of birding as an idyllic pastime.  One goes into the field, sees gorgeous creatures, identifies them, and then brags to one's birding friends about what wonderful creatures one saw.  Sometimes one sees one of the gorgeous creatures do something interesting and one tells one's birding friends about it but with less bragging.  Of course, sometimes what one sees is somewhat disturbing, which is where the title of this post comes in to play.  Though what I witnessed this weekend was strictly between birds I guess it might be better to title the post "Red in Beak and Feather" but that's not from Tennyson and does not have quite the effect for which I was looking.  Let's just say that if you don't want to see a bird in an existential struggle then you should not read any further.  You should, in fact, get away from this post and go look at cute Killdeer.
Still here?  Great!  I guess you have the stomach look into the center of the circle of life and not feel faint at what you find there.  Let's set the stage for the photographs that follow.  I was birding at Jamaica Bay on Sunday and ran into a fellow birder, Shane Blodgett.  Shane is a heck of a birder and a nice guy and we ended up making our way around the West Pond together, seeing a whole host of species and having a grand old time.  We had stopped to scope the very northwestern edge of the pond where a host of Canada Geese, Mallards, Gadwall, herons, and a couple of Greater Yellowlegs were resting or foraging, when Shane picked up a bit of commotion and realized that a Great Black-backed Gull had a hold on the back of a young Gadwall and was not letting go.  The sun was shining so heat shimmers were an issue and the range was pretty long, so some of these pictures are far from ideal but you will get the idea…roll over the pictures for pop-up captions.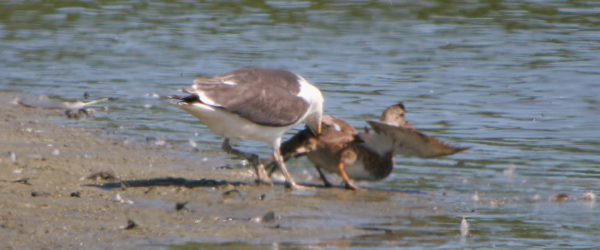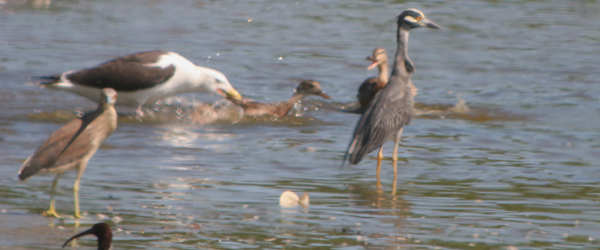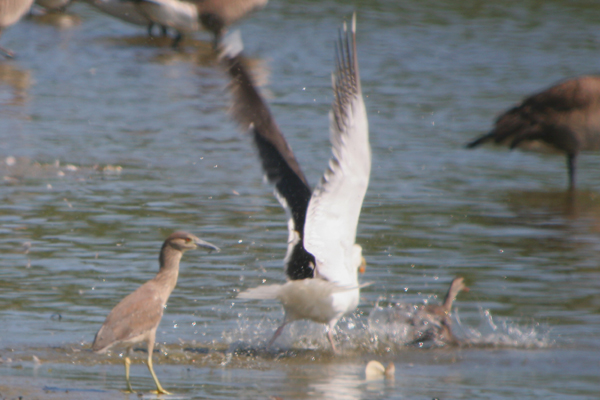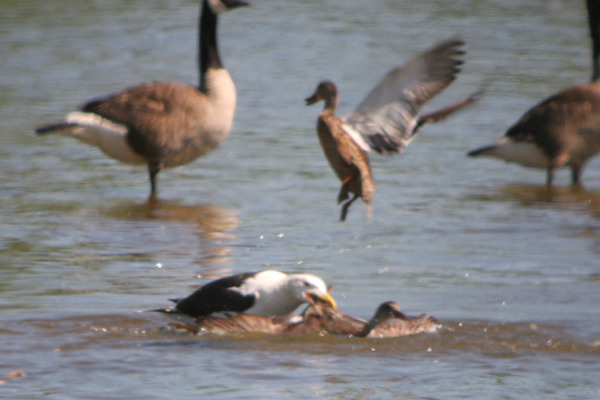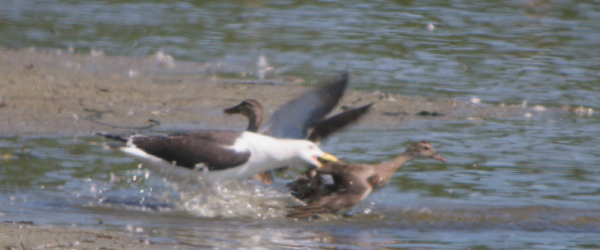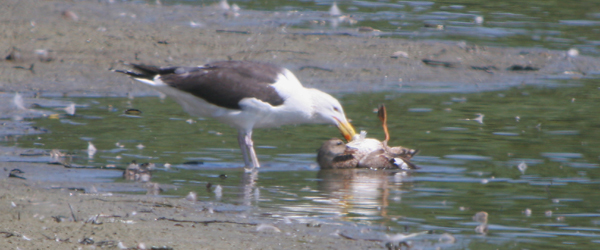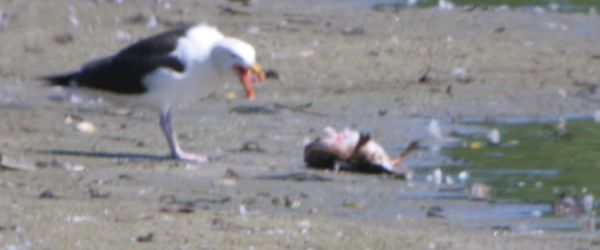 To be honest, while watching this whole struggle, which took probably ten minutes start to finish, I contemplated walking away a couple of times, and both Shane and I wished we had been closer so we could intervene on the duck's behalf.  Sure, things get killed and eaten all the time in nature but to see a duck struggle like that just to end up gull food, well, it wasn't the most fun I've ever had while birding.  Even the Canada Geese couldn't watch: as the struggle progressed they all gradually drifted away and left the young Gadwall to its fate, alone except for the prying eyes of herons, the gull, and oblivian.