One of the things about being a birder is that you become, in the eyes of your non-birdy friends, the "bird guy". In my case that means that whenever they have friends and family visiting from abroad I end up being the guy that is asked to take people on tours of nearby bird reserves. This rarely happens to entomologists or sponge biologists. Not that I mind, as these tours are either in Karori Wildlife sanctuary, as discussed in an earlier post of mine, or Kapiti Island, a slightly more distant but far superior destination in my mind. A few months ago I took my friends Abi and Ingrid (both the aforementioned sponge biologists) along with Abi's mum, Janet (over from Europe), to Kapiti for just one of these trips. I have been lucky enough to visit the island a number of times, and even spend a week on the island mist netting and banding birds, but I always leap at the chance to go.
Kapiti is an island off the Kapiti Coast to the north west of Wellington. It has along history of human inhabitation, being settled first by the Maori and later by European settlers (or Pakeha as non-Maori Kiwis are known). The island was badly denuded of forest cover by farming, but was restored by the New Zealand Department of Conservation. First the sheep, then possums and finally rats were removed from the island, and native species reintroduced. Before you board the ferry you are asked to make sure you have no mice or rats in your bags. Considerable efforts are made to keep the island predator free, but in spite of these efforts a stoat was found on the island a few weeks ago (prompting a massive effort to kill it and reclaim its predator free status).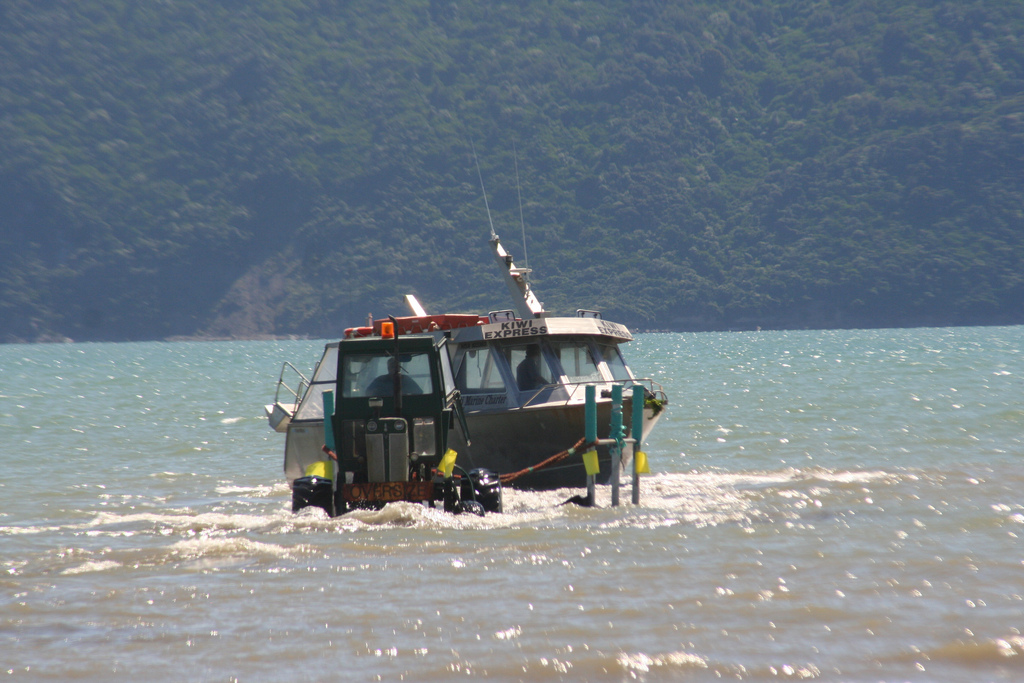 Kapiti Ferry leaving Kapiti Ferry Tractor with Kapiti Island behind.
The island is perhaps most important as the site that the Lesser Spotted Kiwi survived on. This smallest of the Kiwi were introduced to the island in the early 1900s, where they survived and even thrived. The species went extinct almost elsewhere else, and Kapiti has subsequently been the source of birds introduced elsewhere in New Zealand.
The island is open to visitors who can take a daily ferry from nearby Parapraumu (pronounced, by the way, Para-param). The ferry leaves from the beach, which is a good place to acquaint yourself with New Zealand's most common tern, the White-fronted Tern. The ferry is small and hard to look out of, but I have often seen unidentified shearwaters and shags (or cormorants) and on one occasion numerous Common Diving-petrels (I assume that is what they were as that is the most common species around here).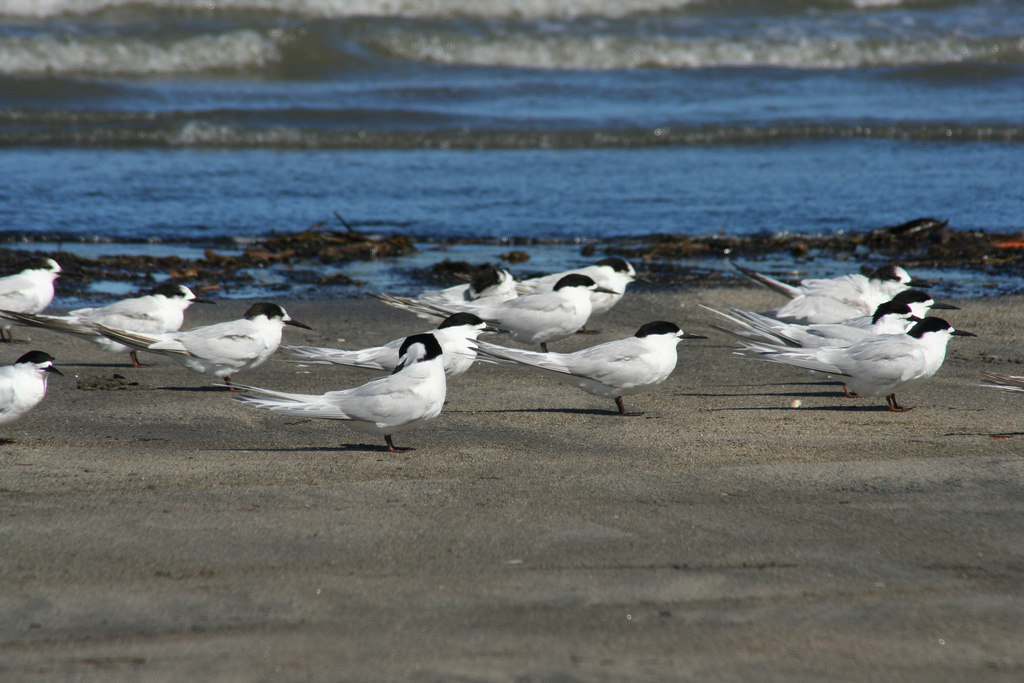 White-fronted Terns (Sterna striata) on Paraparaumu Beach
The island has two areas that receive visitors, the northern end and Rangatira, near the centre of the island. Our visit was to Rangatira, which is where the DOC ranger station is. There is a large flat area with low vegetation here, after which the island rises steeply up to the clouds. This area, where the boat deposits you after a fifteen-minute crossing, is actually a great place to watch birds, even as you are walking to the shelter for your introductory talk. Variable Oystercatchers are common on the beach, as are New Zealand Pipits, which can also be found on the grass areas on the flat area. These small brown birds look the same as pipits anywhere else in the world; in fact they were once lumped with the Richard's Pipit and Paddyfield Pipit of Asia and the Grassveld Pipit of Africa. They are still mostly lumped with the Australasian Pipit of Australia and New Guinea, but this will probably change, as will their lumping with the New Zealand Pipits found on New Zealand's sub-Antarctic Islands. At any rate, they are an extremely comforting familiar species. Another familiar looking species are the Welcome Swallows that swoop around the area. These swallows are an Australian species that introduced itself to New Zealand after Europeans arrived and opened up the forests (as discussed last week). The area between the landing and visitor shelter is the site of many Kelp Gull (or Southern Black-backed Gull) nests. These nesting gulls astonish me due to their placid nature. I worked on Western Gull colonies in California and so much as looking at them got you a beating and a face-full of guano. Kelp Gulls may call a lot but they aren't aggressive.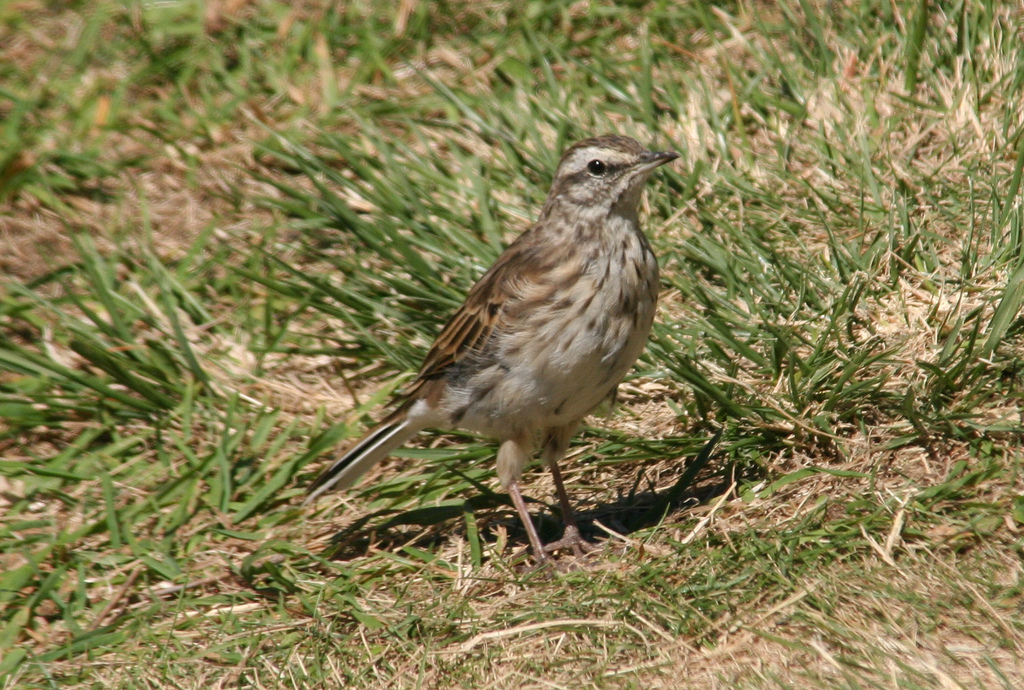 New Zealand Pipit (Anthus novaeseelandiae)
The shelter is the initial destination on arriving so that the guide can give the introductory talk, which helps visitors understand the island and also understand the ground rules. One of these rules is that the wildlife should not be fed, but even as the talk is happening hopeful birds will be sidling up to the visitors in the hope they can steal something. Kaka, large native parrots (now split with the Kea and Kakapo into their own family) will and on unwary people holding food and even eat food out of you hand as you move it into your mouth! And while distracted by the Kaka the Weka will skulk around the ground and nose into your bag. These large flightless rails are one of the few survivors of a massive radiation of rails that once lived in New Zealand, and certainly one of the largest. They have declined somewhat since humans arrived but can still be found in a few mainland sites. It is only on islands like Kapiti that their boldness and inquisitiveness is evident however. They are often confused with kiwi by overenthusiastic non-birders, but have a shorter more massive bill and actual wings (flightless as they may be).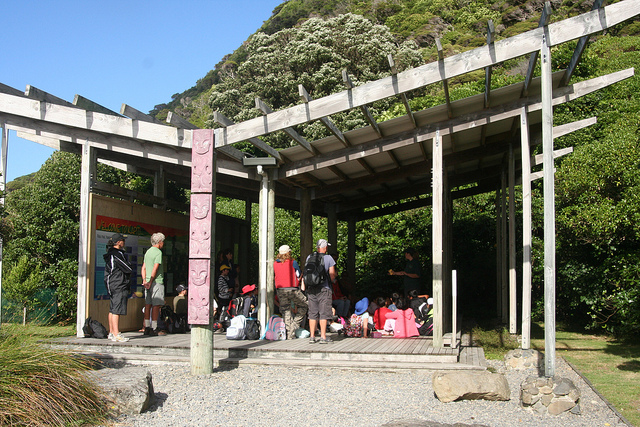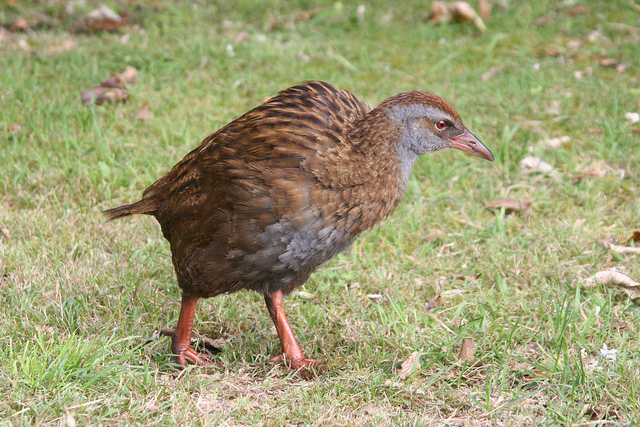 Weka (Gallirallus australis) prowling for unwary bags.
We set off up the hill soon after the talk ended. The best way to climb the hill (which is 500 m high) is slowly. Moving slowly and quietly improves your chances of seeing birds. Common at all levels are the Red-crowned Parakeets, or kakariki (literally small kaka). Their chattering calls are heard everywhere but it can take some hunting to see one sitting still. They are related to the rosellas of Australia and have stunning green plumage with bluish edges on the wings and crowns of red. Their genus, Cyanoramphus, represent one of the great New Zealand radiations, with at least one subspecies or species on every one of New Zealand's islands (some now sadly extinct). A large Antipodes Island form, living on a treeless subantarctic island, will dig up storm-petrel chicks to eat and scavenge on dead penguins, which is as far from the typical parrots as most people can imagine.

Kaka (Nestor meridionalis) feeding naturally for a change.
While climbing the steep hill Ingrid spotted a Morepork. Known to the rest of the world as Southern Boobook, this is one of New Zealand's three native owls (again, one sadly now extinct). The species is also found in Australia, and is common species even in the cities. I hear this species all the time in Wellington (once, unnervingly, as I walked past a cemetery at night), but this was only the second time I had ever seen one in the wild. He obligingly sat for some photos before we moved on to leave him in peace. Other common species on the climb were Tui and the North Island Robin, which bounced happily across the path. As we continued to climb we encountered a bird-feeding station, maintained to help the reintroduced Stitchbird. These small forest natives have been introduced to several reserves across New Zealand but have not thrived, hence the extra help. There were some of these birds around the feeders, but the dominant species here were New Zealand Bellbirds. There were easily twenty of these honeyeaters at the station, singing and chasing each other around. The species has a delightful song, a clearer version of the song of the Tui, and you can listen to a recording I made there here.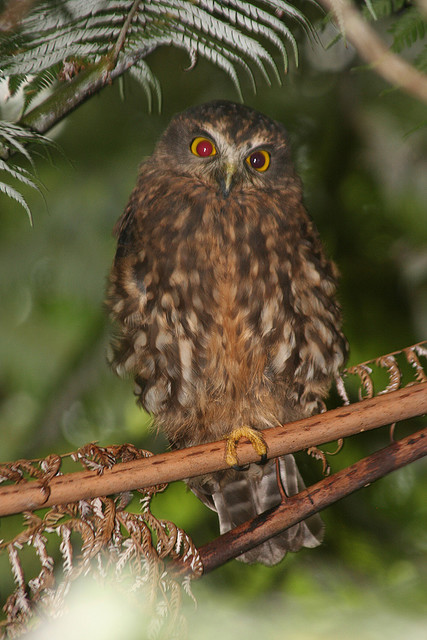 Morepork (Ninox novaeseelandiae)
A bit further up the hill was one of the highlights of the day. I don't quite know how I spotted it, there was a slight crash I had heard but it was too close to be the bird I spotted. Far off in the canopy was a Kokako. Known by the early European settlers as the Wattled Crow, this is a large relative of the Saddlebacks. Saddlebacks and Kokako, along with the sadly extinct Huia, form an endemic New Zealand family, the Callaeidae or New Zealand wattlebirds. Kokakos are attractive crow sized birds with grey plumage, a black face and large blue wattles at its gape. This is a bird I have been trying to see for many years (and many visits to Kapiti and Tiritiri Matangi), and although he was quite far away he at least sat in his perch preening while everyone hunted for it (it took five minutes for everyone to get a look). This is the only species of New Zealand wattlebird to survive on the mainland, but it is decline across most of its range and survives due to continued efforts to control predators where it lives. The South Island form, which many people now treat as a separate species, is probably extinct, although some people hold out hope its survives unnoticed in some remote part of the island. Eventually our bird flew off and we continued up the hill.
Towards the top of Kapiti, 500 meters up, it begins to level out a bit. Wekas are particularly common up here. The summit of the hill, and the tallest point on the island, is reached abruptly, after which the whole island drops away as cliffs down to the sea. On clear days you can see from South Island up to Mount Taranaki, and bad days you can't even see the see five hundred meters below. On this day you could see a bit, but certainly not South Island. There are some picnic tables for you to enjoy your meal while Wekas inspect your bags for food to steal. On this particular day we had to chase after a one that had a whole sandwich wrapped in plastic wrap. We managed to get it off the guy before he killed himself.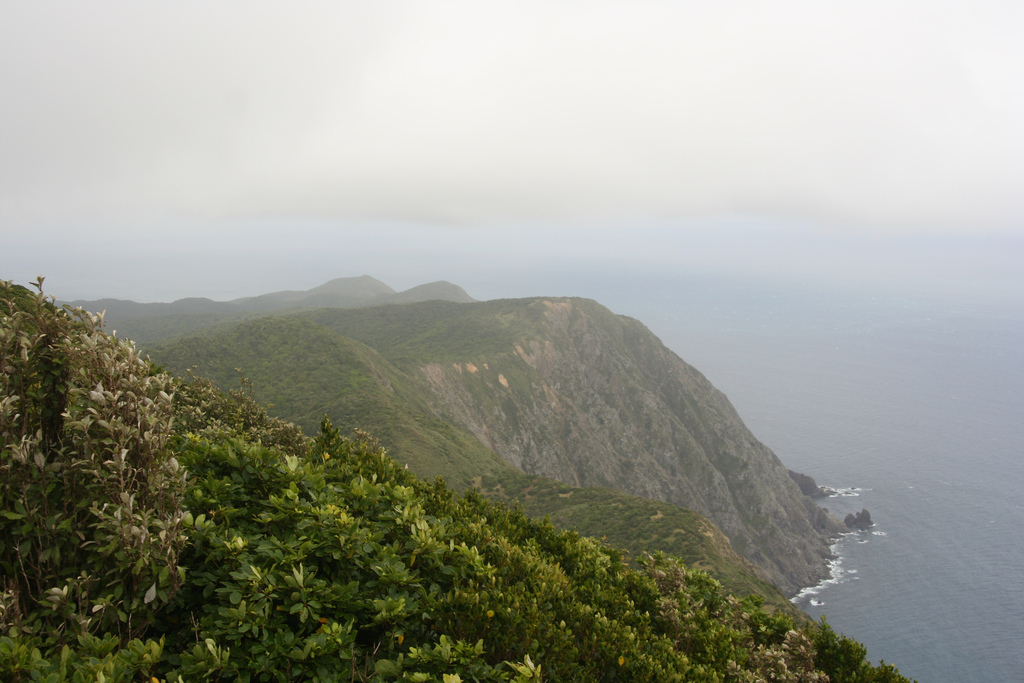 Looking south over the top of Kapiti.
The birds you see on the way down are much the same on the way up. The top of the island is the common place to see Kokako and, if you are lucky enough to be here at night and lucky enough to be allowed all the way up here if you are, Brown Kiwi. One of the other large flightless birds you can find on the island tend to be seen down near the shore, the Takahe. These massive birds are descended from Pukeko that flew to New Zealand. They are actually introduced species to Kapiti. Originally the species was restricted to South Island, with a separate large blue rail known as the Moho being found on North Island. The Moho is now sadly extinct, and with a shortage of suitable islands for them to live on they have been moved to islands in North Island as well as South Island. They can sometimes be hard to find, I've visited a number of times and not seen them, but we were lucky enough to see one feeding on grass in front of the ranger's hut. All in all a pretty spectacular way to end a day on Kapiti.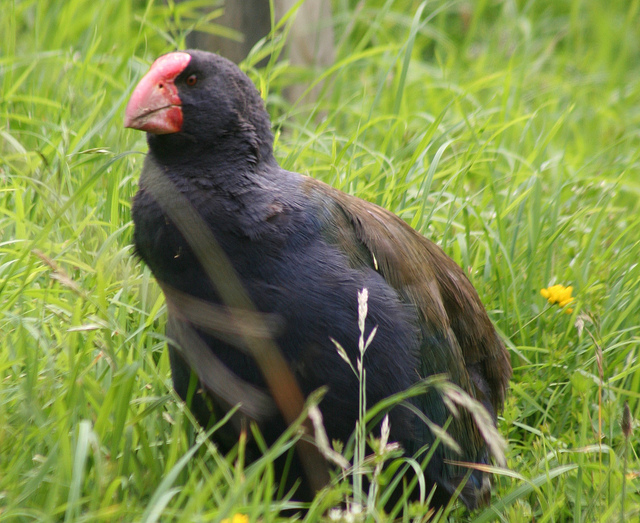 Takahe (Porphyrio hochstetteri)
"Kapiti is one of New Zealand's most valuable nature reserves, and it is the only large island sanctuary for birds between the Hauraki Gulf in the north and New Zealand's southern outlying islands.
Nature reserves are areas set aside for the protection of native plants and animals, where human influence is kept to a minimum. Every effort is made to minimise the adverse effects of any introduced plants or animals that have managed to establish on the island. Most people never get an opportunity to visit nature reserves because access to them is so difficult.
Kapiti is one of a few relatively accessible island nature reserves. It provides an opportunity for people to observe birds that are either very rare or absent from the mainland, and to see the recovery of vegetation after intensive modification during last century."
(Text from Department of Conservation's Kapiti Page)