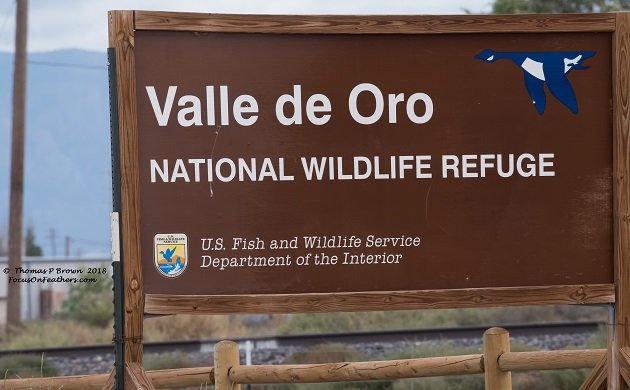 After our brief trip thru the great state of Texas, we were headed back into New Mexico, a state I was quite excited to explore. I have been all around the western states, here and there, but never spent any time in New Mexico. Our first stop was a mutually agreed upon stop, in Tucumcari. This historic little town, is well known for it's relationship with the old Route 66. Old cars, antique gas pumps, and neon lit motels, were just up Jeanne's photographic alley, and Lake Tucumcari was sure to be a birding hot spot for me. If you are interested in what fun stuff Jeanne photographed, you can see them here.
Unfortunately, the lake was the victim of several years of draught, but the grassy areas held a few nice birds, and there were a few surprises along the way. The first surprise came, as we were driving into town, and not one, but two Scissor-tailed Flycatchers flew right across the road in front of us. There was no way to stop the truck and 5th wheel right along a major interstate ( believe me I tried) but as soon as we had the trailer unhooked, I was gone in a flash looking for a bird that was very high on my " life time hope to find" list. The birds were right next to an old abandoned farm house, and seemed quite happy to have their photo taken, up to a point, but then like the wind, they were gone, out thru the flat desert areas of New Mexico!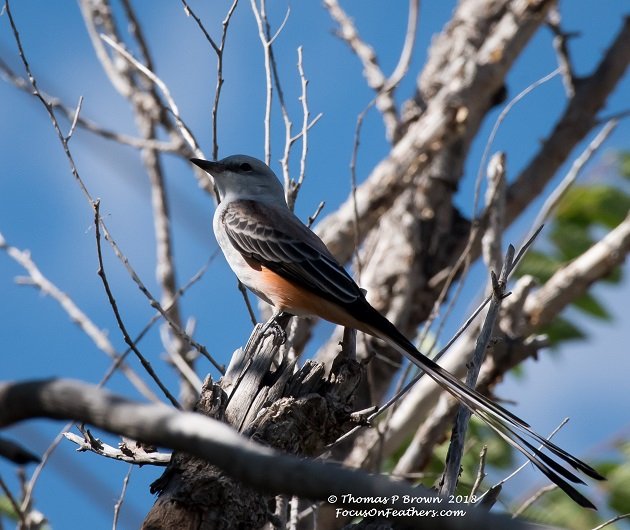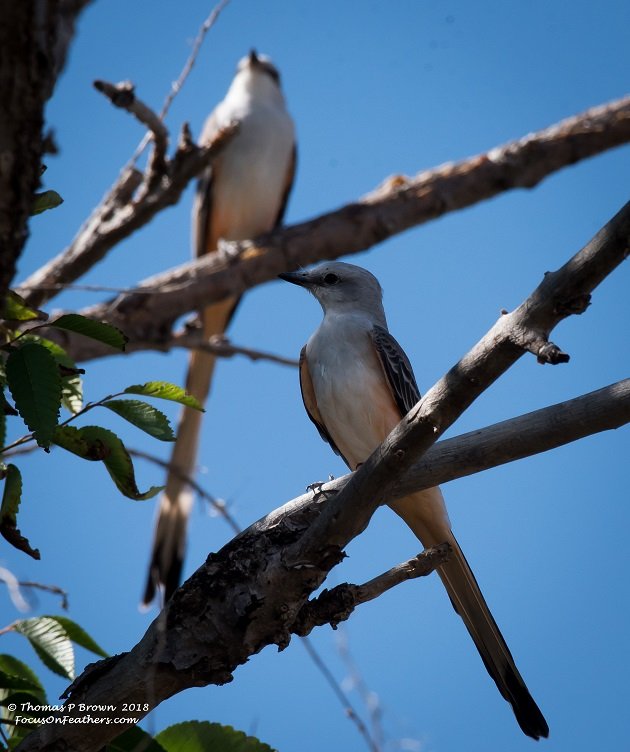 As I mentioned before, Lake Tucumcari is now a large dry lake bed, mostly filled in with one weed or another. Lesser Goldfinches, Yellow-rumped Warblers, Vesper Sparrows, Lincoln Sparrows, White-crowned Sparrow, Clay-colored Sparrows, and lots and lots of Mourning Doves have taken up residence in what used to be open water. American Kestrels, Cooper Hawks, and Northern Harriers also found the hunting here to their liking.
This Coopers Hawk flew right up to the roof on a flood control booth, and looked at me like " What are you doing out here" and promptly flew away.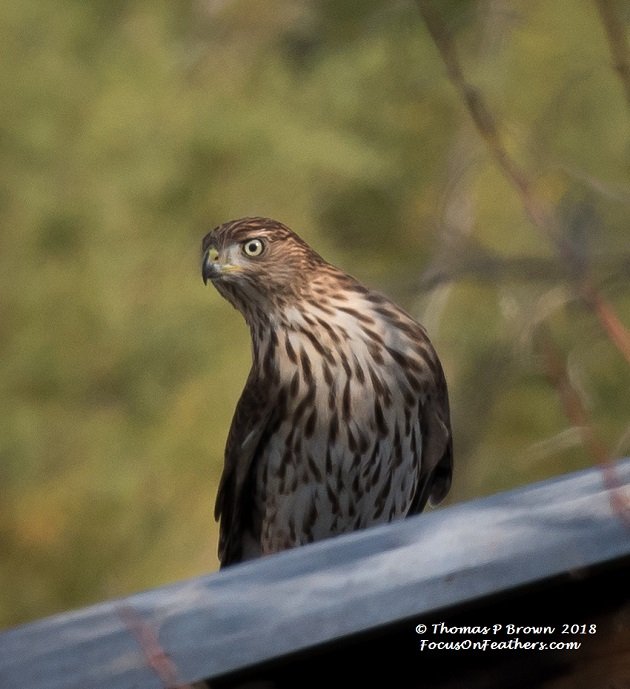 I counted five Northern Harriers one morning, all working the reedy edges of the dry lake. This one flew right over my head.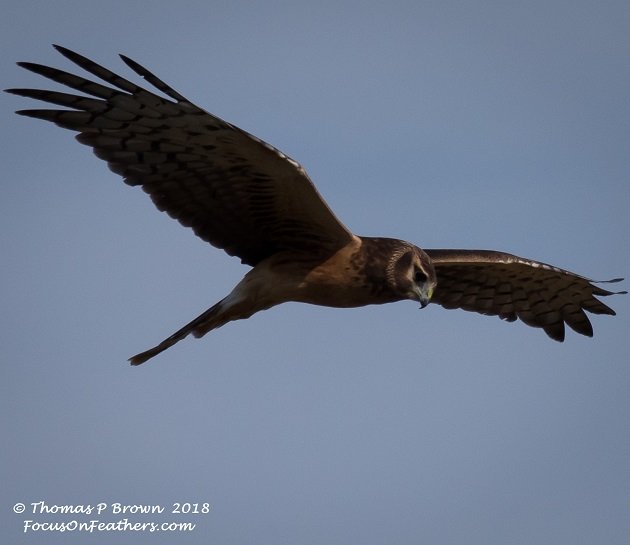 I spooked three Barn Owls out of a dense scrub row, just as the sun was setting. The first one nearly took my hat off. If I had thought there would be a second, I might have been more prepared for getting a photo. The third flew out right behind the other two, and I was able to get a shot just before it flew out, despite the darkness.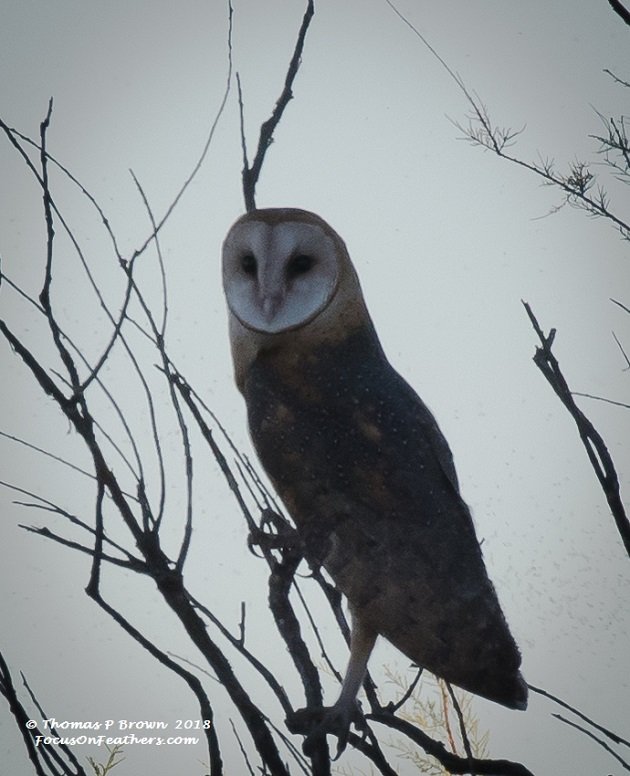 My second morning on the "lake" I spotted 5 Long-billed Dowitchers flying over my head. There had to be some water out there, somewhere. I did find an irrigation ditch full of water, but also choked solid with cattails, where you might find a Snipe, but not likely a Dowitcher. This did open up the area to a few new species, like this Wilson's Warbler.
There were also a few Mac Gillivray's Warblers to be found in the brush next to the waterway.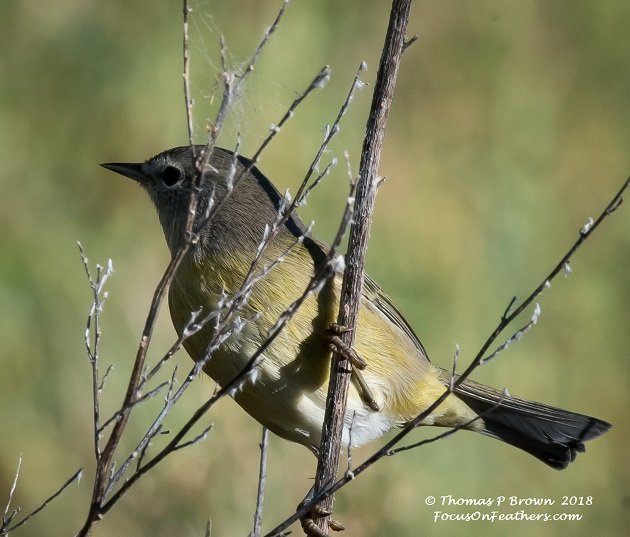 And this Townsend's Warbler, which I couldn't help but think, was a little pissed at being disturbed. I am sure it is looking at me going " Really, um, you can leave now?"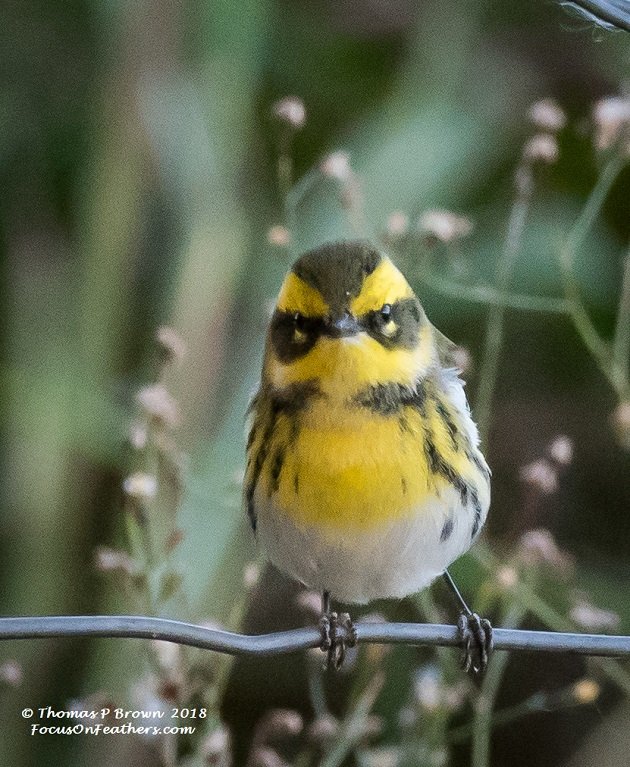 I did get word of a catch basin, a few miles outside of town, the Quay Ponds they were called, so we made an evening run out there just before sunset. I found water at last, There were a few Mallards, some Blue-wing Teal, a bunch of American Coots, and one lonely American Wigeon. But, and this is a huge but, there were Great-tailed Grackles. I counted about 600 of them, along with a few Red-wing Blackbirds and about 50-75 Yellow-headed Blackbirds. They were in the fields, on the power lines, around the water's edge, everywhere. I have never seen a huge migratory flock like this before, it was amazing. All I had with me was my 500mm lens, so I was never able to capture what this looked like, but I did get this one small piece of field.
Our next stop was another mutually agreed upon stop, Albuquerque New Mexico. Jeanne has long desired top photograph the Albuquerque Hot Air Balloon Fiestas ( You can see her photos here)and I wanted to visit the Valle de Oro National Wildlife Refuge. Saturday morning, I dropped her off at the downtown shuttle to the balloon park, promptly at 4:00 AM, and then headed south on Interstate 25 to Valle de Oro. Following a GPS at this very early hour of the morning, did not allow for off ramp closures, and some major road construction on the secondary road that ran right past the refuge, but, by 4:45 AM, I was in what I thought was the parking lot. This refuge is being touted as the very first Urban National Wildlife Refuge in the southwest, and is located on what was an old dairy farm south of town. Before the sun was up, I Had seen a couple of sets of head lights going out thru what I assumed was the refuge. As it turns out, I was parked in a construction area, next to the refuge headquarters. As a small amount of light creeped over the mountains, I drove around to the correct entry gate, and out to where I had seen the previous head lights. I figured it was some fellow birders getting a jump on me. When I got out there, it turned out to be Randy, the farmer who held the lease, and worked cooperatively with the refuge staff. He was nice enough to give me a heads up and where to go, what to look for etc. Over the next two days, he was quick to check in with me, and make sure I was doing OK, and point out things he had seen.
In this country, the biggest news this time of year is the Sandhill Cranes. Several communities hold "Crane Fests" as these large somewhat noisy birds make their way down the migratory paths. That morning, Randy said that there were 10-12 birds the previous morning, and to keep my eyes open for them. By the time the sun was up enough to see, those few Sandhill Cranes had gained a few friends. There were now over 60 birds out in the field that was near the waterway for the Rio Grande River. By the time I left the refuge the next day, my count was up over 225, as the birds were dropping in from some amazingly high altitudes.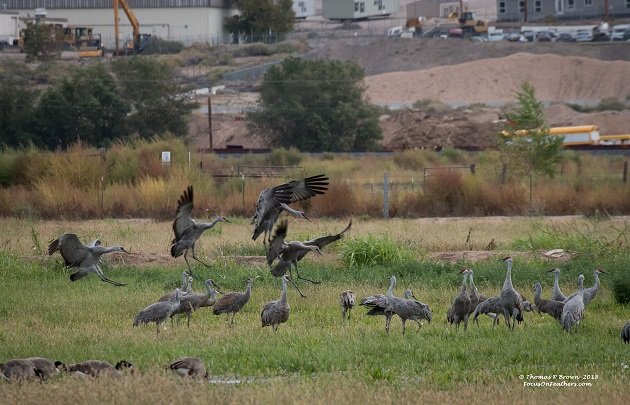 This was a first!  A small group of Canada Geese fly over, and out in front of their formation was a pair of Sandhill Cranes.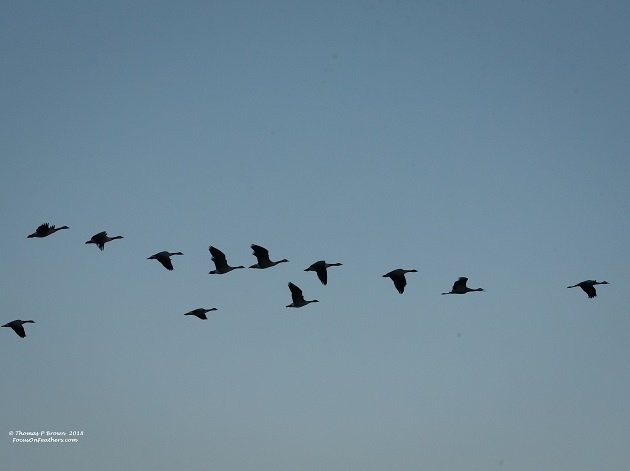 There was an old dead tree, standing between the irrigation canal and the riverbed which served as roost for a good number of birds, as well as a stopover for many, on their way to where ever they were headed. At first light, the tree was full of Northern Flickers, sometimes as many as 12. Both mornings they were there, sharing the tree with a couple of American Kestrels, and some European Starlings. The first morning, one of the kestrels kept trying to peak into what looked like an old hole in the tree. It finally got a foot hold and was searching in the hole in the tree.
One of the flickers took exception to that and quickly ran the kestrel off.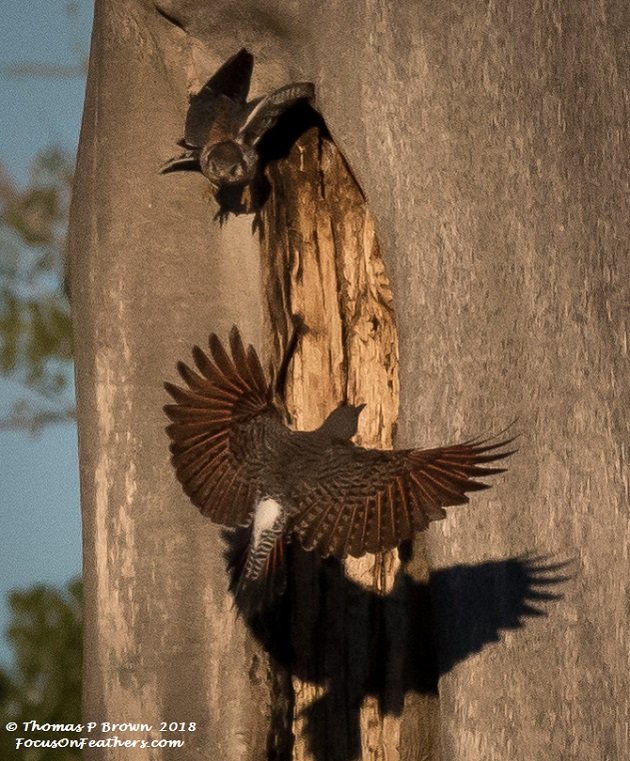 Along the irrigation canal, there were over a dozen species flying around. Nashville Warblers, Yellow-rumped Warblers, Orange-crowned Warblers, Mac Gillivray's Warblers, Say's Phoebes, Black Phoebes, Spotted Towhees, as well as Vesper, White-crowned, Chipping, Song, and Lincolns Sparrows. I counted Lesser Goldfinches, House Finches, Bewick's Wrens, and a pair of Eastern Bluebirds.
Here is one of those Black Phoebes.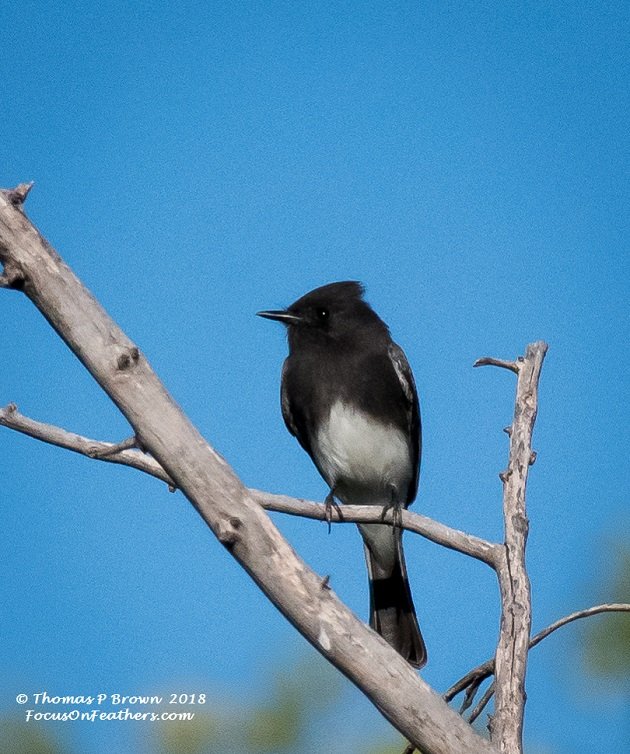 There were quite a few Say's Phoebes, not only near the water, but out in the agricultural fields as well.
There was a large number of Wood Ducks, using the deep foliage of the irrigation canal as cover, making them quite difficult to photograph. This one happened to pass right over my head.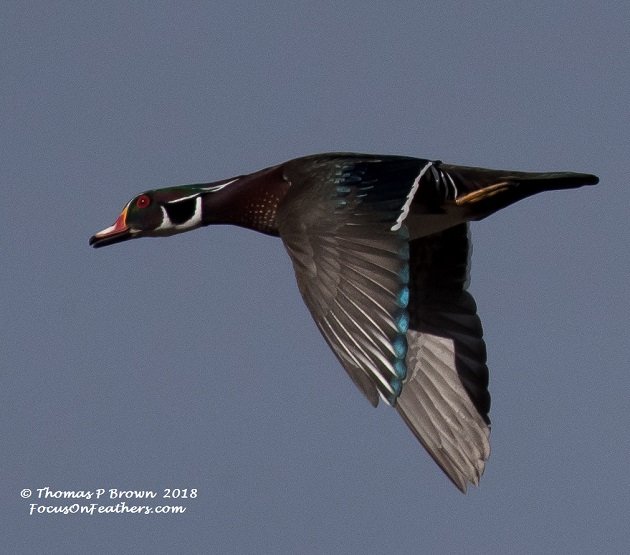 The area that was adjacent to the Rio Grande River, was packed with old growth elms, and oaks, and was home to several Black-capped Chickadees, White-breasted Nuthatches, Hairy Woodpeckers as well as Downy Woodpeckers. Here is one of those Downy Woodpeckers.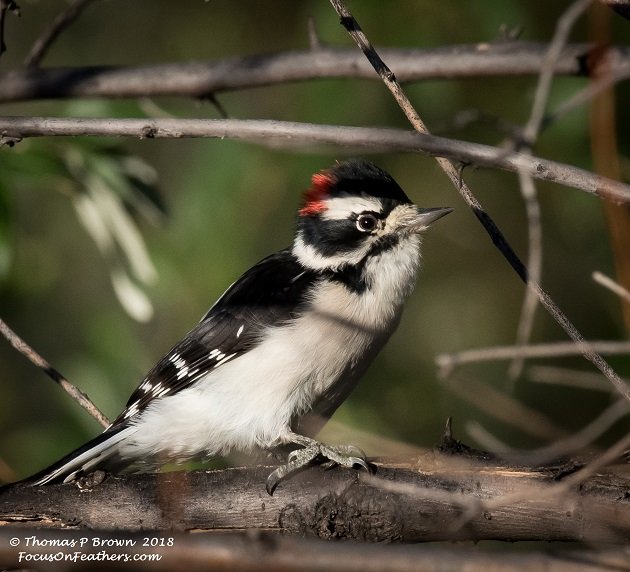 I did not see a single meadowlark the first day on the refuge, but the second, there over a dozen Eastern Meadowlarks that had moved into the refuge.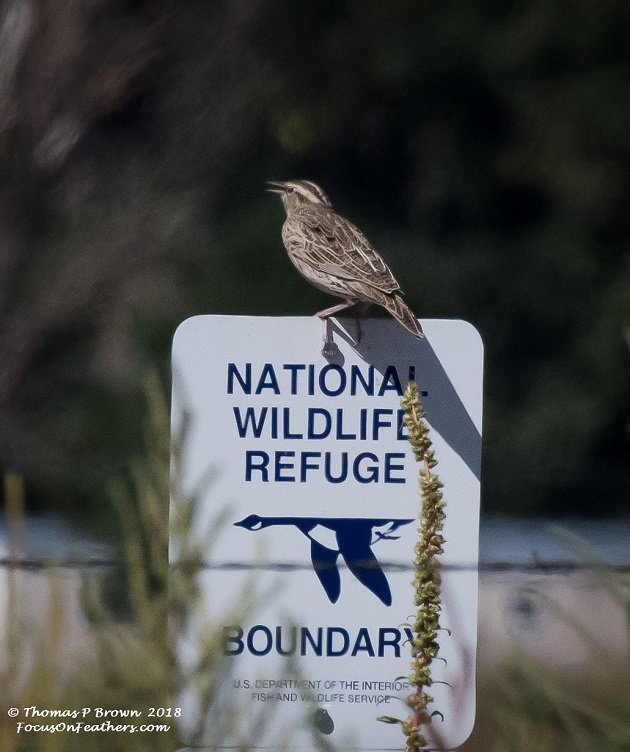 I spotted this Green Heron as it landed in one of the irrigation canals. Hoping to get a photo, since I have not seen a Green Heron since January, back in Mexico, but this one had other thoughts about that. Jeanne loves this shot, so here it is!!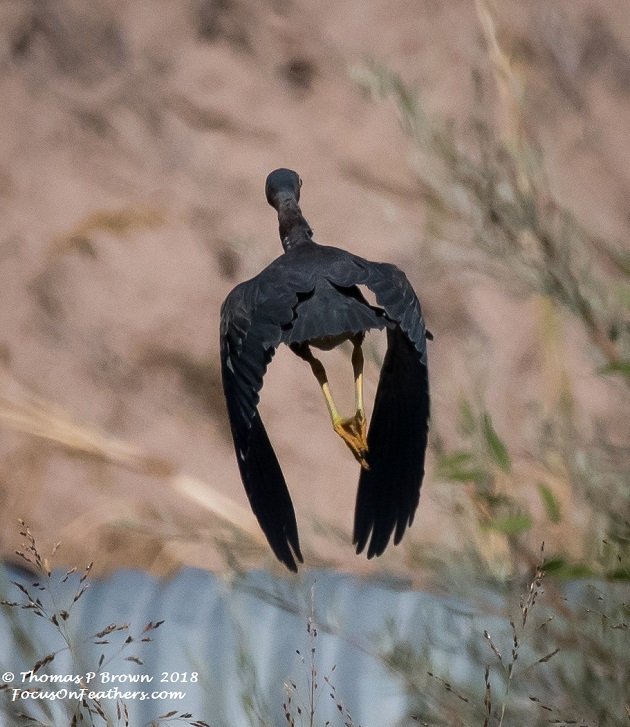 The second morning, the winds were up, and the balloon event was called off, so Jeanne joined me in the refuge. As we walked down the irrigation canal trail, I spotted a Bobcat walking towards us, before it spotted me. We quickly stepped into the brush and waited for it to just walk by! It got to within about 15 yards, calmly hunting for breakfast as it came. It was directly across from me, and I shifted weight, and a twig snapped. After a 5 minute stare down, it calmly just walked away….leaving both of us grinning like kids in a candy store, and giving us an incredible moment!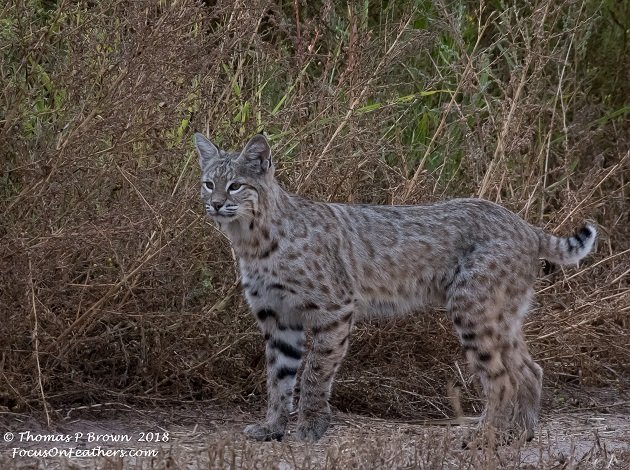 Next week we are at Bosque de Apache NWR, as well as a couple of days at Elephant Butte Lake, in the town of Truth or Consequences, NM.
This leaves the Little Big Year numbers looking like this:
Little Big Year species – 903
eBird.org submissions – 307
US species – 234