Just down the street from Daisy's sister's and brother-in-law's house in Temecula, CA, is a little tiny place called Meadows Park. It consists of a large grassy area, a couple jungle gyms for the kids, some picnic tables, and a small parking lot. At least, that is all the park is if you look here.  But if you were looking at the park through a birder's eyes you would see a lot more.
See, next to what I guess would best be referred to as the "developed" part of the park is a big pond at the end of a very deep ditch that collects runoff water.  Lots of vegetation has sprung up around it and a trail runs along one side and a small concrete aqueduct that is eminently walkable runs along another.  It is difficult to describe the area properly, maybe because this type of man-made geography is unique to suburban southern California, but essentially the part of Meadows Park I like best is where a bunch of birds hang out in a litter-strewn, scraggly, thoroughly-unattractive-to-most-people-but-amazingly-cool-to-me pond that only exists because of runoff and some kind of weird sprinkler system that I guess was irrigating the vegetation but seemed awfully odd to me.  Maybe a picture will help: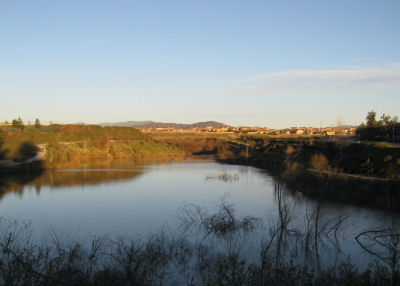 Anyway, by walking there virtually every day either just after I woke up or late in the evening or in the middle of the day or whenever I felt like going for a walk I got to see some birds that I would be hard-pressed to find in New York.  And, going by my self-made rules for my Anti-Global Warming Big Year, I could count them!
If you clicked that second link above, or if you have been keeping up on my list for the year, you know that I have seen some pretty cool birds in Meadows Park.  Some of them were common birds for southern California, birds I saw every day at the park.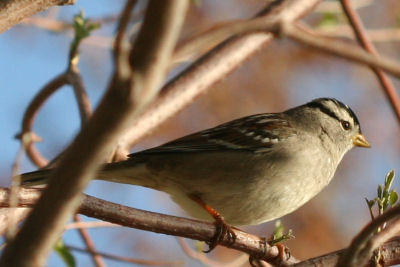 White-crowned Sparrow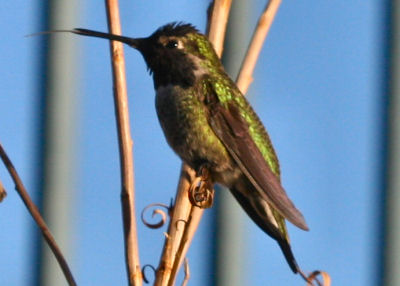 Anna's Hummingbird
I must have collectively spent at least three hours during the two weeks I was in Temecula trying to find a Golden-crowned Sparrow mixed in with the same flocks of White-crowned Sparrows without any luck.  But the chance to observe flocks of White-crowned Sparrows for extended periods of time was certainly a treat for this east coast birder who usually only sees them for a brief period as they migrate through.  Similarly, it was wonderful watching the very territorial Anna's Hummingbirds driving each other and other species away from their favorite perches.  When they fly straight up into the sky before plummeting to within inches of their target and arresting their dive with a loud and high-pitched "wheet" made by the air rushing through their wings it is always entertaining.  It was even more fun when I was their target!
Other birds that I saw regularly that I don't get to see in New York included a triad of flycatchers, Cassin's Kingbird, Black Phoebe, and Say's Phoebe.  All three would be perched on dead snags for flycatching and all three were a joy to watch and really get to know.  If one shows up in New York I'll be ready to identify it immediately!  Unfortunately, the only wintering wood-warblers I encountered at Meadows Park were Yellow-rumped Warblers and Common Yellowthroats, though at least the yellow-rumps were the western "Audubon's" form.
Waterfowl were surprisingly varied for such a small pond though I guess I shouldn't have been surprised in southern California where any water is quickly taken advantage of by a wide array of waterfowl.  Northern Shovelers, Ruddy Ducks, Ring-necked Ducks, Mallards and American Coots were always present and occasionally a couple Green-winged Teal or a Pied-billed Grebe would be in the pond as well.  I was very pleased to find a Cinnamon Teal swimming in Meadows Park on my last day in California, but not as pleased as I was when I found a drake Eurasian Wigeon mixed in with a flock of American Wigeon (especially considering I rarely saw American Wigeon there).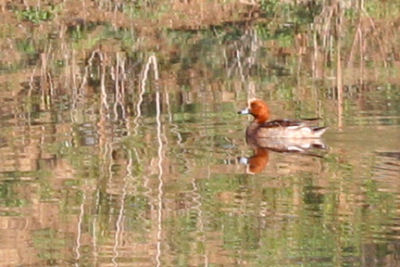 a not-so-great shot of a pretty good bird: Eurasian Wigeon
Another tough-to-find bird that I saw in Meadows Park on two occasions is Sora.  One day I had a brief glimpse of one and on the same day I saw the Eurasian Wigeon I spotted three Sora, two of which gave me extended looks and one of them swam across the pond!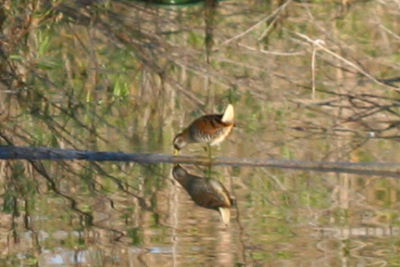 another not-so-great pic of a pretty good bird: Sora
Altogether during the two weeks I birded Meadows Park I put together a list of forty birds, with only Western Bluebirds being spotted in the neighborhood but not in the park proper.  Not too shabby for an unassuming couple of acres and inspiration for those who don't live close to a birding hot-spot.  Regularly birding a local patch, no matter how modest, can lead to some pretty cool rarities, and even if it doesn't you are still out looking at birds and enjoying the outdoors and there's nothing wrong with that, right?