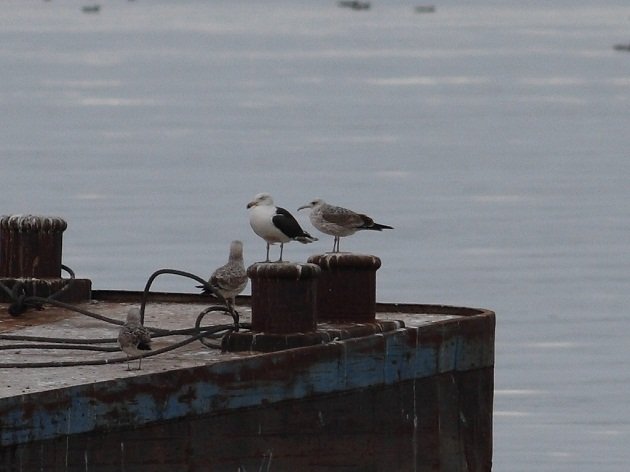 This weekend, S. and I were counting waterbirds along the Danube and stumbled upon that Great Black-backed Gull that I told you about before – the fourth one recorded in Serbia since mid-19th century and a very uncooperative bird that successfully avoided all photographic searches afterwards. Hastily, I mounted the scope onto a window clamp and then onto the half-open car window (it is faster than it sounds), took a furtive peek and – the bloody bird takes flight for no reason whatsoever! Should I mention: before I even reached for the camera…
The day after, I went again. I had no hope of finding it, but had to try. As everyone knows – luck favours the stubborn. Scanning the 1000 metres wide river, moving downstream, checking the water again, a bit further, only the barges… there it is! Standing on the furthermost end of the barge.
But now, I am way too experienced to waste time observing it and only after I've made a few dozen lousy photos, I call my friends N. and S. to shoot the bird themselves. N. later describes: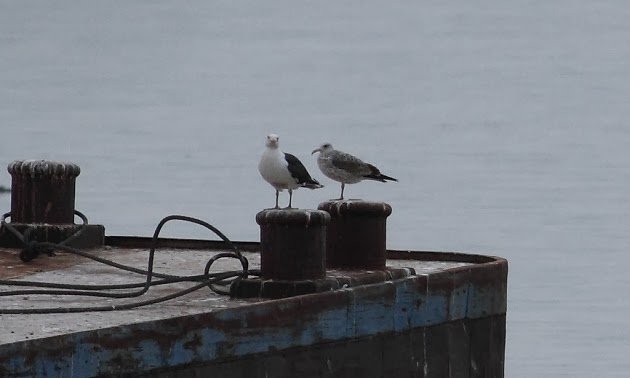 "My mobile phone ringing, it's Dragan. "Hi there" "Hi." "Where are you?" Confusion. "Here…" "At home or birding out of town? Here's the gull, I'm looking at him." His voice euphoric enough to reach me through the phone and take me to the crime scene. "Maybe you could shoot the bird?" "I don't know…" but I do now! My hubby says "Give me a sec" and off we go.
While driving, the mobile rings again, but it is somewhere at the bottom and out of reach. My enthusiasm fades – most likely Dragan to tell us that the gull has flown away. But we've already passed the point of no return.
The meeting point is a bench behind some restaurant toilet. What?!? Finally, there we are, he's half-frozen and still euphoric. And there's a barge… and a gull… so black! I have never seen such a bird! Hubby is fixing the camera onto a tripod – is the bird going to fly away?!
He's photographing, but the weather is cloudy and lightless – are we going to get the bird, or only specks?
After a while, hubby says: "This is the best I can do." Dragan answers: "Great photos!" Well, on such a day they couldn't get any better.
Packing the gear. Leaving. With smiles on."
Story by Nena Panjkovic
Photos by Slobodan Panjkovic