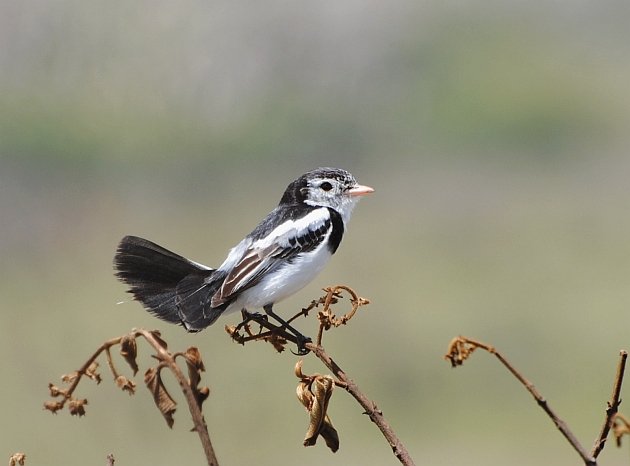 Many people have heard of the immense Amazon Rainforest with its astonishing biodiversity. Some people might have heard of the highly endangered Atlantic Rainforest (Mata Atlantica) that once stretched along large sections of the Brazilian coast — now, little more than a tattered collection of forest fragments. However, even within Brazil, very few people are aware of Brazil's Cerrado: a biome of expansive grasslands dotted with termite mounds, lightly wooded savannas, and ribbons of gallery forest along permanent sources of water. There are approximately 10,000 plant species in the Cerrado. It also supports the greatest variety of large mammals in all of South America, including such iconic species as Maned Wolf and Giant Anteater. Finally, it is also home to a large number of charismatic endemic bird species such as Brazilian Merganser, Cock-tailed Tyrant, and Golden-capped Parakeet. After guiding at Cristalino Lodge, I had the good fortune to travel throughout southeast Brazil with Dalcio Dacol. One of the sites we visited was the magical Serra da Canastra National Park — a prime example of Cerrado habitat and one of the most beautiful sites I visited in all of Brazil.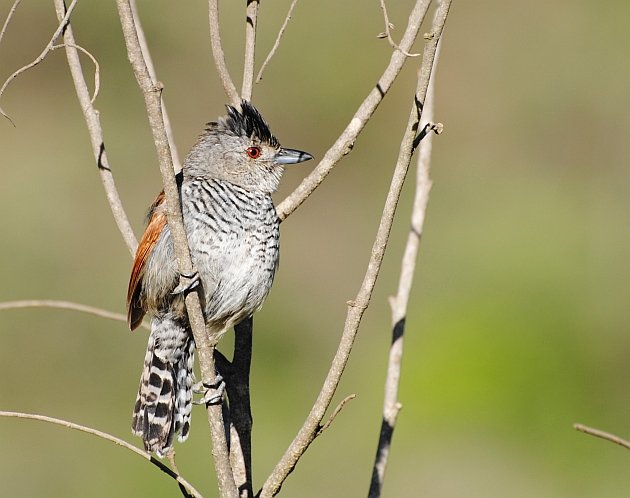 A Rufous-winged Antshrike, a typical species of lightly wooded savanna in the lower elevations of the park.
The Cerrado actually consists of three subtly different types of grassland: campo limpo (open grassland), campo sujo (lightly wooded grassland with scattered small shrubs and small trees), and campo rupestre (grassland with many protruding boulders and rocks). During our sojourn at Serra da Canastra, Dalcio and I spent the first day exploring the lower elevations of the park as well as the nearby town of Sao Roque das Minas. Although agriculture had taken its toll on the quality of available habitat, campo sujo dominated this lower, rolling landscape while strips of gallery forest hugged the rocky rivers that rushed downward from a high plateau. The wooded savanna habitat was home to a variety of widespread generalists as well as range-restricted specialists. Brash family groups of Toco Toucans, with their outrageously oversized bills, seemed to favor perching on snags right out in the open while Collared Crescentchest, a uniquely patterned and colorful passerine, would make their single note calls from the depths of the deepest thickets. Other species that seemed to favor campo sujo included Golden-capped Parakeet, Rufous-winged Antshrike, and White-vented Violetear.
Of course, any birding trip to Serra da Canastra must include a dedicated search for the endangered Brazilian Merganser, an iconic endemic of rocky, crystal clear rivers. Although we failed to find it on that day, our search brought us into the lush gallery forest at the foot of the Casca d'Anta (named after the merganser). This amazing waterfall cascades down from the high plateau at great height, enveloping the patch of forest at the bottom in a permanent mist. The forest is wet enough to support a variety of birds more typical of the wet Atlantic Rainforest such as Gilt-edged Tanager and widespread gallery forest species such as Helmeted Manakin.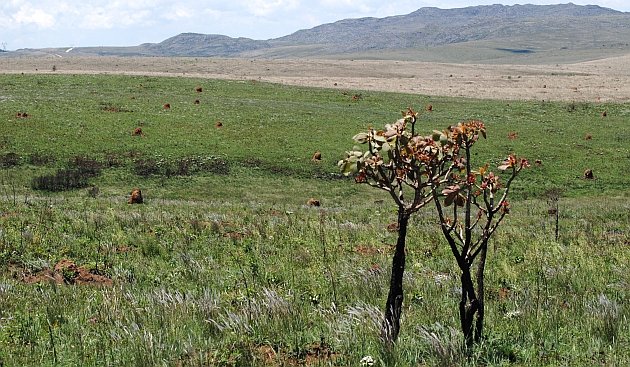 The wide open campo limpo of Serra da Canastra National Park.
Dalcio and I spent our second day birding the upper elevations of the park. It was a day to remember in so many ways! The journey along the entrance road to get to the top was absolutely harrowing, with deep ruts (mini-canyons!) carved into the unpaved road constantly threatening our progress. Golden-capped Parakeets, adorned with blazing orange crowns, were common all along this stretch while a Black-chested Buzzard-Eagle nest was visible once we got to the top. After paying the entrance fee, we spent the day slowly making our way through a spectacular open landscape dotted with termite mounds and brimming with special birds. Low, gnarled forest found along streams had the skulky Brasilia Tapaculo and diminutive Gray-backed Tachuri. Red-legged Seriemas, South America's answer to Africa's Secretarybird, patrolled the grassland in pairs for prey while Cock-tailed Tyrants fluttered over areas of tall grass with the flight profile of a toy airplane. Recently burned areas held a few Campo Miner searching for bits of food among a fresh profusion of wildflowers while tall wet grass harbored rare seedeaters such as Tawny-bellied and Black-bellied. The tops of the termite mounds were always worth a check with binoculars, as birds such as Black-masked Finch and Firewood-gatherer often perched on them to survey their surroundings. In short, we found an incredibly unique and specialized cast of bird species dwelling up on that plateau on that day, going about their business while we enjoyed the exuberance of life of the Cerrado.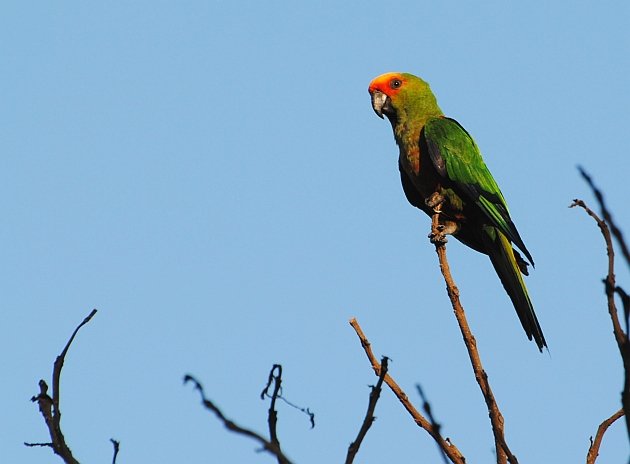 Golden-capped Parakeets were nesting near a barn at the start of the entrance road to Serra da Canastra.
As we carefully made our way down the road leading back to Sao Roque das Minas, Dalcio Dacol and I heard and then saw Golden-capped Parakeets chattering away by a barn. A pair of birds was lovingly caressing each other, culminating in copulation. It was a poignant and ironic sight to see them in the process of breeding right next to that barn at the edge of the park. These near-threatened parrots have a declining and fragmented population due to the clearing of Cerrado for agriculture such as coffee and soybeans.
Although perhaps not as diverse as the Amazon or Atlantic Rainforest, the Cerrado harbors its own unique assemblage of avian species set within a stunning and memorable landscape.  A trip to a high quality Cerrado site such as Serra da Canastra National Park is a must for any birder or naturalist trying to learn about Brazil's birds and natural history. As picturesque and special as it may be, the advance of agriculture has been steadily fragmenting and clearing this habitat. Poorly known by foreigners, these forgotten grasslands might well disappear along with its specialized collection of plants and animals if the current rate of environmental destruction does not abate.