I have taken refuge on the high ground as Irene batters the east coast of North America and Nanmadol swamps the Philipines, Taiwan and east China, but my thoughts and best wishes are with anyone who has been affected by the storms.
If Mexico City itself was not high enough, the mountains to the south rise above 12,300 feet and I was there looking for a Sierra Madre Sparrow to confirm a sighting of this rare and local sparrow from 15 years ago. Just to let you know, the sparrow did not show and I had to make do with some specialty Mexican warblers instead.
The Parulidae orgy that was 'Wood-Warbler Week' should have been enough to satisfy anyone's dendroica lust, but I couldn`t help myself; just look at them!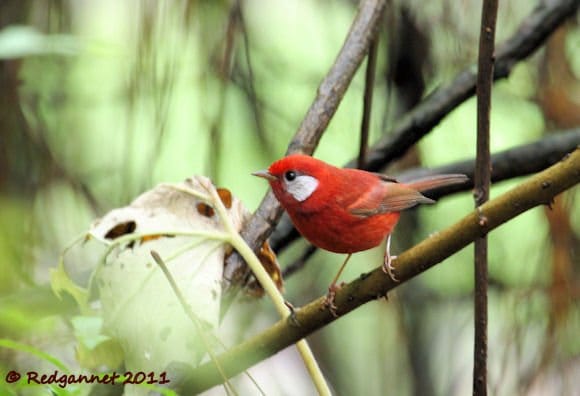 First up we have the Red Warbler. This bird cannot resist a good 'pish' and was always the first to show when I tried to attract a passing party. Endemic to the Mexican mountains between 1800 and 3000 meters, the Red Warbler is a common and confiding bird of mixed pine and oak, or fir forests.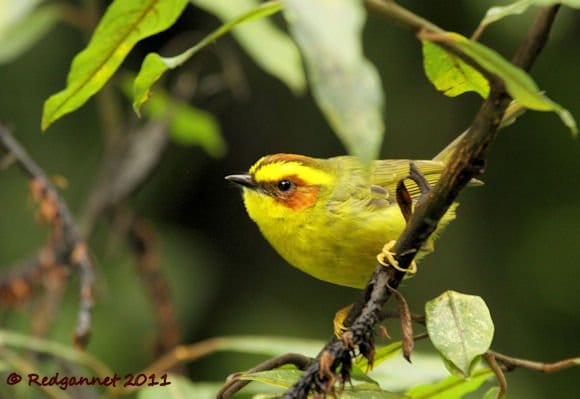 The Golden-browed Warbler is described as a skulker in Steve Howell and Sophie Webb's 'A Guide to the Birds of Mexico and Northern Central America'. In my limited experience, it is a bird that enjoys the high life and likes to party with the Red Warbler in the mountain forests.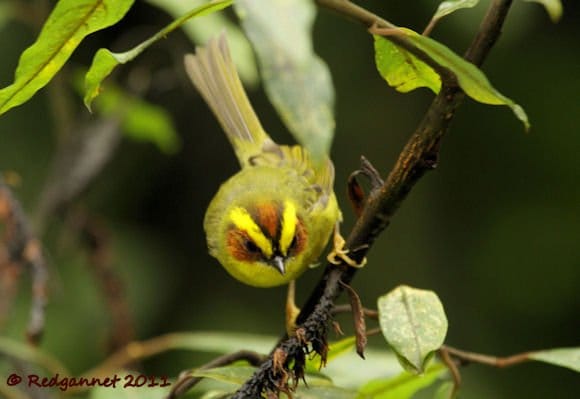 The eponymous golden brows stand out like headlights in the gloom of the forest when the bird looks directly at you. It is not strictly endemic as it also occurs in Guatemala and Honduras.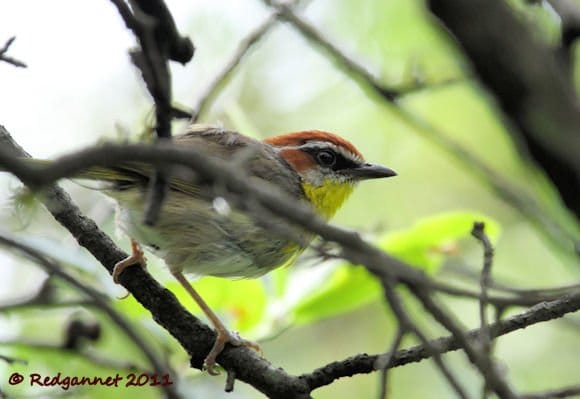 The Rufous-capped Warbler has a hard staccato call that I initially mistook for a Rufous-capped Brush-finch. They look quite similar too at first glance, except for the white brow and rufous cheek of the warbler. It prefers scrub and secondary growth to the pine and evergreen forests and may be found from 3000m down as low as sea-level. This one was seen in a parque in Mexico City and I thought that it would be a lifer until I got home and found that the chestnut-capped form from Costa Rica was already on my list. It's distribution is wider than that of the other two and it can even stray into the southernmost states of the USA on occasion.
As I write, Popacatapetl, the volcano 50 miles south-east of Mexico city, is grumbling outside the window. Is nowhere safe?