Today is International Vulture Awareness Day!  Rather than go into great detail about a variety of vultures as we have in the past, I tracked down five great quotes about Turkey Vultures, or, at least, five quotes that are either about Turkey Vultures or generically about vultures.  Though I had a couple in mind I never knew that it would be so easy to find such great quotes about such ugly birds.  But ugly is in the eye of the beholder and, to some, the bald head of a vulture is just another reason to admire them.  But enough with this intro: on to the quotes!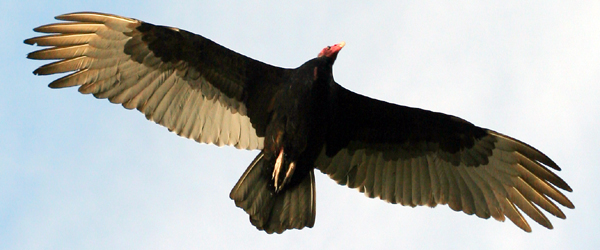 We'll start with a bit of humor from one of the Marx Brothers, Groucho, who is, not surprisingly, a bit self-deprecating.
I eat like a vulture. Unfortunately the resemblance doesn't end there.
Yes, watching vultures eat is not exactly the prettiest thing you'll see, but to be so mean to vultures by implying they are as ugly as a Marx brother?  That's just not right.
Next we will get a good description of Turkey Vultures from Pete Dunne, who, in The Wind Masters, his book of vignettes about all of North America's birds of prey, describes the vultures about as well as anyone ever has:
Turkey Vultures are large birds, cloaked in loose-fitting brown/black feathers that make them look shaggy and unkempt when perched.  The legs and feet are sturdy and unfeathered; the color, where not coated in excrement, is cherub pink.

The face is ruddy and wrinkled and topped with an embarrassingly sparse cap of feathers.  Its expression is uncommonly serene and there is something about it that suggests infinite patience.  Huddled on their perches, wrapped in shabby vestments, the birds look like a group of balding monks gathered in prayer.
Seriously, the man uses the word "cherub" in a description of a carrion-eater.  How cool is that?
The next quote is quite the bummer, and it says more about humans than vultures, but I couldn't resist bringing a bit of existentialism into a post about vultures.  Jean Paul Sartre said it, though I can't for the life of me (ha!) find the context.
It disturbs me no more to find men base, unjust, or selfish than to see apes mischievous, wolves savage, or the vulture ravenous.
And, yes, vultures always seem ravenous to we humans, who can't help but be a bit creeped out and reminded of our own coming death when we see vultures circling far overhead.
Next up is one of Jack Handey's Deep Thoughts, and one that made my coworkers wonder if I was losing it when I found it online during a break (I almost fell off my chair).
If your friend is already dead, and being eaten by vultures, I think it's okay to feed some bits of your friend to one of the vultures, to teach him to do some tricks. But only if you're serious about adopting the vulture.
Talk about existential dilemmas!
And finally, the last passage of Peter Cashwell's The Verb 'To Bird': Sightings of an Avid Birder which really gets to what seeing vultures, or any bird, is all about:
Part of me is noting the shallow V of the wings, the dihedral position that distinguishes the Turkey Vulture, even from miles away.  Part of me is wondering what great dead animal this flock was settled upon a few minutes ago.  Part of me is curious where the birds are off to, whether to roost in the trees by the river or nest in the shelter of the hills.

But most of me is just standing here under a near-dark moon, watching what ought to be an omen of death and gloom, with a great big grin on my face.  Their eyes shining in the dim light, their voices the fierce whispers of childhood delight, my sons are with me.  I bird.  They bird.  We bird.
And that is really all that needs to be said.