Feeling thoroughly refreshed well before sunrise, an unhappy but not unexpected result of the time difference between the East and West Coasts, we had no recourse but to return to Volunteer Park while awaiting breakfast. We spotted the same species from the previous day as well as a couple of lifers. The first was Pine Siskin, a species we should have picked up a long time ago, but for the meddling of those infernal song sparrows. Volunteer Park was also the site of our first  Hutton's Vireo of the trip. This dainty beauty is often seen in Seattle's parks despite its small size. The sooty form of the Fox Sparrow made an appearance, as did an altogether unexpected avian. A plump gray bird, larger than a pigeon, with an unmistakable red head, preened atop the tallest tree in our view. A bit of field guide work revealed that this was a Gray Partridge perched in the non-fruit-bearing tree, a species that can be found on the Washington state bird list but can only be considered an exotic in the Seattle area. Well, it was exotic all right, a gamebird attaining such a lofty height, especially while the next tree over hosted a hummingbird of all things, likely a Rufous Hummingbird.  Seattle is home to a number of different hummingbird species. We did spot a few, but could identify none conclusively; tiny hummers get lost quickly in those thick northwestern woods.
Our plan for the day was to explore the city's cultural attractions and devote the following days to serious birding and hiking. However, the weather forecast promised immediate sun while threatening gathering clouds. Our innkeepers advised a change in itinerary so we set a course for Washington's tallest peak, Mount Rainier. Mount Rainier, located southeast of Seattle, is one of North America's great mountains, one that we could not miss. Actually, we did miss it from a literal standpoint, since the peak was shrouded in mist, just as it is two out of three days a year. However, as we approached it from the southwest entrance, the only one open in winter, and climbed circuitously to the area known as Paradise, we drank deeply of its colossal grandeur. There's nothing quite like an enormous mountain!
For those of you interested in birding Mount Rainier, I have good news and bad news. The good news is that you will get some of your target birds, as long as you're looking for corvids. In fact, many of them are be willing to perch on your car for pictures. We drove up to the lower parking lot at Paradise, elevation 7,000+ feet, and spotted the Rainier trifecta, Gray Jay, Steller's Jay, and Clark's Nutcracker. Each of these birds is a bold beauty in its own right. The Gray Jay is deceptively large, small-billed with gray-scale plumage. Steller's Jay has rich blue underparts that shade upwards from midnight to pure black, terminating with a jaunty crest. The Clark's Nutcracker derives its name from both the intrepid explorer and its utterly frightening hooked beak, clearly capable of puncturing the dense husks of coconuts. Birds with bills like that shouldn't be shy and the nutcracker is anything but. These hooligans landed within feet of us looking for handouts. Spotting these birds, as well as a number of stately Common Raven, was a long-anticipated pleasure.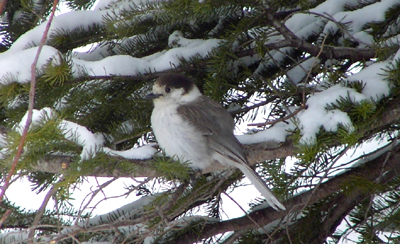 Gray Jay
The bad news for birders is that Rainier doesn't offer much more than corvids without some real effort, at least not this time of year. Those misty, monolithic woods hold the promise of birds both great and small, but they don't yield their secrets easily. For example, one would think that healthy old-growth forests stocked with massive pines and firs would be a woodpecker paradise. The Evergreen State boasts a plethora of Picidae unknown in the east, but much to our dismay, the only woodpecker we spotted this week was a Northern Flicker. At least it was of the red-shafted Western race.
Birding Rainier was far from productive, at least among the trees. The woods were eerily quiet, though devastatingly beautiful. The only spot that offered decent birding was the modest clearing circumscribed by the Trail of the Shadows at Longmire. This area, a mix of marsh, meadow, and low trees, held Red-winged Blackbird, Brown Creeper, and some small Canada Goose. The pines were alive with incandescent Golden-crowned Kinglets. On the ground, robins worked the soil diligently. We're glad we paid attention this time to yet another group of robins because the flock held some brilliant Varied Thrush. This bird, a lifer, is a relative of the robin but far more striking with its bold orange and black markings. Apart from these birds, however, we found nothing else but a lone Winter Wren murmuring softly in the brush.
The drive back to Seattle held one remarkable sighting. We spied an odd, asymmetrical aerial duel, a great Bald Eagle being harried by a Red-tailed Hawk who was in turn being pestered by a nimble American Crow. This tumultuous tableau, a testament to the superiority of agility over strength, wheeled and whirled from one end of the horizon to the other, and then was gone.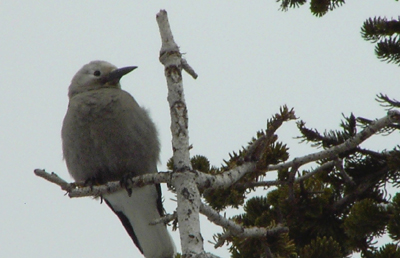 Watch that beak!